Chris Pratt Hopes Son Jack Will "Finally Think I'm Cool" After Seeing "Guardians of the Galaxy Vol. 3"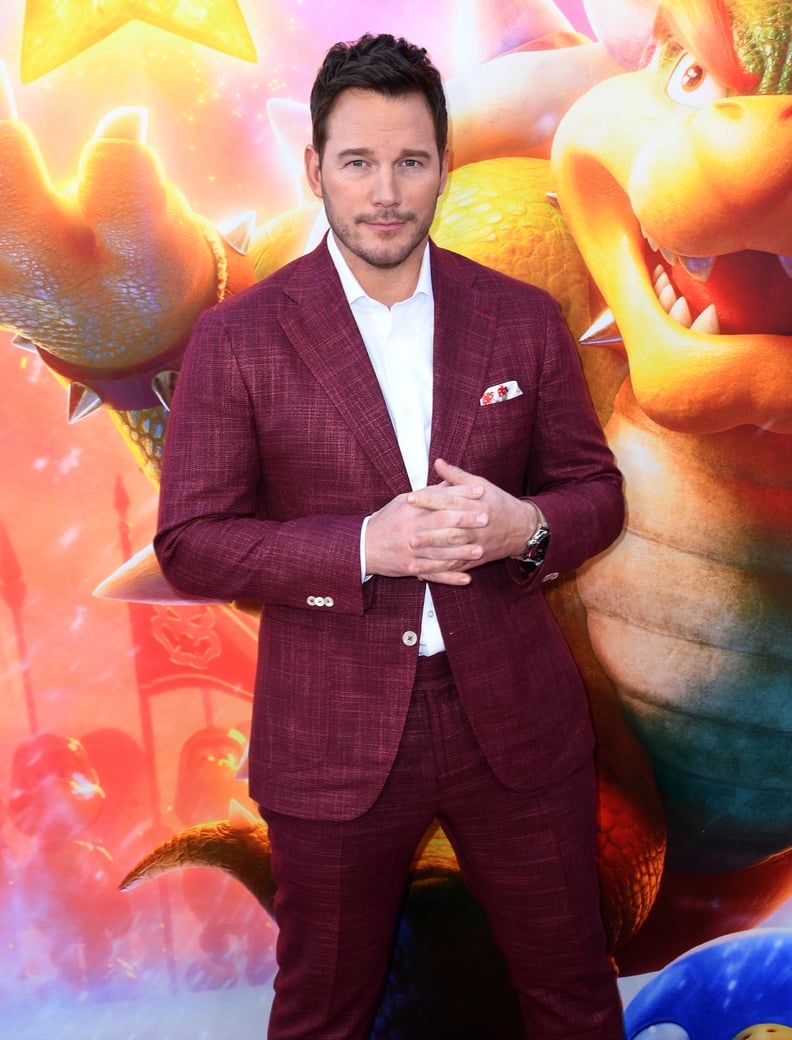 Getty Images/Albert L. Ortega
Getty Images/Albert L. Ortega
Chris Pratt is hoping to gain some cool points with his son with his latest role in "Guardians of the Galaxy Vol. 3." The 43-year-old actor, who plays Star-Lord in the forthcoming film, is a proud dad of three, and on Thursday, he attended the movie's Hollywood premiere with his eldest child, Jack, whom he shares with ex-wife Anna Faris. Speaking to People, Pratt said he hasn't achieved cool status with Jack just yet, but he's "hoping after tonight, he'll finally think I'm cool."
"Actually, he's here with me tonight. He's one of my dates tonight," said Pratt, who was also joined by wife Katherine Schwarzenegger.
Of the upcoming project, Pratt said, "The relationship between a parent and a child is definitely explored in this film, and there's no stronger bond than between a parent and a child. And, yeah, certainly I can draw on my own experience as a parent when it comes to drawing and finding ways to be emotional and to push emotion."
Pratt most recently welcomed his second child with Schwarzenegger, a baby girl named Eloise, in May 2022. "We are so excited to announce the birth of our second daughter, Eloise Christina Schwarzenegger Pratt," Pratt wrote on his Instagram last spring. "Mama and baby are doing well. We feel beyond blessed and grateful." Baby Eloise joins the couple's daughter, Lyla, and his son, Jack.
Pratt also gave an update on his two daughters at the premiere, telling People, "Eloise is just starting to pull herself up. She's crawling around. She's saying, 'Dada.' She loves my guitar."
"Lyla's very, very sweet," he added. "Right now, what is she doing? She's a little sick at home, so I've been sleeping on her floor at night."
Pratt and Schwarzenegger tied the knot on June 8, 2019, after a six-month engagement that came less than a year after they began dating, and the couple shared their exciting pregnancy news with daughter Lyla back in April 2020.
Keep reading to learn more about Pratt's three kiddos.
Eloise Christina Schwarzenegger Pratt
Pratt and Schwarzenegger announced the arrival of their daughter, Eloise Christina Schwarzenegger Pratt, on May 22, 2022, a day after she was born. "We are so excited to announce the birth of our second daughter, Eloise Christina Schwarzenegger Pratt," they both wrote on Instagram. "We feel beyond blessed and grateful. Love, Katherine and Chris."
Lyla Maria Schwarzenegger Pratt
Pratt and Schwarzenegger welcomed their first child together — Pratt's second — a daughter named Lyla, on Aug. 10, 2020. The couple each shared the news of their daughter's arrival on Instagram with a photo of their two hands holding Lyla's tiny one alongside similar captions. Pratt's read: "We are beyond thrilled to announce the birth of our daughter, Lyla Maria Schwarzenegger Pratt. We couldn't be happier. Both mom and baby are doing great. We are extremely blessed."
The little one's birthday comes just eight days after her big brother's, and she shares her middle name with her grandma, Katherine's mom, Maria Shriver.
During an April 2023 visit to "Late Night With Seth Meyers," Pratt talked about his "fantastic" experience of being a girl dad to Lyla and Eloise, according to People. "You know, you hear that maybe the experience is different and it really is, in my experience," he said, comparing parenting girls to raising his son. "My daughter Lyla is so girly. I picked her up yesterday and she said, 'Oh Daddy, that's a cute outfit. Look, you have little cute pockets.' That's not something Jack ever said to me."
Jack Pratt
Pratt and Faris welcomed their only child together, a son named Jack, on Aug. 2, 2012. Jack shares his name with his grandpa, Faris's father, Jack Faris.
Since separating in 2017, Faris has been open about coparenting with Chris, sharing that she'd love to spend holidays together as a family and that though they're always working toward keeping their son happy, there is a sort of bitterness that comes with coparenting.
"Chris and I work really hard [to coparent] because we have Jack. That is sort of the long-game idea and making sure Jack is really happy, which makes us really happy," Faris said on her podcast, "Unqualified," in January 2019. "We have sort of the luxury of circumstance. You know, we are both in other loving relationships, but it's like, how do you not, in general, sink into a place of bitterness?"
Jack was born nine weeks premature, so both Pratt and Faris have been passionate about spreading awareness and raising funds for organizations like March of Dimes. In a 2014 speech at the March of Dimes Celebration of Babies Hollywood Luncheon, Pratt said of his son:
"He was 3 pounds 12 ounces. That's a decent-sized bass. Very small for a human. He would need a lot. He had jaundice, so they put a blindfold on him and he slept beneath [a] creepy light and he had a PICC line, which is an IV that runs up his arm into his heart. He had a feeding tube and just wires in and out, and he lived in that incubator. That was his first crib . . . My little boy was laying across my neck and chest feeling my heartbeat and feeling my love, and I played him country music and I sang to him and I made him promises . . . in that moment . . . you know, about . . . just about what kind of dad I wanted to be, and I just prayed that he'd be here long enough and he was going to let me keep him. I've done all kinds of cool things as an actor: I've jumped out of helicopters and done some daring stunts and played baseball in a professional stadium, but none of it means anything compared to being somebody's daddy."
Pratt told People in an April 2, 2023 interview that Jack was particularly excited about his role in the "Super Mario Bros. Movie," "He saw it already and he's thrilled. He loves it." Pratt, who voices Mario in the film, added, "He took all his friends and he really freaked out."
More Photos of Chris Pratt's Kids