Can Meghan Markle Vote in the 2020 US Election?
Meghan Markle, a US Citizen, Is Voting in the Upcoming Election — Where's the Problem in That?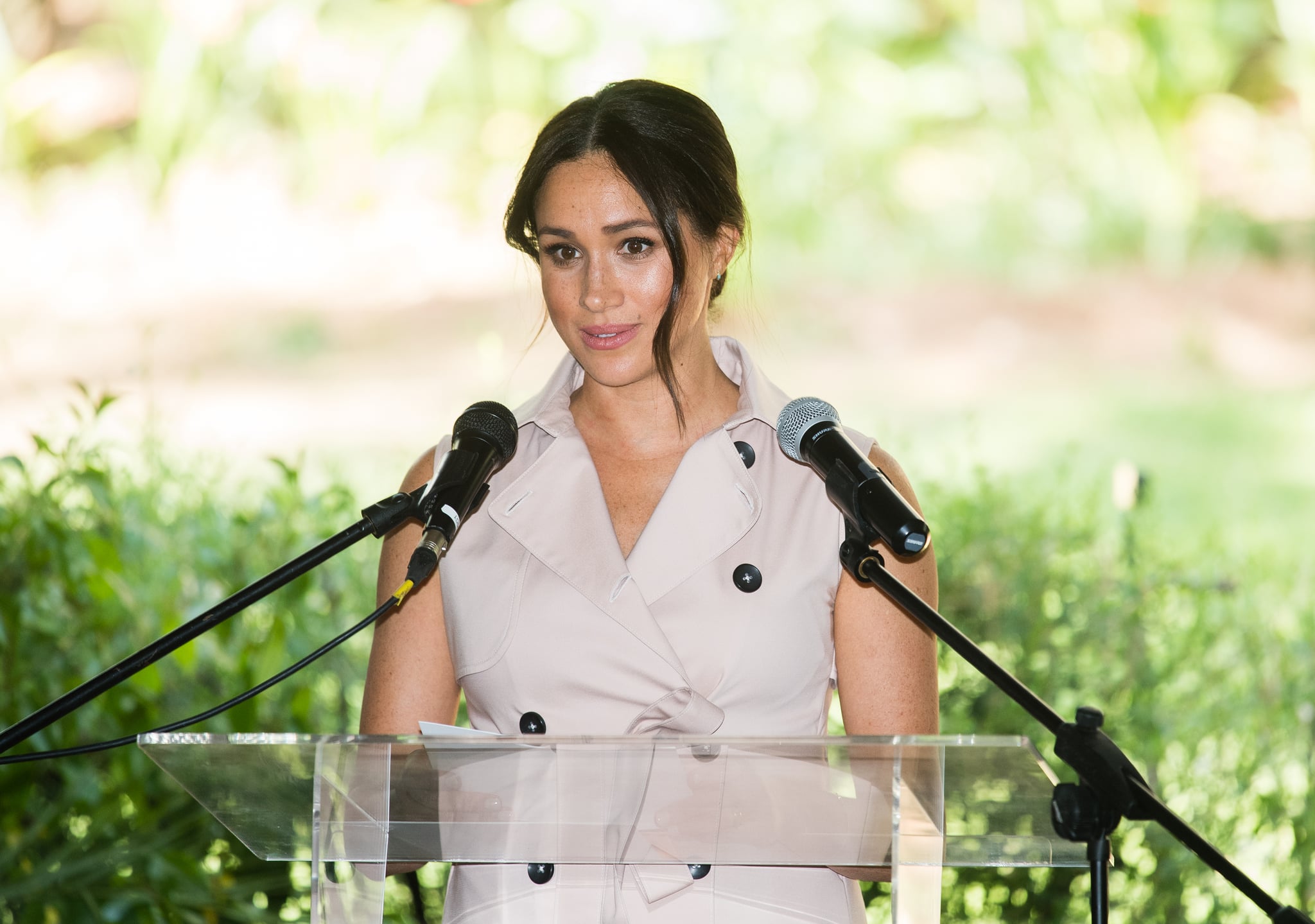 Image Source: Getty / Samir Hussein
Meghan Markle has proven time and time again that everything she does, she does with a purpose, and her plan to vote in this year's presidential election is no different. The Duchess of Sussex hopes to make her voice heard when she casts her ballot come November, and she's also been using her platform to mobilize others to do the same, which is just one of the many things I admire about her. "We vote to honor those who came before us and to protect those who will come after us," Meghan recently said during When We All Vote's virtual #CouchParty event. "Exercising your right to vote isn't simply being part of a solution, it's being part of a legacy."
Despite the fact that Meghan is no longer a senior royal (she and Prince Harry officially stepped down on March 31), her family's order of precedence remains the same, so when she votes, Meghan will make history as the first member of the British royal family to publicly exercise their right to vote in an election. While this is obviously an exciting milestone and a significant step in modernizing the antiquated British monarchy, the duchess has received backlash, namely from the UK press, for actively encouraging others to vote and speaking out about causes she cares about.
Piers Morgan and London Assembly member David Kurten both tweeted in August that the Sussexes should be stripped of their titles for speaking so publicly about the US election, while broadcaster Julia Hartley-Brewer slammed Meghan and Harry for "breaching" their contracts as royals.
The Queen must strip the Sussexes of their titles. They can't remain as royals & spout off about foreign elections in such a brazenly partisan way. https://t.co/6uZ3FTbjHW

— Piers Morgan (@piersmorgan) August 21, 2020
But before I go on, let's just get one thing straight: even though royals never vote in elections and typically remain politically neutral, there is no rule that actually forbids it — unless you're Queen Elizabeth II. "As Head of State The Queen has to remain strictly neutral with respect to political matters. By convention, The Queen does not vote or stand for election, however Her Majesty does have important ceremonial and formal roles in relation to the government of the UK," the official royal website states.
While the queen does not make statements about political matters, voting, or even her personal opinions, the rules aren't as strict when it comes to other members of the royal family. Prince William remains neutral for the most part, but there have been a few instances where he's used his platform to talk politics. In 2019, for example, the Duke of Cambridge asked sheep farmers about their thoughts on Brexit during a royal engagement with Kate Middleton. Similarly, it was previously reported that Prince Charles tried to influence government decisions after a series of letters to former Prime Minister Tony Blair and other officials in 2004 and 2005 came to light. Now, it's worth noting that Charles is first in line to be king, followed by William, while Meghan has no interest in becoming queen. Yet she has received the most criticism for discussing political matters.
"Exercising your right to vote isn't simply being part of a solution, it's being part of a legacy."
Also, let's not forget that Meghan is a US citizen, after all. Meghan was born and raised in Los Angeles, and even though she previously lived in Canada and the UK, the US is still her home. She and her family are now living in Santa Barbara, and as a citizen, she has a duty to exercise her right to vote, as the results of the election will affect her personally.
"I know what it's like to have a voice, and also what it's like to feel voiceless. I also know that so many men and women have put their lives on the line for us to be heard. And the opportunity, that fundamental right, is in our ability to exercise our right to vote and to make all of our voices heard," Meghan previously told Marie Claire. "One of my favorite quotes, and one that my husband and I have referred to often, is from Kate Sheppard, a leader in the suffragist movement in New Zealand, who said, 'Do not think your single vote does not matter much. The rain that refreshes the parched ground is made up of single drops.' That's why I vote."
In light of the COVID-19 pandemic and the social and racial injustice occurring daily in the US, it's more important than ever to get the vote out, and Meghan understands that. Even though we can all probably guess who she's voting for, Meghan isn't publicly campaigning for one side or the other; she's simply stressing the importance of voting and urging people to do so. And one of the royal family's main duties is to strengthen national unity, which is exactly what Meghan is doing. So, can somebody please tell me where the problem lies? Because I'm not seeing it.