Dwyane Wade Says He "Cannot Wait" to Marry Gabrielle Union Again in Sweet ESPYs Speech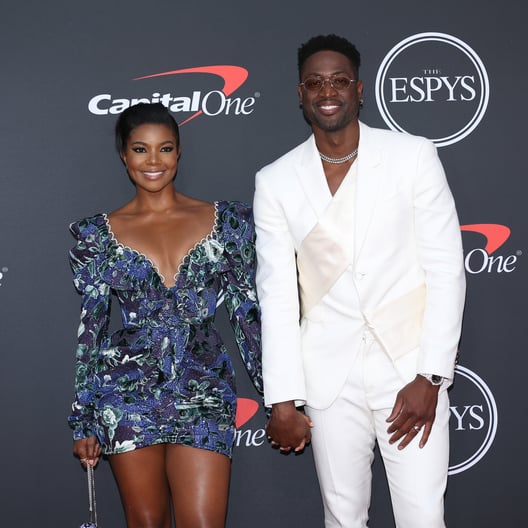 No matter where they go or what they're doing, Gabrielle Union and Dwyane Wade epitomize relationship goals, and the latest example happened at Wednesday night's 2019 ESPY Awards. While accepting the award for best moment (which he received for that emotional moment when his son introduced him at his final regular season NBA game), Dwyane couldn't resist gushing over his wife — with a touch of humor, of course. "Before I start my speech, I have to say thank you to Drew Brees," the retired Miami Heat player said. "Because of what you said to your wife on stage, my wife looked at me with the death stare and said if I don't say something up here, the car ride home is going to be long."
And what Dwyane said guaranteed a very smooth car ride! "Darling, you are amazing, you look incredible in this dress," he said. "I cannot wait until five years from now when I get the chance to marry you again. It's going to be a little lower budget than the first one, but it's all good."
Dwyane and Gabrielle are getting ready to celebrate their five-year wedding anniversary next month, and their love continues to thrive. After welcoming their first child together, Kaavia James, via surrogate in November 2018, their blended family has been the subject of more awww-inducing moments than we can count. They are also parents to Dwyane's three sons from previous relationships and Dwyane's nephew, whom he adopted in 2011. Now, it's the duo's red carpet photos and humor that have us swooning. Check out Dwyane's speech and more photos of the adorable couple ahead.
Dwyane Wade's Acceptance Speech at the 2019 ESPYs