Here's Why You Don't Want to Ever Mess With George Clooney
George Clooney may be one of Hollywood's most beloved stars, but he isn't a stranger to well-publicized feuding. The handsome actor-turned-director is known to speak his mind, especially when it involves defending others or sticking up for his political beliefs. In fact, George was back in the news this week for his takedown of a conservative British tabloid that wrote a false story about his future mother-in-law and her religion. Of course, this isn't George's first time tangling with others in the public eye — read on for his most memorable wars of words with big-time actors, politicians, and award-winning directors.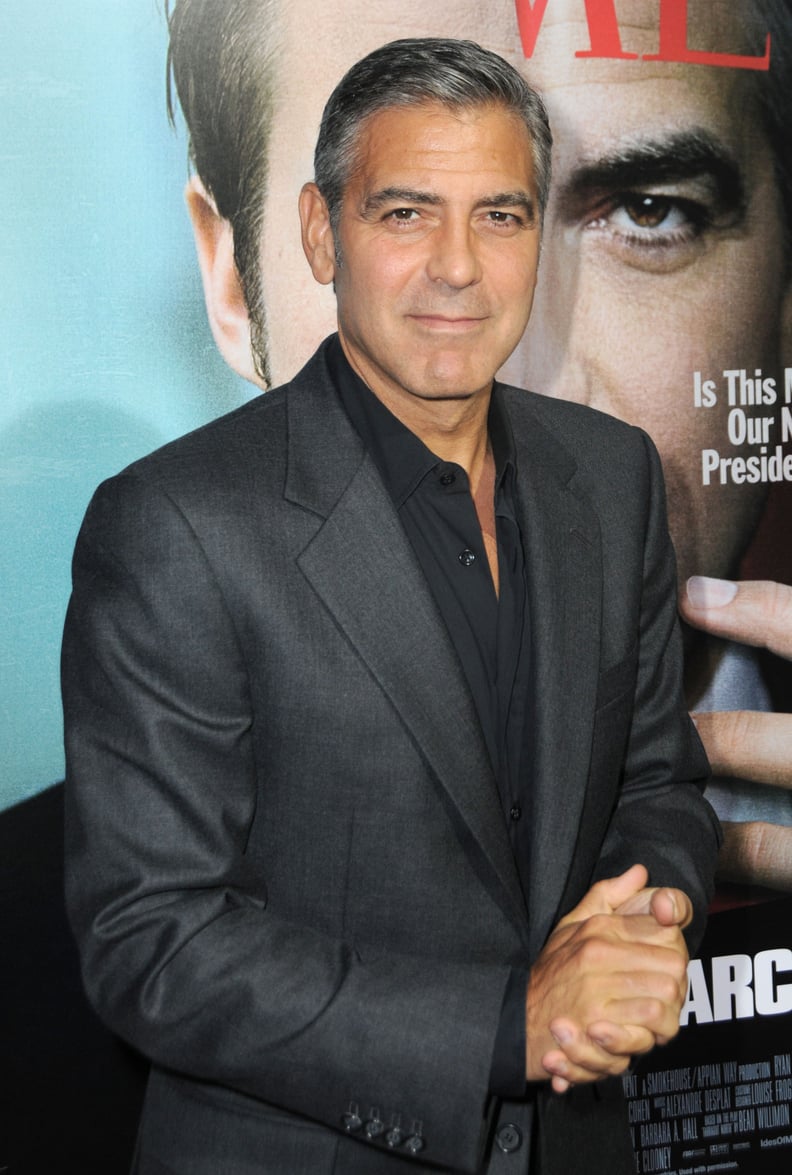 George Clooney vs. The Daily Mail
Earlier this week, British tabloid The Daily Mail claimed that George's future mother-in-law doesn't approve of him as a husband for her daughter Amal Alamuddin, because he isn't from the Druze sect of Islam. The report went on to say that Amal's mother told "half of Beirut" that she was unhappy with George and joked about the Druze custom of excommunicating and physically harming men and women who marry outside of its sect. George responded with an op-ed in USA Today that slammed the report as "dangerous":
"The Daily Mail has printed a completely fabricated story about my fiancée's mother opposing our marriage for religious reasons. It says Amal's mother has been telling 'half of Beirut' that she's against the wedding. It says they joke about traditions in the Druze religion that end up with the death of the bride. Let me repeat that: the death of the bride. First of all, none of the story is factually true. Amal's mother is not Druze. She has not been to Beirut since Amal and I have been dating, and she is in no way against the marriage — but none of that is the issue. . . . This lie involves larger issues. The irresponsibility, in this day and age, to exploit religious differences where none exist, is at the very least negligent and more appropriately dangerous. We have family members all over the world, and the idea that someone would inflame any part of that world for the sole reason of selling papers should be criminal."
The Daily Mail later apologized for the story, but insisted that it wasn't a fabrication. George rejected their apology and provided proof that they had previously reported that Amal's mother is not Druze, so she couldn't have made those comments.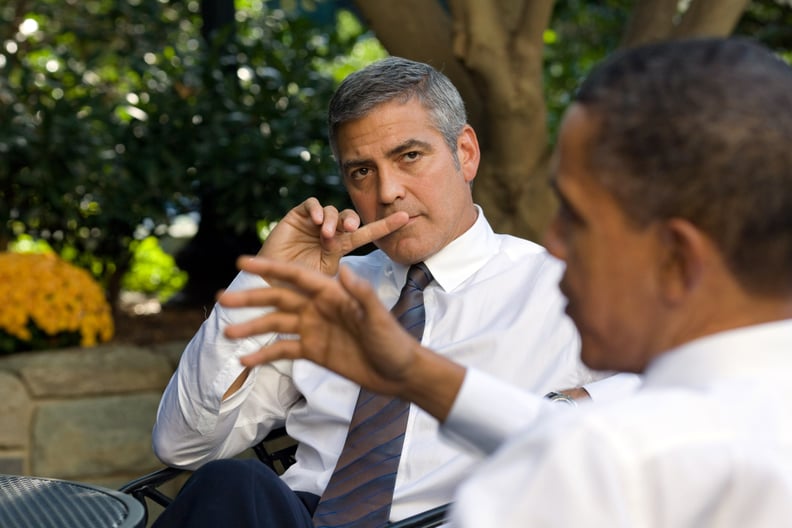 George Clooney vs. Steve Wynn
Earlier this year, George got into an argument with Las Vegas hotelier Steve Wynn while discussing President Barack Obama during a dinner. George explained:
"Steve likes to go on rants. . . . He called the president an *ssh*le. . . . That is a fact. I said the president was my longtime friend, and then he said, 'Your friend is an *ssh*le.' At that point I told Steve that he was an *ssh*le, and I wasn't going to sit at his table while he was being such a j*ck*ss. . . . And I walked out. Those are all the facts. It had nothing to do with politics and everything to do with character."
Steve, who is an outspoken conservative, went on to say that when George is "drinking, he considers himself a close personal buddy of the president." He added, "Clooney's fun to be with when he's sober. If you have a chance to drink with him, you want to get there early and don't stay late."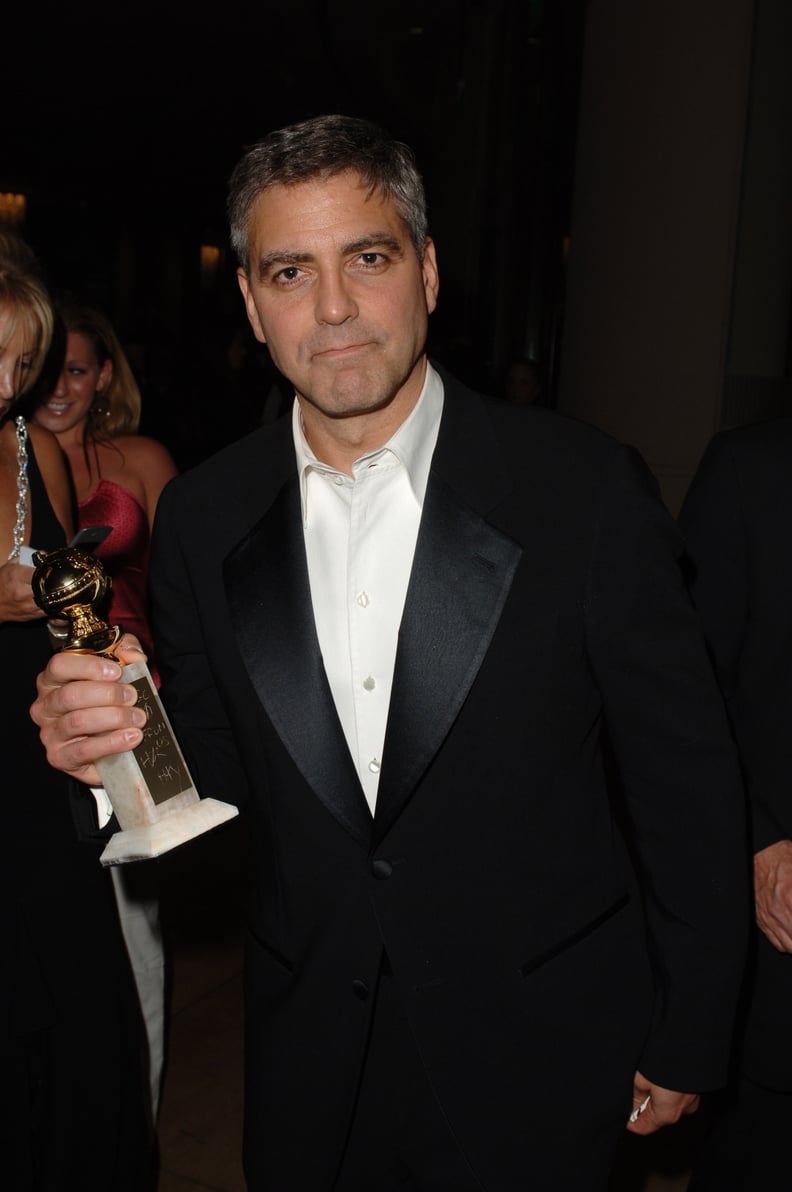 George Clooney vs. Jack Abramoff
Back in 2006, George gave disgraced lobbyist Jack Abramoff an unexpected shout-out during his acceptance speech at the Golden Globes. He paused midspeech to say, "Who would name their kid Jack with the last word '-off ' at the end of your last name? No wonder that guy is screwed up."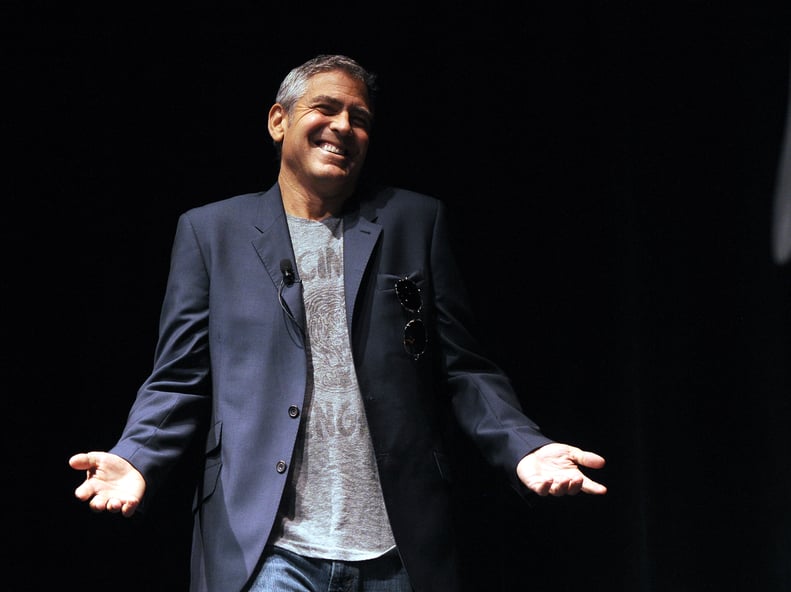 George Clooney vs. Russell Crowe
In 2005, George got into a public feud with Russell Crowe after the Australian actor dissed George for being a "sellout" for appearing in advertising campaigns. In 2013, George explained:
"He picked a fight with me. He started it for no reason at all. He put out this thing, saying, 'George Clooney, Harrison Ford, and Robert De Niro are sellouts.' And I put out a statement saying, 'He's probably right. And I'm glad he told us, 'cause Bob and Harrison and I were also thinking about starting a band, which would also fall under the heading of bad use of celebrity.' And that's when he really went off on me. 'Who the f*ck does this guy think he is? He's a Frank Sinatra wannabe.' He really went after me. And so I sent him a note going, 'Dude, the only people who succeed when two famous people are fighting is People magazine. What the f*ck is wrong with you?' He was gonna see me at the Golden Globes 'cause he was nominated for Cinderella Man. So he sends me a disc of his music and a thing of his poetry. I think he said, 'I was all misquoted,' and I was like, 'Yeah, yeah. Whatever.' I did take it with me to the BAFTAs, but I didn't win. I might have used it if I had won. I was nominated for four!"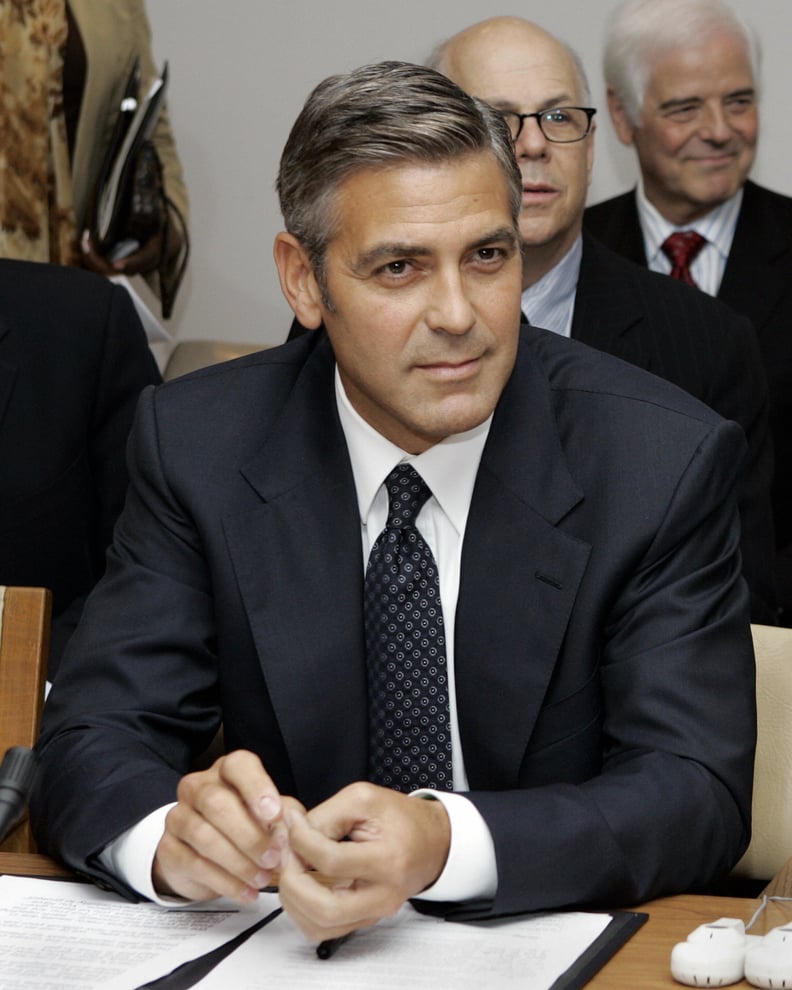 George Clooney vs. Charlton Heston
Back in 2003, George took a swipe at the vocally conservative actor Charlton Heston while attending the National Board of Review Film Awards. George reportedly joked, "Charlton Heston announced 'again' today that he is suffering from Alzheimer's." According to George, he was making a joke about Charlton's conservative views and support for the National Rifle Association. Naturally, conservative critics slammed George for the comment, which they felt was insensitive. Charlton even weighed in himself, saying that "class skips a generation," referring to George's aunt, Rosemary Clooney. In 2008, shortly before Charlton passed away, George revealed that he had made up with the legendary actor: "I wrote him a letter saying I usually avoid making jokes at people's expense, so I'm sending you an apology, and I got a really nice letter back from his wife."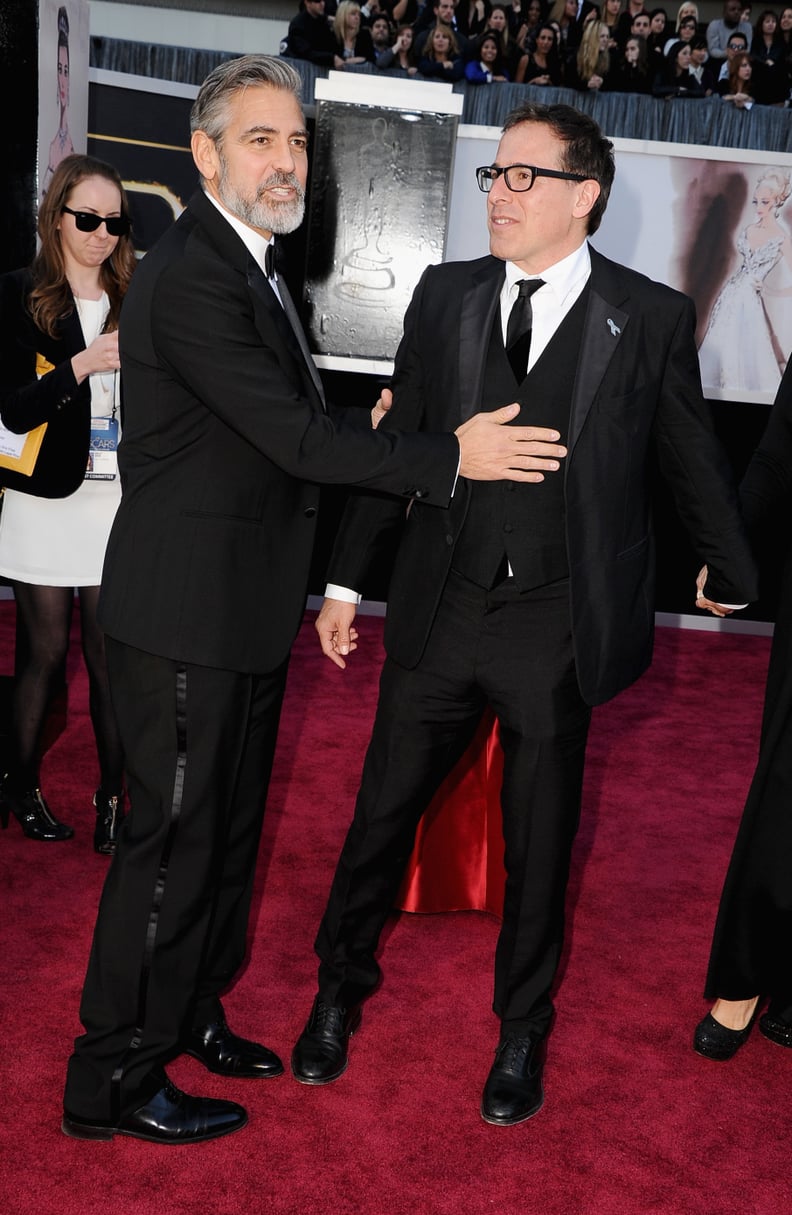 George Clooney vs. David O. Russell
George got into a physical fight with director David O. Russell when the two worked together on Three Kings in 1999. According to George, the fight took place on set after the notoriously temperamental director went off on several crew members and George decided to stick up for them. The actor explained:
"[I said,] 'David, it's a big day. But you can't shove, push, or humiliate people who aren't allowed to defend themselves.' He turned on me and said, 'Why don't you just worry about your f*cked-up act? You're being a d*ck. You want to hit me? You want to hit me? Come on, p*ssy, hit me.' I'm looking at him like he's out of his mind. Then he started banging me on the head with his head. He goes, 'Hit me, you p*ssy. Hit me.' Then he got me by the throat, and I went nuts. One of the boys grabbed me by the waist to get me to let go of him. I had him by the throat. I was going to kill him — kill him. It was truly, without exception, the worst experience of my life."
Five years later, George slammed David in an interview, saying, "Quite honestly, if he comes near me, I'll sock him right in the f*cking mouth." David went on to claim that he never got physical with George. The two appeared to be on better terms in 2013, when they were spotted chatting together on the red carpet at the Oscars (above) and at the Critics' Choice Awards.