How Well Do the Queen and Kate Middleton Really Get Along?
Although we're unlikely to read a heartfelt interview with her majesty on the subject anytime soon, actions speak louder than words, as is often the case with the queen. While Prince William and Kate Middleton were working out the first five years of their on-off relationship, the queen steered clear of meeting her grandson's girlfriend. Although they were in the same room on at least three occasions, there was zero interaction between the two women.
There has never been an exact date revealed for when William and Kate started dating, but it's thought that around the time of William's 21st birthday party in June 2003, there was something going on between the two, though it wasn't serious. No need to get Granny involved at this point! By the time they graduated from St. Andrews two years later, they had been through their first breakup and the relationship was on firmer ground, but the queen believed that the day should be about William celebrating with his friends, and she felt the same when it came to his passing out parade from Sandhurst Military Academy in 2006.
After the couple's short-lived breakup four months later, and another year down the line, the time was finally right for Kate to meet the queen. Five years after they first started seeing each other, William and Kate were sure they had a future together, and in their engagement interview, Kate revealed, "I first met [the queen] at Peter Phillips and Autumn [Philipps]'s wedding . . . it was in amongst a lot of other guests and she was very friendly." William added of his grandmother, "She had wanted to meet Kate for a while."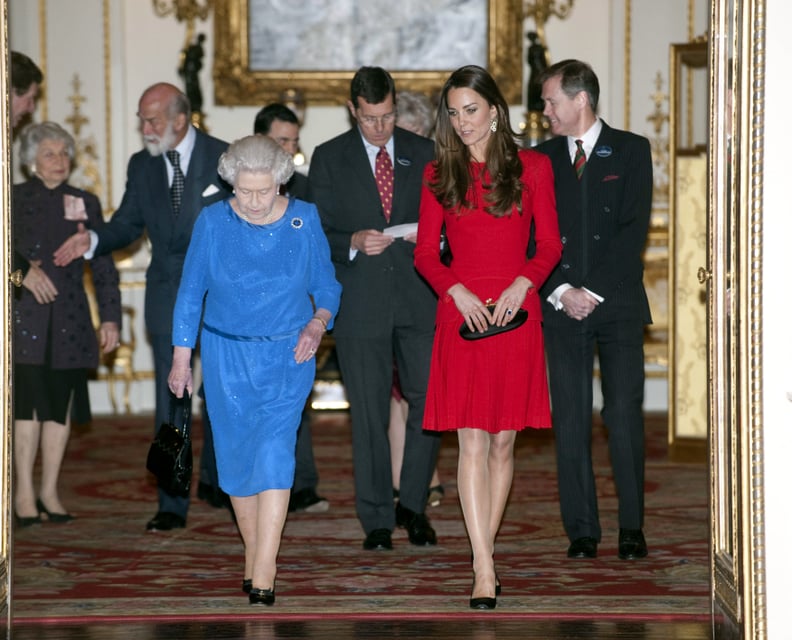 Kate must have made a good first impression, because the following month she was invited to Windsor Castle when William was inducted into the Royal Order of the Garter. Kate was the surprise addition to the day, as it was the first royal engagement she had attended, and her arrival in a car with Prince Harry spoke volumes.
Over the years, the relationship between the queen and Kate has become stronger and stronger. When Kate's wedding dress was displayed in July 2011, the monarch accompanied her new granddaughter-in-law on an official viewing, and the following year she invited Kate to accompany her on three more engagements — two of which were without William. Kate later said in the documentary Our Queen at Ninety about her grandmother-in-law, "The most memorable engagement for me was an away-day to Leicester. I went without William, so I was rather apprehensive about that . . . . She was very supportive. The fact she took the time to make sure that I was happy and looked after for that particular occasion, which probably in everything that she's doing is a very small element, it shows just how caring she is really." The queen has also revealed her fondness for her granddaughter-in-law in her hospitality to Kate's parents. Not only did she invite them to Royal Ascot in 2011 and 2012 when they rode in her carriage procession, but she also invited them to ride on a boat in her Diamond Jubilee River Pageant.
With the arrival of Prince George and Princess Charlotte, the queen and Kate have become even closer, and on Sept. 9, 2015, when the queen quietly marked the day she surpassed Queen Victoria to become the longest-serving monarch of all time, she chose to spend it privately in Balmoral with Prince Philip, William, and Kate.