Nowadays, when we hear about a celebrity wedding that racked up millions of dollars in fees (cough, Kim Kardashian, cough), we barely bat an eye. In the late '90s and early 2000s, however, a celebrity dropping that much money on their nuptials was practically unheard of. That's why the $1 million price tag on Brad Pitt and Jennifer Aniston's July 2000 event was such a shock and it remains one of Hollywood's most memorable A-list affairs. Though the marriage didn't last, it's worth a walk down memory lane if you are feeling nostalgic or just need some inspiration for your own million-dollar bash.
The Venue: Jennifer and Brad exchanged vows at sunset on July 29 at the five-acre, multimillion-dollar Malibu estate they rented from television executive Marcy Carsey, whose property sits on a bluff overlooking the Pacific Ocean. Although airspace was restricted over the estate during the couple's ceremony, the reception was held inside a massive white tent to ensure privacy from any helicopters buzzing overhead.
The Security: The couple spared no expense when it came to their privacy. On top of getting restricted airspace, they asked their guests to sign confidentiality agreements, had "No Parking" signs posted all along the road leading up to the event space, and had the Los Angeles County sheriff on hand to provide traffic control at the location. The only way to really get a glimpse of the wedding was by sea, which led a few voyeurs to attempt to scope things out via boat. At the end of the day, they spent around $100,000 on security.
The Guest List: You might think Brad and Jen's guest list would be a mile long, but they kept the number around 200. Fellow stars like Courteney Cox, Edward Norton, Salma Hayek, and Cameron Diaz all scored an invite. Jen's mother, Nancy Dow, was notably absent, since her tell-all book about her daughter, From Mother to Daughter to Friend: A Memoir, had recently come out and Jen refused to invite her to the wedding.
The Flowers: Jennifer and Brad dropped a cool $75,000 on flowers to achieve the groom's vision for a "zen garden" look. Over 50,000 flowers were brought in by florists from La Premiere of Beverly Hills, who set tables with roses, wisteria, and tulips. Floated lotus flowers were also chosen to enhance a specially built slate fountain, and Jen carried a loose bouquet of Dutch Vendela roses down the aisle with her.
Her Dress: According to the bride's father, Days of Our Lives actor John Aniston, "Jennifer looked beautiful." In a glass-beaded, floor-length, low-backed, white satin and silk gown from Milan-based dress designer Lawrence Steele, how could she not? The Friends actress paired her dress with custom-made ivory suede heels by Manolo Blahnik and wore a delicate veil attached to a pearl and Swarovski crystal crown. For her walk down the aisle, she was accompanied by bridesmaids in pale green chiffon slip dresses.
His Tux: Brad wore a four-button black tuxedo designed by Hedi Slimane and outfitted his groomsmen in tuxes by Prada. Even though his brother and best man, Doug Pitt, dropped the ring at one point, it's safe to say he looked damn good while doing it.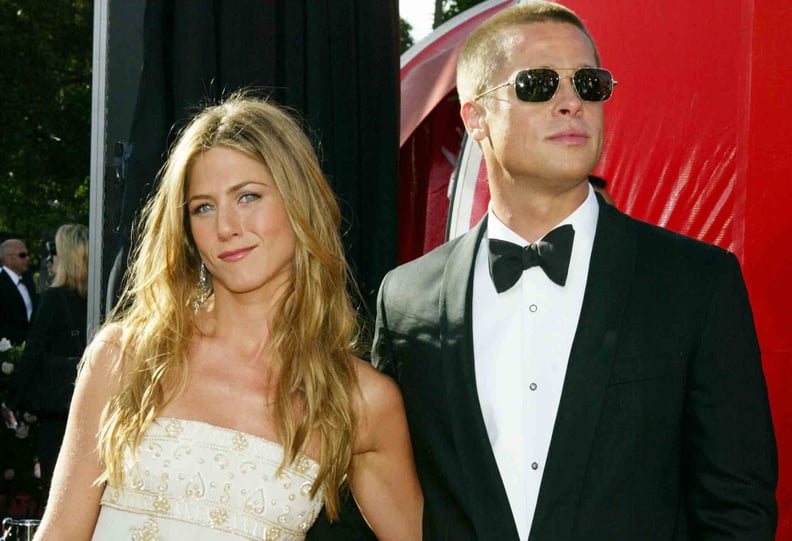 The Vows: They wrote their own vows, which included Brad promising to "split the difference on the thermostat" and Jennifer swearing to always make him his "favorite banana milkshake." When the more traditional part of the ceremony began, Jennifer missed her cue, leaving Brad and the officiant waiting. "Oh! I've never done this before!" she joked after realizing it.
The Reception's Ambience: Inside the reception tent, guests encountered plenty of flowers, fountains, lanterns, and countless imported candles from Thailand made of brown sugar ("Jennifer wanted tons of candles," an insider revealed. "We made it very romantic.").
The Music: When it came time to choose a band for their wedding, Brad and Jen couldn't pick just one. Fortunately, with their budget, they didn't have to. The night kicked off with a six-piece band backed up by a 40-member gospel choir, who sang Al Bowlly's 1930s classic "Love Is the Greatest Thing" before the 15-minute ceremony began. In between the ceremony and the reception, the band Gypsy Magic took the stage to play some Latin jazz. For the couple's first dance, 12-year-old Sinatra-style singer Dakota Horvath (whom Brad first heard at a Beverly Hills nightclub years earlier) belted out "The Way You Look Tonight." As the night wore on, guests Dermot Mulroney and Melissa Etheridge performed an acoustic version of Led Zeppelin's "Whole Lotta Love," and a Greek bouzouki band played traditional music that had a group of 30 circle-dancing around the dance floor.
The Food: Directly after the ceremony, guests enjoyed appetizers like shrimp, gourmet pizza, and caviar, which they were served with Dom Pérignon Champagne. For the main course, Jen and Brad decided on crab, lobster, peppercorn beef, pasta, and risotto.
The Cake: What would a celebrity wedding be without a giant cake? They settled on a six-tier, white-frosted confection and "were looking into each other's eyes when they fed it to each other," People reported. "They were laughing with cake in their mouths."
The Fireworks: Once it got dark enough during the reception, Brad and Jen surprised guests by setting off fireworks over the Pacific, which reportedly cost $20,000. The lavish 13-minute display included pyrotechnic hearts and smiley faces, which were accompanied by Radiohead, Garbage, and Jeff Buckley songs. James Souza, whose company created the custom display for the couple, told People that "they wanted it big, grandiose" and asked for "the greatest effects that we had."