Current Status: Watching Madison Bailey and Mariah Linney's TikTok Dance Videos on Repeat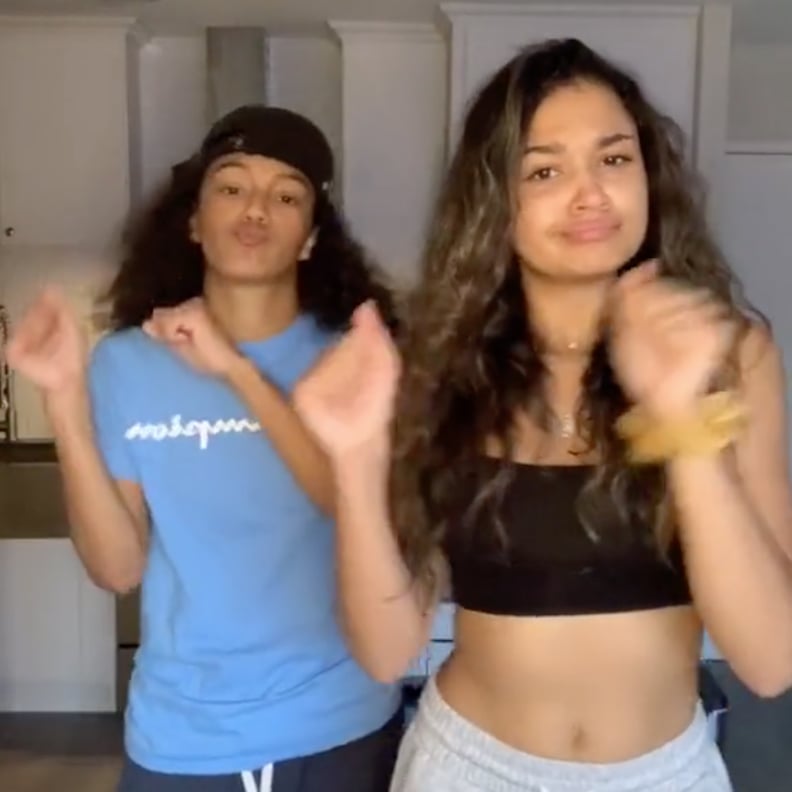 Readers of POPSUGAR, I hereby declare Madison Bailey and Mariah Linney the new queens of TikTok — kindly join me in bowing down. Not only did the Outer Banks star and UNC basketball player's budding relationship start on the app, but they've also proven their in-sync dancing abilities while taking on TikTok challenges together.
For those who are unaware of how Madison and her girlfriend Mariah met, allow me to fill you in, because it's quite the adorable modern love story. Back in May, Mariah posted a flirtatious TikTok video about Madison, which led Madison to track her down on Instagram and slide into her DMs. After realizing they were within a 20-minute drive of each other in South Carolina at the time, they met up and hung out, then Mariah later flew out to Los Angeles to stay with Madison for a bit. Although they've only been getting to know each other for about a month and a half now, Madison recently told Entertainment Tonight that "it's very serious," adding, "I had zero hesitation to post on social media about it because I was like, 'No matter what happens, you will be in my life forever.'" *Swoons*
While hanging in LA, Madison and Mariah filmed tons of cute TikToks together — both dance videos set to popular songs and footage of them goofing off — thus fueling fans' obsession with their bond even more. Ahead, see footage of them defending their title as the true queens of TikTok, and be sure to follow them both on the app (@madsbaileybabe and @mariahlinney) for more in the future.
The TikTok Video That Started It All
Soon After, Madison Turned It Into an Adorable Duet Video
Madison and Mariah Made Their Official TikTok Debut in the Sweetest Darn Way
Yep, They Totally Nailed This Dance
Watching Them Take On the 100 Racks Challenge in Coordinating Outfits Is Just *Chef's Kiss*
The Cutest "Westside Babies" I Ever Did See
Sheesh, Save Some Cuteness For the Rest of Us!
It's Safe to Say Madison Is Falling Pretty Hard
They're Perfectly in Sync
I'm Not Quite Sure What's Going On Here, but I Dig It
OK, Even Their "Bloopers" Are Adorable!