Matt Lintz Talks About Playing Bruno Carrelli on Ms. Marvel
"Ms. Marvel" Star Matt Lintz Reveals Whether He's Team Bruno or Kamran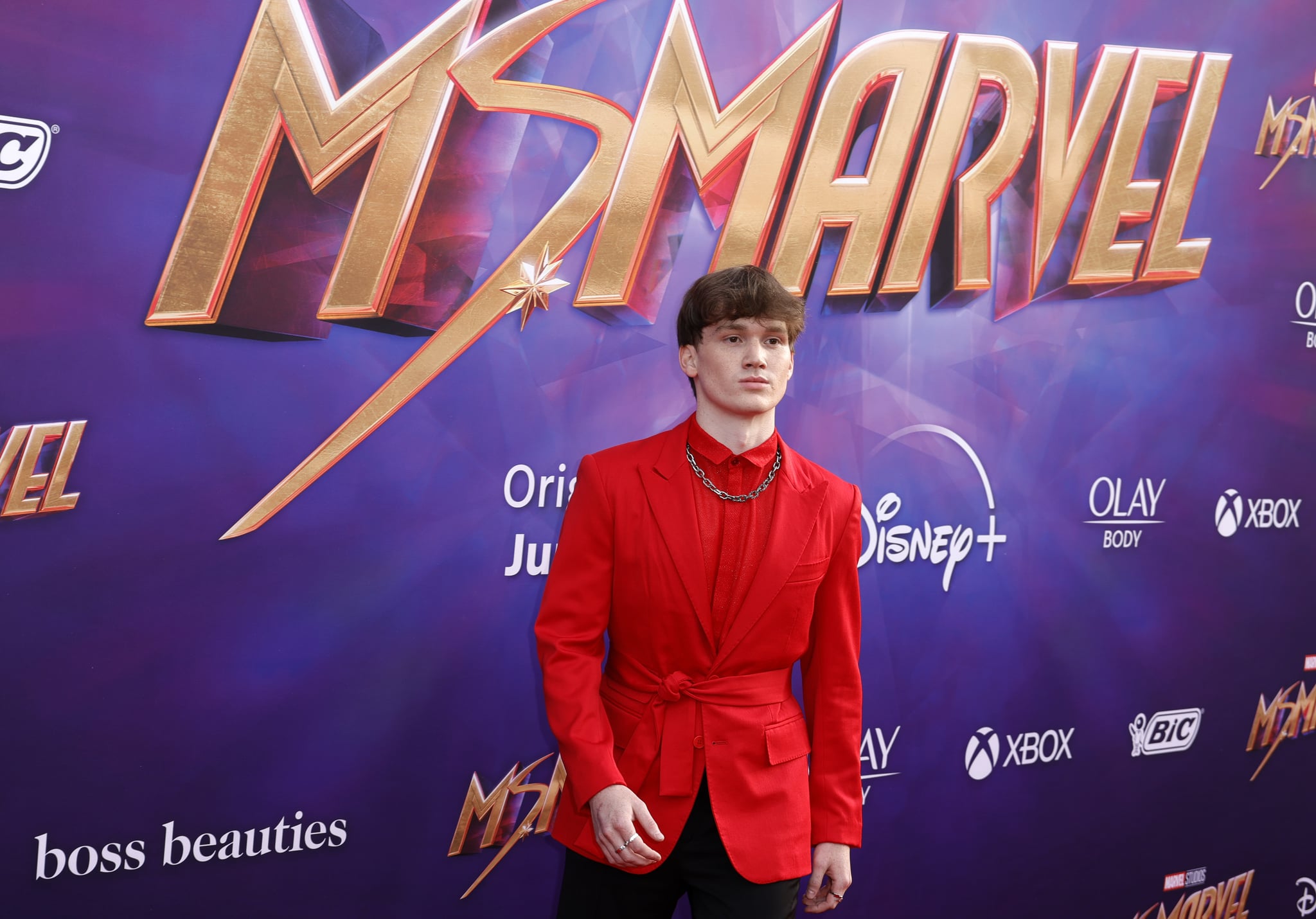 In our Q&A series "POPSUGAR Crush," we get to know some of our favorite celebs' more intimate details — from their first celebrity crush to the best love advice they've ever received. This month, we're crushing on "Ms. Marvel" star Matt Lintz.
Matt Lintz is gracing our screens again, this time on Disney+'s "Ms. Marvel." Based on the "Ms. Marvel" comics, the new series centers around Imani Vellani's Kamala Khan, a 16-year-old girl from a Muslim, Pakistani-American family who lives in Jersey City, NJ. Kamala — who is a huge Captain Marvel fan — is struggling to find her place in the world when she suddenly ends up with superpowers of her own.
Lintz — who you've probably seen on "The Walking Dead," "The Alienist," and "Pixels" — plays Kamala's best friend/love interest Bruno Carrelli. "Bruno is the tech-savvy best friend of Kamala. He's very empathetic, very loyal, and very protective," Lintz tells POPSUGAR of his character. "Then you have this Kamran [Rish Shah] character coming in, and he gets very protective over Kamala, but he has been best friends with Kamala since he was young. He's pretty much inducted into the family. They have a very, very close relationship."
"It's one of the most relatable Marvel stories you can watch."
Speaking of Kamran, it sounds like Kamala may have a love triangle on her hands, though Lintz says it's "definitely up for interpretation." He adds, "Bruno gets his world rocked when his best friend gets powers, and he's trying to figure that out and traverse all the problems that may cause and the excitement of [it all]. And then we go to this party, and this good-looking British man comes out of the water, and he gets maybe a little bit upset in a way or insecure, and that brings up even more problems or different dynamics in his relationship with Kamala."
To make sure their chemistry translated on screen, Lintz and Vellani spent a lot of time in preproduction figuring out the dynamics of Bruno and Kamala and how their relationship would feel in real life. "All we wanted was to make sure that when people saw us on screen, it looked like we had been friends for years," Lintz shares.
"Ms. Marvel" is Marvel Studios' first project centering on a Muslim character, which Lintz says is "a big step, not only in the Marvel universe, but in the world." "It's a show about a young girl traversing high school and becoming this superhero. It's one of the most relatable Marvel stories you can watch. I mean, anybody, any age, any skin color, anybody can watch that and find a character to relate to. And the diversity is something that's very important," Lintz says. "And for me to have a little part in telling this beautiful story about Kamala Khan and that world in Jersey City is great. And it's just so different in the way it's shot . . . the tone is so different than anything people have seen, and it's really refreshing. I think people are going to love it."
"Ms. Marvel" premiered on Disney+ on June 8, with new episodes airing weekly. Check out the rest of Lintz's "POPSUGAR Crush" interview ahead.
Are you Team Bruno or Kamran?
OK, so me and Rish [Shah] have talked about this a lot. He's Team Bruno, and I'm Team Kamran. We're actually getting shirts printed.
What love advice do you have for Kamala Khan?
If I was talking to Ms. Marvel, I'd say, "Follow your heart. Look out for what's best for you. Whether that's Bruno or Kamran, just follow your heart."
If you could have one superpower, what would it be?
It would be teleportation. Flying is great and all, but teleportation is so convenient. You don't have to pay for flights. You can just go anywhere you want.
Aside from Ms. Marvel, who is your favorite Marvel character?
There's so many. I grew up on Toby McGuire's Spider-Man and all these incredible MCU movies. But if I had to choose, I love the Winter Soldier. I think he's a great character. ["Captain America: The Winter Solider] is probably one of my favorite films as well.
Who was your first celebrity crush?
I think it was Ariana Grande. I used to watch all the Nickelodeon, Disney stuff.
What is your idea of a perfect date?
For me personally, it's a place where you feel most comfortable with your significant other. It could be anything — a car, a nice dinner overlooking a river, anything. It has to be candlelit, though, and maybe some flowers, but candlelit dinner in a comfortable place.
What is your favorite form of self-care?
I love going to the gym. I found the gym a couple years ago, and I kind of stuck with it. It's a way for me to destress and clear my head a little bit, and it's also healthy for my body.
Biggest turn-on?
Just being yourself, and that sounds like a corny answer, but I know so many people that try and mask who they really are try and be someone they're not. If you're 100 percent genuine and you're comfortable in yourself, that's the most attractive trait I see in someone and it goes a long way.
Biggest turnoff?
Biggest turnoff would probably be just trying to use people for your personal gain. I know a few people like that, and it's just a big turnoff. I love genuine people who love themselves, but also are very empathetic and understand others as well.
What is the most romantic thing that you've ever done or that's ever been done for you?
I'll go with a recent one. I took my girlfriend out, I bought her some flowers, and we went to the place we went for our first date on our five-month anniversary. We went to back to the restaurant where we first met, which was nice. [The restaurant] was very important, and it holds a lot of memories.