Meghan Markle in California Is a Whole Vibe, and I'm Here For It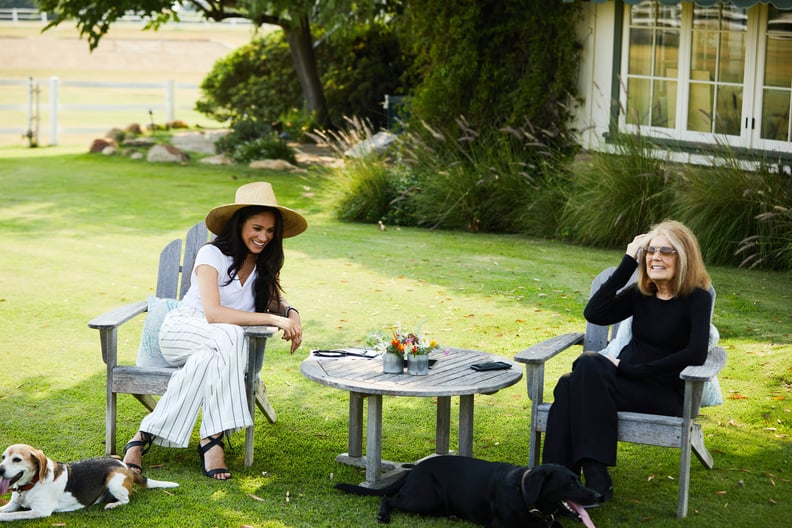 Matt Styles
Meghan Markle recently teamed up with Gloria Steinem and Makers Women (a media company dedicated to promoting gender equality) for a Q&A about voting and women's rights. During the conversation, which was released on Aug. 26, the Duchess of Sussex and political activist chatted outside of what appeared to be Meghan and Prince Harry's new home in Santa Barbara, and this might just be one of my most favorite Meghan interviews to date. Aside from her postengagement one with Harry, of course, that one is still No. 1 on my list.
While Meghan and Gloria's discussion is definitely a must watch, I couldn't help but obsess over how genuinely happy she looks. I mean, she's radiating! From the way she kicked off her shoes and put her bare foot on the chair to how she's just chilling in her backyard with Gloria with not a care in the world, California Meg is a whole vibe! Not to mention, her entire summer outfit is *chef's kiss*! And yes, I've already added it to my virtual cart, where it'll probably stay. Her dogs, Guy and Pula, also seem to be settling into their new home just fine, basking in the warmth of the glowing sun and taking in the beautiful hillside views. I love this for them. Ahead, check out all the unfiltered thoughts I had when I watched Meghan's Q&A with Gloria.
When Meghan said it was good to be home "for so many reasons," I felt that.
Can we talk about this outfit, though?
Oh, I NEED that sun hat! *checks price* Actually, maybe not.
I also do NOT need those $250 pants.
California Meg is a vibe!
I would have loved to see Prince Harry behind the camera. I can already hear him making jokes in the background!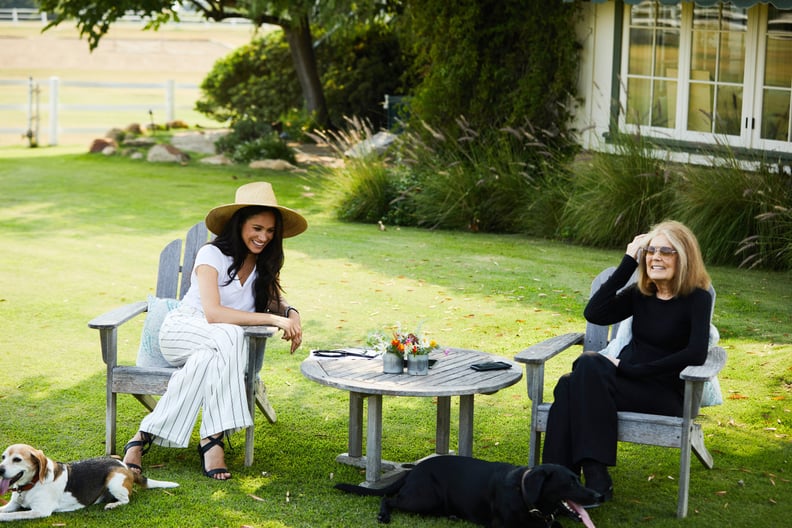 I'm fascinated by the length of Pula's tongue — is that normal for Labradors?
A candid queen, I stan.
This whole energy is goals!
She looks happy, the dogs look happy, so therefore, I'm happy.
The fact that she can just chill outside with her dogs unbothered — I love this for her.
Maybe I will get that sun hat, after all.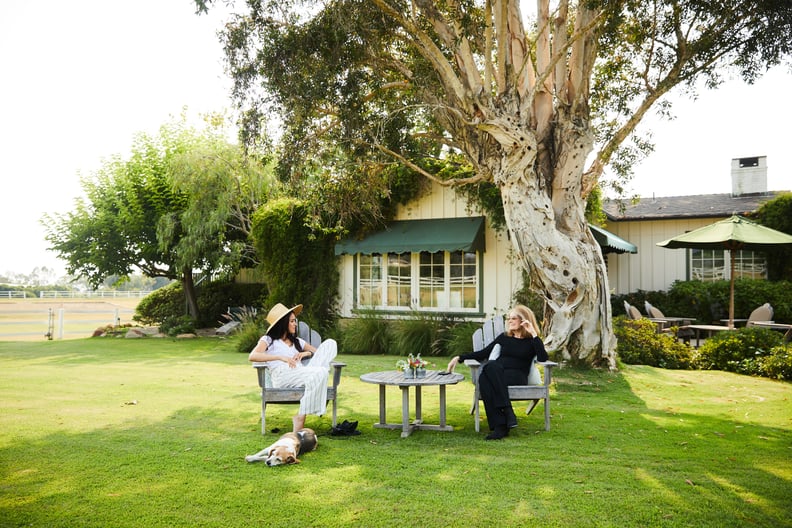 Guy's probably like, "Are we done yet?"
So, what part of the house are we seeing in this photo? The kitchen? The dining room?
Hmm . . . I wonder where her cute patio furniture is from.
I'm loving this leg-up-on-the-chair situation.
I'm just so happy that she's finally happy! That's all.