Announcing Girl Talk: An Epic Virtual Event With POPSUGAR, Michelle Obama, and the Girls Opportunity Alliance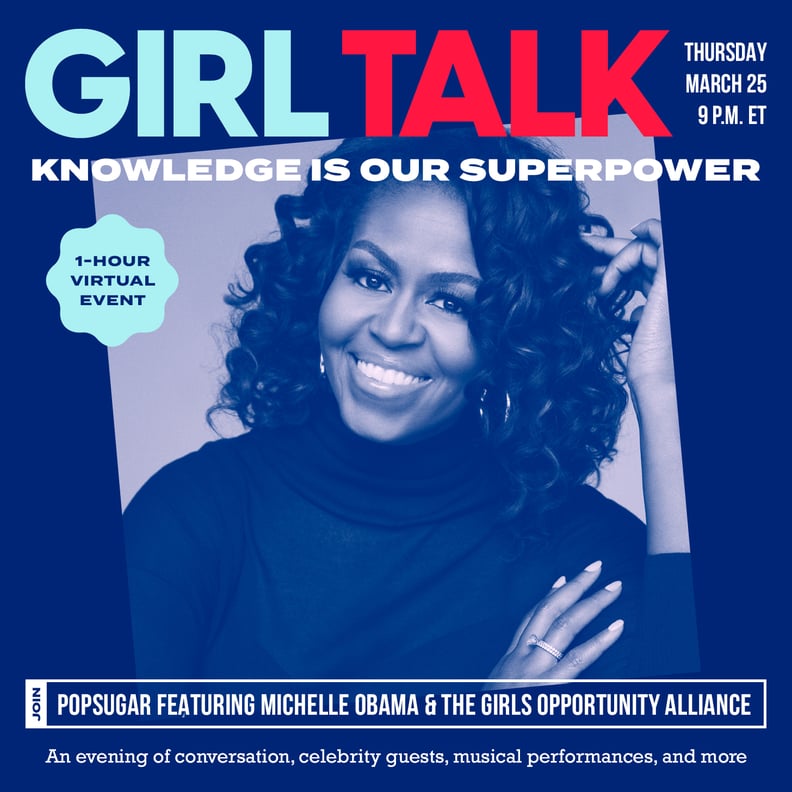 What happens when some of the most influential and inspiring women out there sit down together for an evolving conversation? Change happens, ideas are sparked, and all of us can bask in the magic that is created. We are so excited to announce Girl Talk, a one-hour virtual event featuring Michelle Obama. With an interactive Q&A, musical performances, special guests including host Sofia Wylie, late-night rockstar Lilly Singh, and much more to be announced soon, it's an event you do not want to miss.
On Thursday, March 25, at 9 p.m. ET/6 p.m. PT, join POPSUGAR, featuring Michelle Obama and the Girls Opportunity Alliance, for an unforgettable, educational experience, because as women, knowledge is our superpower. A part of the Obama Foundation, Girls Opportunity Alliance was established to empower young girls through education by giving them access to leaders and resources to help them reach their full potential. Need more convincing? Come for a keynote conversation between Mrs. Obama and two incredibly inspiring students from the Girls Opportunity Alliance, Sonali Pathak and Turipamue Kazohua, moderated by Lilly Singh; stay for a Q&A with Mrs. Obama and a whole host of star-studded appearances. Prepare to be inspired by empowering celebrities, innovative influencers, and straight-up badasses changing the world. You'll be able to watch Girl Talk here on POPSUGAR and on our TikTok, YouTube, and Facebook accounts, as well as TV Networks TLC and OWN and discovery+ streaming service.
After a year that challenged us in ways we could've never imagined, Girl Talk will reinvigorate us and advocate for the power of learning and education. We'll be surrounded (virtually) with queens changing the game in each of their fields, all with one common goal: reenergizing women during a time when we need it most. So, what are you waiting for?! Be sure to tune in for the event your friends will be mentioning and dropping wisdom from for years to come and consider a donation to support the awesome work of the Girls Opportunity Alliance.
Join the Girls Opportunity Alliance to take action to help adolescent girls and the grassroots leaders working to educate them.