How Mila Kunis and Ashton Kutcher's Friendship Turned Into Romance
Mila Kunis and Ashton Kutcher have been together for over a decade now and have a tendency of keeping their relationship extremely private. The couple first began dating in April 2012 after playing love interests on "That '70s Show" and eventually ended up tying the knot in a top-secret ceremony in July 2015. Along the way, the duo welcomed a baby girl named Wyatt Isabelle, whom Kunis credits for helping her realize "how incredibly selfless I want to be." In December 2016, the couple welcomed their second child, a son named Dimitri Portwood.
In addition, Kunis has gone on record saying that when she met Kutcher, she "found the love of my life," while Kutcher has expressed similar sentiments, saying, "I prize her as the most valuable person in the world to me." See what other sweet things the couple has said about each other, then flip through their cutest PDA pictures.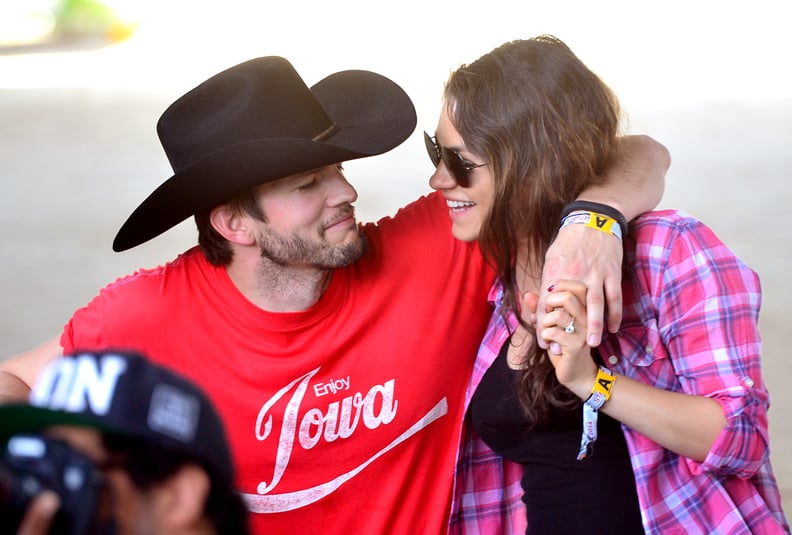 Mila Kunis on Ashton Kutcher
On their sex life: "It's great," Kunis said during a stop on "The Ellen DeGeneres Show."
On how Kutcher is a great dad: Per the Telegraph, Kunis said, "My husband is an incredibly hands-on dad. When my child was born, I was breastfeeding, and he said, 'That's your connection. I want to change every diaper.' When we're in public, if it's a pee-pee diaper, you can change her at the table, but if it's a poo-poo diaper, you don't want to affect the people eating. So he's like, 'Err, I guess I'm going to the ladies' room to do it.'"
On taking spontaneous trips with Kutcher: She also told the publication, "My husband and I always backpack through Europe. We were in Belgium recently, and we thought, 'Let's go straight to the airport and get on a flight to Spain.' We can just pick up and go."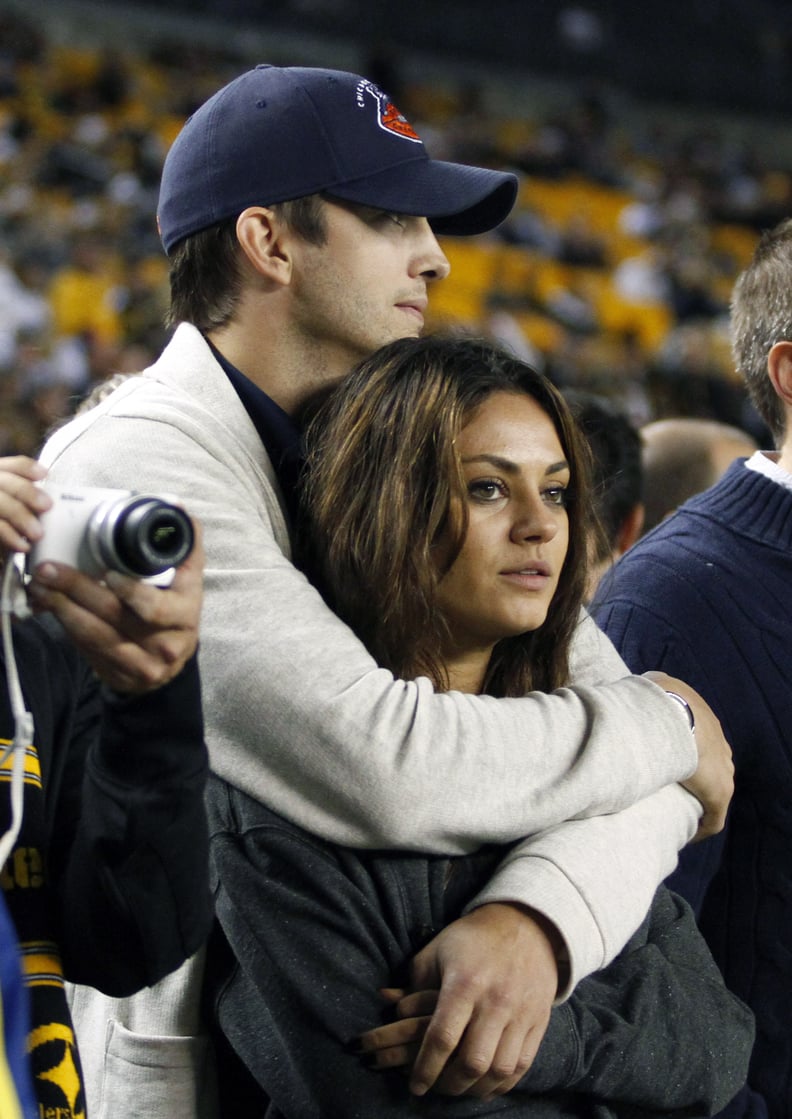 On how her friendship with Kutcher turned into romance: "One day, it just changed. All of a sudden, it wasn't the same and I was really proud of myself for acknowledging that. The best day of my life so far was the proposal. I cried. I was a mess. Not to discredit any relationships in my past, but this relationship is different," Kunis told Marie Claire.
On meeting Kutcher: "I found the love of my life," she told W magazine.
On her first kiss: In the same interview, she said, "My first real kiss ever was with him on the show and when ["That '70s Show"] had a prom, my date for the prom turned out to be my fiancé. We can honestly say that we went to prom together. Not only did [the show] introduce me to my fiancé, but I'm so grateful that all my mistakes are recorded for posterity. I went through everything embarrassing that a girl can go through in front of my fiancé. There's no question that he's seen the worst. I find that comforting."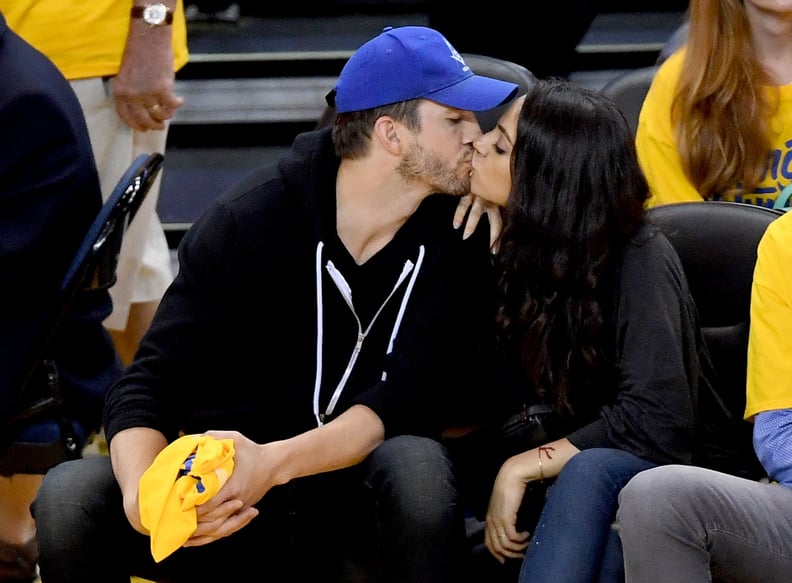 On how being former costars with Kutcher affects their relationship: Speaking with Glamour, Kunis said, "We can't bullsh*t each other. I literally can't lie to him. He can call me out on everything, and I can do the same, because there's nothing about the other person's face that we don't know. We know when they're acting, thus we know when they're lying. Sometimes he'll look at me, be like, 'Really?' And I'm like, 'F*ck.'"
On her close bond with Kutcher: In the same interview, Kunis said, "There's nothing we don't know about each other because we've known each other for so long: the ugly, the bad, the good. We went through a period where I thought he was crazy. At the height of his career, I was like, 'Ugh, I don't like you. I don't even know you anymore. You think you're such hot sh*t.'"
On confirming their marriage a year after it happened: "We never denied it; we just never talked about it. It was something that didn't have anything to do with anybody else," Kunis told Glamour.
On how Kutcher is a problem-solver: "He's always doing daddy hacks. He's so not a passive husband or father. He doesn't just go, 'I don't know' and throw his hands up in the air. He's like, 'We can fix it,'" Kunis told the publication.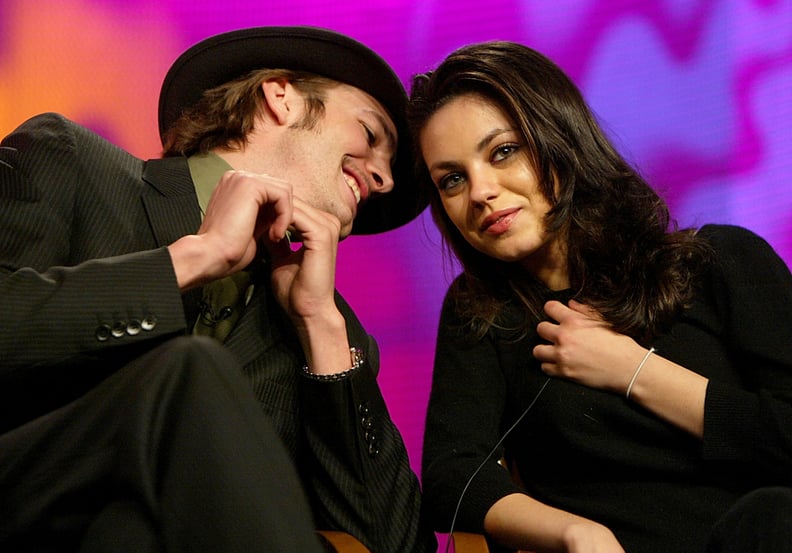 On the night her relationship with Kutcher turned romantic: "I see this guy and I see his back and he's really tall," she told Howard Stern. Then, he just turns around and it was literally like if we were in a movie, the music would start playing and the violins would go. I think for the first time ever he took my breath away — I was like, 'F*ck, he's good-looking.' If we just paid attention to these movies, we should know that sh*t like this does not work out in real life. I think we both had to go through a lot in our lives to become the people that we are because we would never be together based on the people that we used to be, ever."
On whether Kutcher's penis is more like a carrot stick or beer can: "Carrot stick. Beer cans are short. Oh, beer can, beer can . . . I was thinking short and stubby and long and thin. But like a Guinness," she joked to James Corden.
On the moment she moved Kutcher out of the friend zone: Kunis told Corden, "I did a movie called 'Friends With Benefits' and he did a movie called 'No Strings Attached,' and if we would've just paid attention to how those movies turned out, we would've known we can't go into a relationship this way, and yet we did exactly as both those movies foretold. We shook hands and said, 'We're going to have fun because we're both single and young.' Three months later, we're living together and six months later, we're married and have a kid."
On his secret talent: "He's a Midwestern boy and his dad is a carpenter, so he makes things. You know, I don't really have a plumber or handyman. I have a husband, and so like, I have a genuine 'honey do list' for the weekend, where I'm like this is a bad drawer, figure this out. This door is squeaky," Kunis said.



Ashton Kutcher on Mila Kunis
On their sex life: Per People, Kutcher said, "I get to have sex with her, it's amazing."
On the best piece of advice he's gotten from Kunis: Per People, Kutcher also said, "Don't let your ego get in the way of asking for help."
On the secret to their successful marriage: "Everything Mila says is right!" he joked with Ellen DeGeneres. "She's my wife, so that's just what it is. Everything she says is right."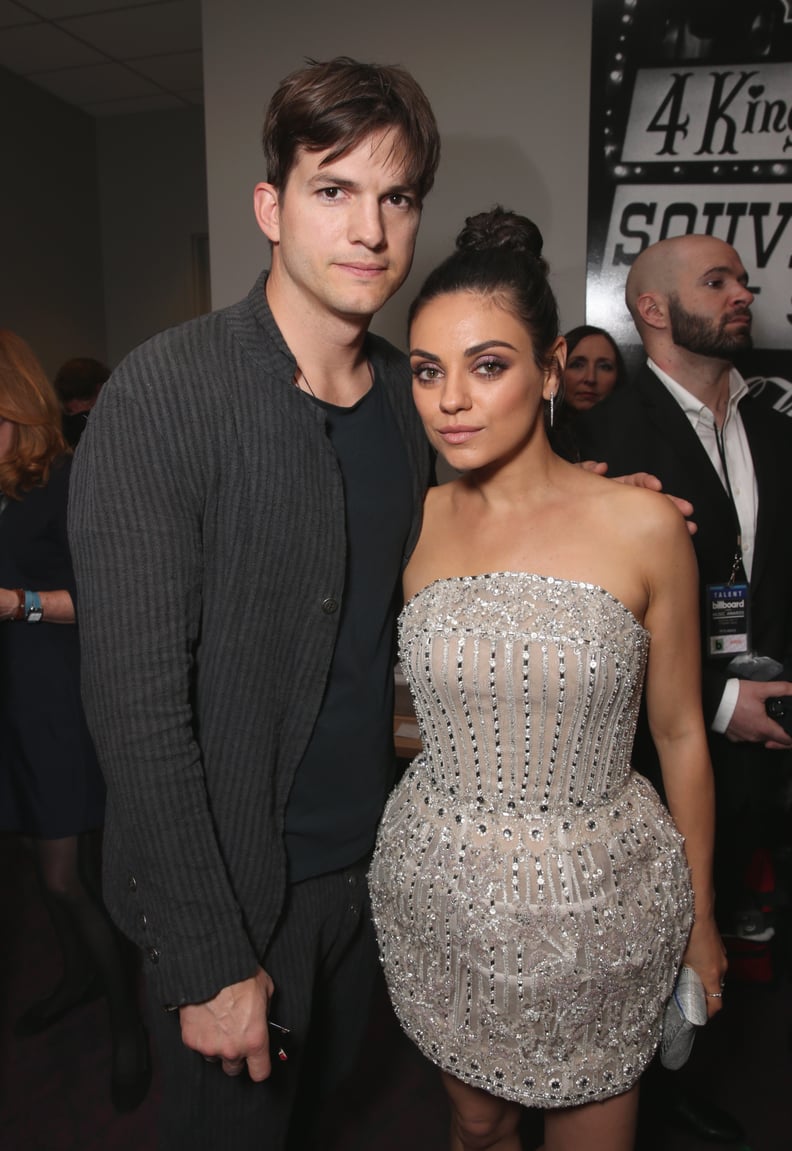 On their superprivate wedding: "It was a ninja effort. We really didn't want helicopters at our wedding and it's a legitimate concern. So we — I was like posting things on social media that were in different locations to avoid – we didn't want to be screaming our vows at each other. So we went really under the radar with it," the actor said on "The Ellen DeGeneres Show."
On what Kunis means to him: "I prize her as the most valuable person in the world to me."
On their first kiss: "I did her chemistry homework for her," Kutcher explained to Howard Stern. "I think I was her first kiss on the show. We have our first kiss like memorialized on the TV show . . . It was really weird. I was like, 'Isn't this illegal?' It was really awkward. She was 14! She was like my little sister."