Miley Cyrus and Selena Gomez's Bright Minded Interview
Selena Gomez Reveals She's Bipolar in Bright Minded Interview With Miley Cyrus
Miley Cyrus and Selena Gomez had a sweet reunion in the final episode of Miley's Bright Minded show. The 27-year-old "Slide Away" singer launched the interview series on her Instagram Live in March to bring light during the coronavirus pandemic, and on Friday, she and Selena got together via live stream to chat about everything, from how they're practicing social distancing to the importance of mental health.
After Selena reached out to Miley to tell her how much she loves the show, Selena kicked off their interview by praising Miley. "I mean, I've always been a fan. I think you are one of the greatest singers ever," Selena gushed. "I was so happy that I even got this opportunity to talk to you about some of the most incredible people, but also what's going on."
When asked about what's she's been doing to connect with people during this time, Selena said that she's been writing a lot. "I had gone to treatment a few times for anxiety and for depression and for other stuff that I've been struggling with. When I do meetings and stuff, a lot of it is connecting with people that maybe you haven't been the greatest to or that you may not have thought about, so I feel like there's been a lot of people that I've gotten to do that with," she explained. "Not necessarily saying it was bad, but just saying, 'Hey, I hope you're safe. I hope you're doing OK and that you know that on my side I'm only sending you love.' I just want them to know that I see them, so I think that's kind of something that I've been doing."
In addition to writing, the 27-year-old Rare singer recently made a donation to LA's Cedars-Sinai Medical Center to thank them for everything they're doing. "That's the hospital where I found out I had lupus, where I found out I needed my kidney transplant, so I'm giving a portion of certain things like my merch," Selena said.
"Sometimes I got to cry it out and release it and take a deep breath."
Moving on to mental health and self-care, Miley asked Selena how she filters helpful thoughts versus hurtful thoughts. "Communicating with the women I respect," Selena replied. "Talking through what it is you're feeling is extremely helpful . . . All of my friends as well, we'll get on calls and just talk to each other, but sometimes I have to feel it, Miley. Sometimes I got to cry it out and release it and take a deep breath."
Selena also revealed that during a recent visit to a mental health hospital, she found out she was bipolar. "I went to one of the best mental hospitals . . . McLean Hospital and I discussed that after years of going through a lot of different things, I realized that I was bipolar," she said. "I just feel like when I finally said what I was going to say, I wanted to know everything about it and it just took the fear away." Miley and Selena then wrapped up their interview by sharing the memories they love to refer back to when they want to feel good, and honestly, that's a tip we could all use.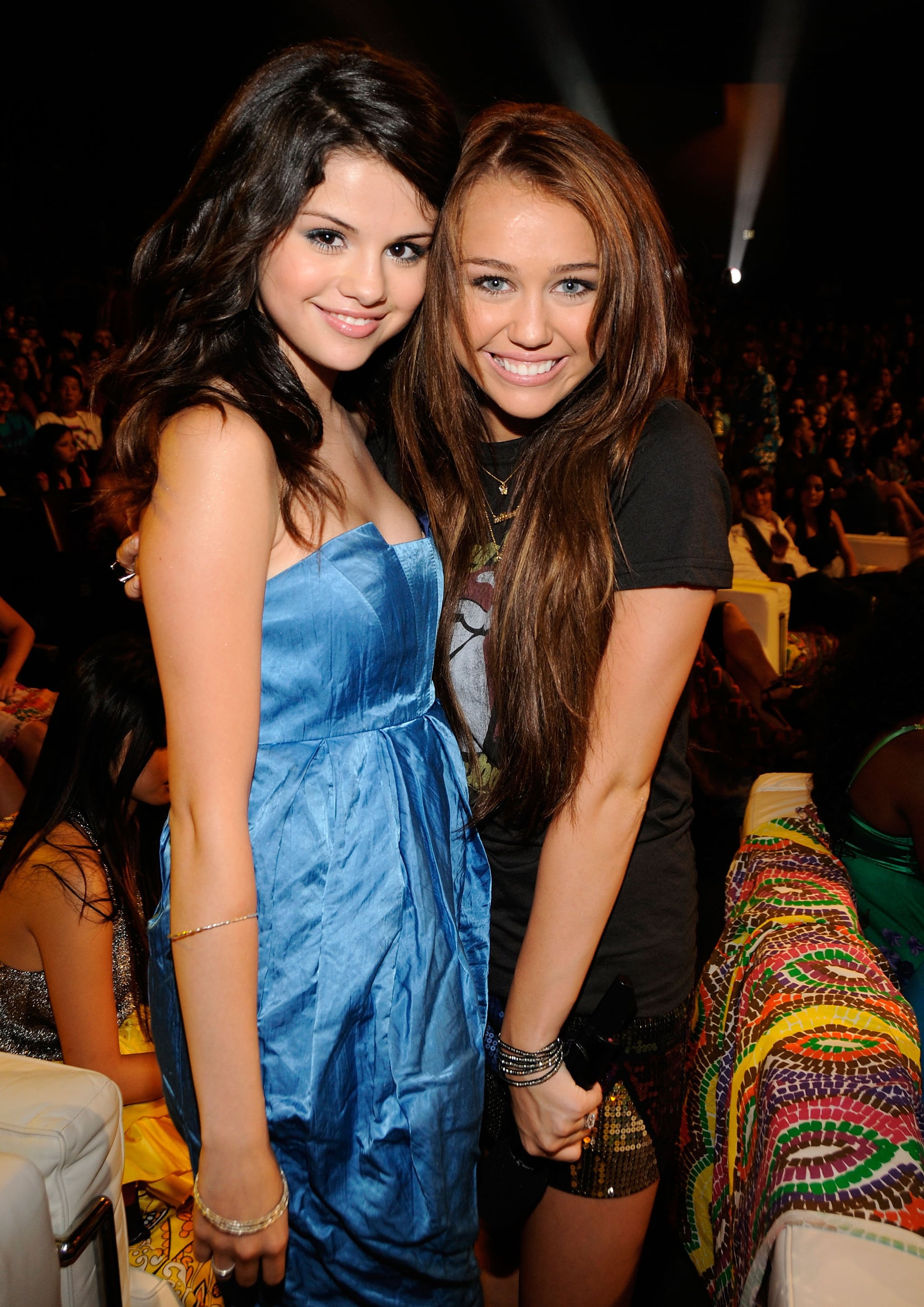 Image Source: Getty / K Mazur/TCA 2008
Selena and Miley both got their big breaks as Disney stars; Selena in Wizards of Waverly Place and Miley in Hannah Montana. Throughout the years, there have been rumors of an alleged feud between them — mainly due to the fact that they both dated Nick Jonas in the late 2000s — however, Selena shot down those reports in 2016, saying, "We never feuded. We both liked the same guy when we were 16. It was just a Hilary Duff - Lindsay Lohan thing: 'Oh my god! We like the same boy!' We are now completely settled in our own lives." Miley doubled down on Selena's comments three years later in an interview with Capital FM, adding, "I grew up collaborating with Demi [Lovato] and Selena [Gomez]. There was never any competition." Watch Miley's full interview with Selena, Elton John, and Kerry Washington above.