Nina Dobrev and Julianne Hough Celebrate Galentine's Day
No One Does Galentine's Day Quite Like Nina Dobrev and Julianne Hough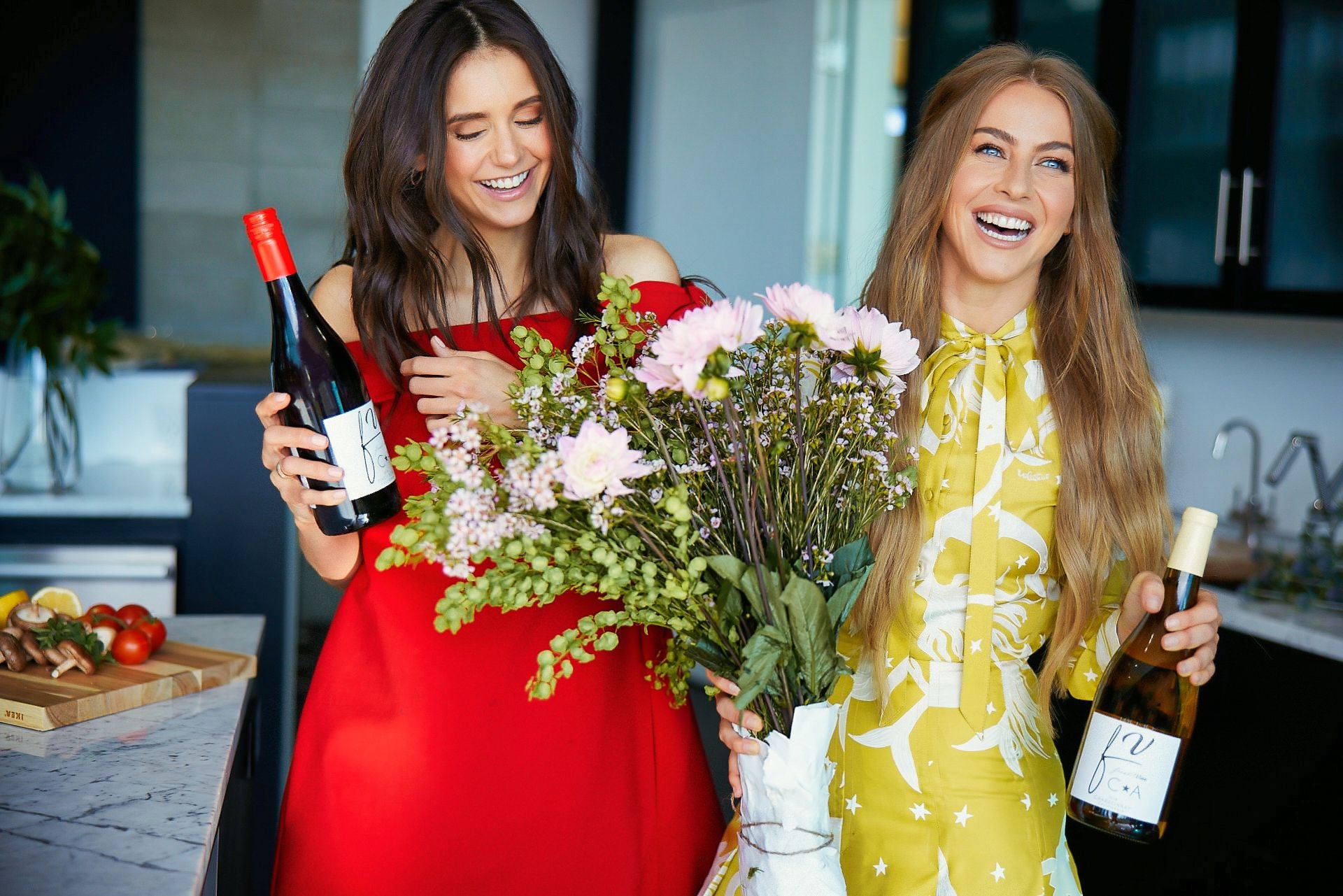 Image Source: Courtesy of Fresh Vine Wine
Nina Dobrev and Julianne Hough are the ultimate hostesses and even better friends. And with "Galentine's Day" approaching — a pre-Valentine's Day, women-centric holiday popularized by the show "Parks and Recreation" — the two are sharing tons of advice to help you ring in the season of love with your closest friends. "My best friends are my lifelines, so a holiday to honor them is always worth celebrating!" Hough tells POPSUGAR. As opposed to its well-known counterpart, Galentine's emphasizes friendship, connection, and completely platonic love. "It's a day dedicated to ladies celebrating ladies! It reminds us to appreciate all the amazing women we have in our lives and to never take them for granted," Dobrev adds.
Dobrev and Hough's own friendship blossomed thanks to their mutual hairstylist, Riawna Capri. "We went on a friendship date shortly after being introduced and immediately clicked," Hough says, referencing the Los Angeles Lakers game she and Dobrev attended in 2013. The secret to their long-lasting relationship is their many similarities, which is what eventually led the dynamic duo to start their own business (as besties do). They launched Fresh Vine Wine together in 2019, which offers low-sugar, low-calorie, but still fully delicious varietals, from a bold Cabernet Sauvignon to a refreshing Rosé.
"Galentine's Day calls for chocolates and sweets, and wine pairs well with all of it!"
"We're both open books committed to working out and a healthy lifestyle, obsessed with traveling, and yes, also drinking wine, so the bond formed super naturally," Dobrev says. This is also what makes them great party planning partners. "I would have to say my favorite memories with Julianne are hosting extravagant dinner parties together during the summertime," Dobrev says.
Hough agrees, adding that the two actually went on a trip with their "closest friends" in honor of Dobrev's birthday back in January. "We created amazing memories — opening a few bottles of wine and exploring together!" she says, referencing Dobrev's incredible birthday vacation in Indonesia, with their celebrity friends Adam DeVine, his wife Chloe Bridges, and more.
For those looking to emulate a little bit of Dobrev and Hough's masterful hospitality this Galentine's Day, chocolate is a good place to start. "Galentine's Day calls for chocolates and sweets, and wine pairs well with all of it!" Dobrev says. Hough adds that a great playlist is also a must have for any fun party. "Having music can really change the ambience of any house get-together, and nothing is better than singing along with your best girlfriends," she advises. But above all, just make sure to have fun.
"Galentine's Day encourages us to reflect on how our friendships and connections have enabled us to grow not only together, but also individually," Hough says. Try incorporating a game or other activity to "connect, bond, and most importantly, laugh together."