Every Shocking, Tumultuous Moment From Prince Charles and Princess Diana's Marriage
Princess Diana and Prince Charles's relationship is making headlines again following the release of Diana: The Interview That Shook the World on Netflix, which features her bombshell 1995 interview with Martin Bashir. The interview detailed the tumultuous relationship between the couple, who were married from 1981 to 1996. Diana — whose legacy still lives on in her sons, Prince William and Prince Harry — died in a tragic car accident in August 1997 with her partner, Dodi Fayed, whom she began dating after the end of her and Charles's 15-year marriage. Before their divorce, however, their troubled relationship was the subject of plenty of tabloid speculation.
The Early Years
On Feb. 24, 1981, Diana and Charles announced they were engaged after meeting four years earlier while Charles dated Diana's older sister, Lady Sarah McCorquodale. It seemed that their union was off to a shaky start from the get-go. There were reports that Sarah was deeply unhappy that the prince had decided to marry Diana instead, but Diana's biographer Andrew Morton later refuted the claim, saying the sisters remained quite close. On top of that, Charles had a puzzling response to the question of whether or not they were truly in love during a postengagement interview with reporters. "Of course!" Diana responded, before Charles said, "Whatever 'in love' means." Many thought Charles appeared rigid and stuck-up during the segment, clearly not thrilled to be there.
In July of that same year, the two wed in an elaborate ceremony at St. Paul's Cathedral in London. The event saw more than 600,000 people flooding the streets to get a glimpse of the 20-year-old "People's Princess," who was the first commoner to marry into the British royal family for 300 years. Sadly, a fairy-tale wedding does not equal a fairy-tale ending. After the couple welcomed their first son, Prince William, in 1982 and then Prince Harry two years later, their relationship began to fall apart.
The Affairs
By the early '90s, rumors of infidelity began popping up in tabloids across the world. Charles and Diana went on their last official trip together in October 1991 to Ontario, Canada, accompanied by their sons, and a few months later, Morton's book Diana: Her True Story was released. It was immediately clear that Diana and her family had worked with the author directly, contributing not only family photographs but also deeply personal revelations. Diana opened up about her five suicide attempts (one of which happened during her pregnancy with William, after she suspected Charles was cheating on her), as well as about Charles's longstanding extramarital affair with Camilla Parker Bowles.
On Aug. 23, 1992, "Squidgygate" erupted. The Sun published a front-page article about the contents of a secretly recorded audio tape of a conversation Diana had with childhood friend James Gilbey (whose nickname for her was "Squidgy") on New Year's Eve in 1989. Their chat included confessions about how miserable she was with Charles ("He makes my life real torture, I've decided") and about her strained relationship with Queen Elizabeth II. A few months later, British tabloids leaked a tape of a flirty recorded phone conversation between Charles and Camilla that confirmed their affair. Dubbed "Camillagate" by the press, the tapes included statements from Charles like "Oh god. I'll just live inside your trousers or something. It would be much easier!" and a joke about him wanting to be Camilla's "Tampax" (which is why the situation is also referred to as "Tampongate").
By December 1992, the royal family could no longer hide the fact that Diana and Charles's marriage was in shambles. Prime Minister John Major publicly announced the pair's "amicable separation" at the House of Commons, reading off an official statement from the royal family. A year later, Charles was rumored to be having an affair with personal assistant Tiggy Legge-Bourke, and Diana faced down reports of a relationship with former cavalry officer James Hewitt, whom she'd hired as a horseback riding instructor for her, William, and Harry.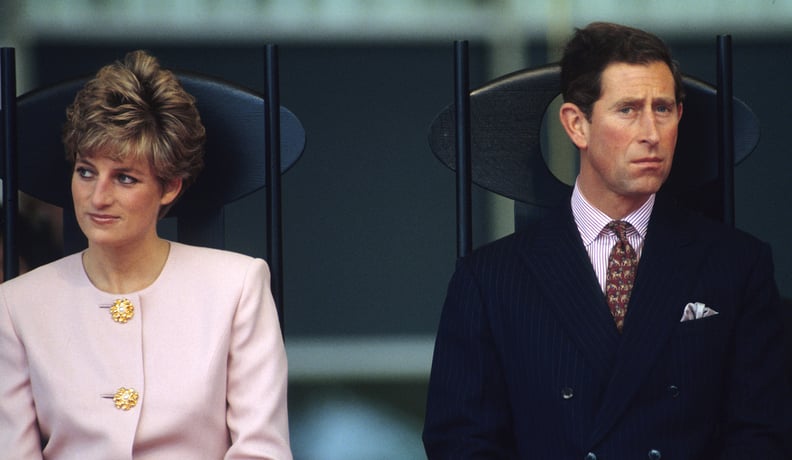 Damage Control
With his public image tarnished by "Camillagate," Prince Charles agreed to an interview with Jonathan Dimbleby in June 1994. He readily admitted that Camilla was his mistress but said they only entered into an extramarital relationship in 1986 after his marriage to Diana had "irretrievably broken down, us both having tried." By January 1995, Camilla had split from husband Andrew Parker Bowles, and in March, their divorce was finalized.
In November 1995, Diana chose to tell her side of things in her first solo interview. While sitting down with the BBC's Martin Bashir, she didn't mince words when asked about Charles and Camilla: "There were three of us in this marriage, so it was a bit crowded." On top of that (as well as an acknowledgment of her struggle with bulimia), Diana also copped to her own infidelity, which "plunged the monarchy into the greatest crisis since the abdication" (a reference to King Edward VIII's choice to abandon the throne in 1936 so he could marry divorced American socialite Wallis Simpson). She confirmed her five-year romance with James Hewitt — who at that point had released a tell-all book about their relationship called Princess in Love — saying, "Yes, I adored him. Yes, I was in love with him. But I was very let down."
The Divorce
Needless to say, the royal family was not pleased with Diana airing all of their dirty laundry to the public. Not even a month passed after Diana's interview before her press secretary resigned and Queen Elizabeth II sent her and Charles a letter requesting that they divorce immediately, a move unprecedented at the time. On Aug. 28, 1996, Charles and Diana's divorce was finalized. Sadly, the paparazzi's interest in 36-year-old Diana only grew with each scandal, an obsession that eventually led to her fatal car crash in 1997 (the car's driver was attempting to elude photographers in Paris when he crashed the vehicle).