8 Facts About Charlene and Albert's Wedding That Will Still Fascinate You Today
Charlene Wittstock, the former Olympic swimmer from South Africa, became Princess Charlene of Monaco when she married Prince Albert II in July 2011. Even if you are familiar with the lavish event and the runaway bride rumors, there are still a few details you may not know about, like the fact that Charlene had her very own lipstick shade made for the special day. Take a walk down memory lane, and look back at Charlene and Albert's wedding day.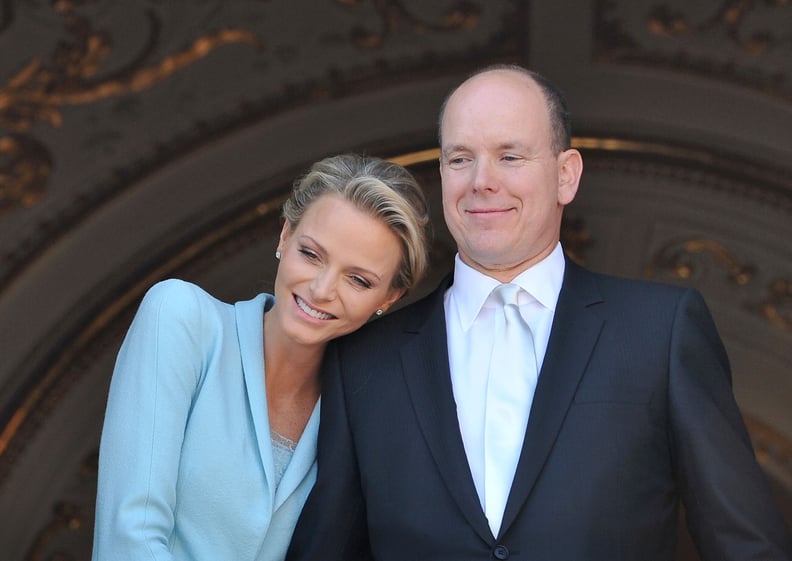 They had two weddings. Charlene and Albert first said "I do" in a civil ceremony in the Throne Room of the royal palace on July 1, 2011, and then again the following day in a religious ceremony.
Charlene created her "something blue." For the civil ceremony, Charlene wore a blue suit, which she later revealed was a collaboration between her and Karl Lagerfeld. "We wanted something to match the color of my eyes. It is my creation, and I'm proud of it. It's feminine and keeps with tradition, yet has a little twist that reflects my personal style," she told Vogue in 2011. "I thought it was a nice change to go for trousers instead of a skirt, especially since I'm an athlete and have always kept my clothes clean and simple." The blue color has since been referred to as "Charlene Blue."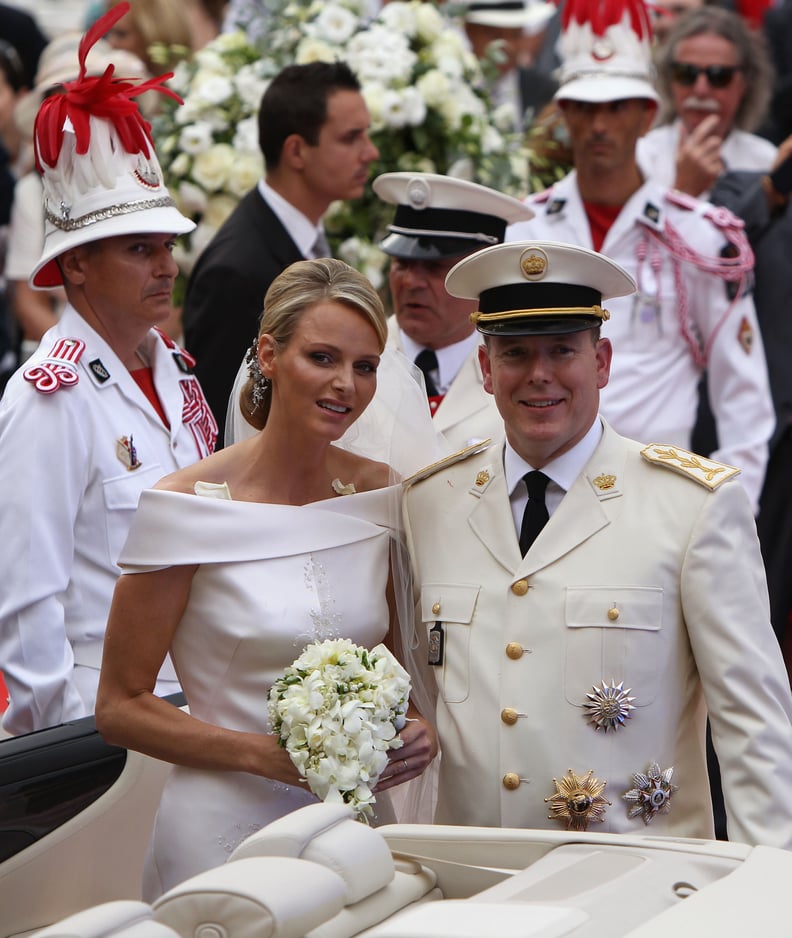 Festivities included a concert and light show by French musician Jean-Michel Jarre. Along with the show, there was a postmarriage dinner for 6,000 people at the palace and a private cocktail reception for Albert and Charlene's friends at the Hermitage hotel.
Charlene had her very own lip color made. Charlene's makeup artist, Pablo Ardizzone, created the special "Charlene" shade for her to wear on her big day.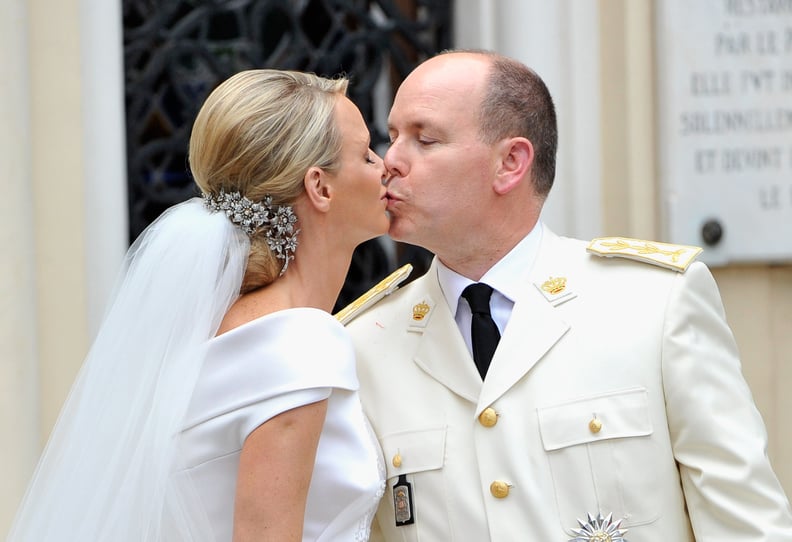 Charlene's wedding gown required months of handwork. On July 2, 2011, Charlene wore a silk Giorgio Armani gown for her religious ceremony. The dress was cut from 130 meters of silk, studded with 40,000 crystals and embellished with 20,000 mother-of-pearl teardrops.
It was a star-studded event. Guests included Naomi Campbell, Karl Lagerfeld, Karolina Kurkova, French President Nicolas Sarkozy, Princess Victoria and Prince Daniel of Sweden, and Prince Mary and Prince Frederik of Denmark.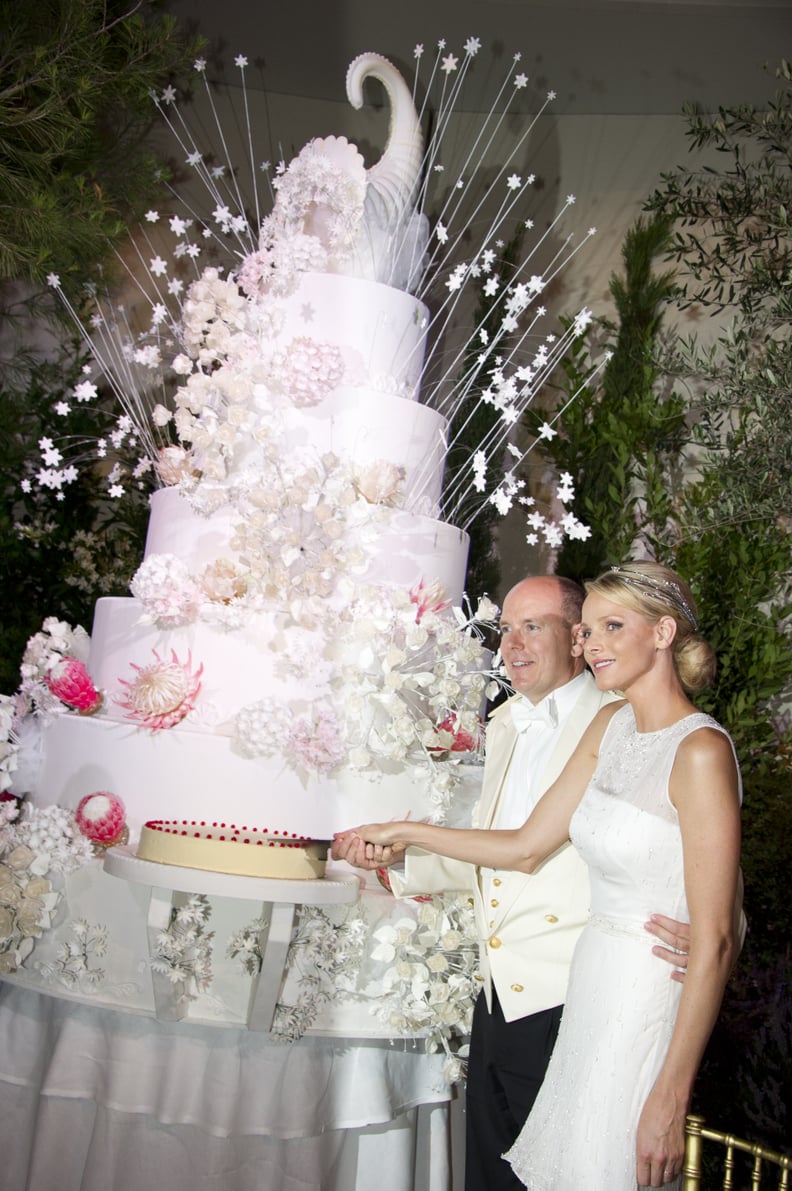 Their wedding cake was the centerpiece of the reception. In addition to the 110 pounds of strawberries, the cake also featured 2,000 edible flowers including Proteas, South Africa's national flower. Most of the ingredients were picked from Roc Agel, the estate that Monaco's Prince Rainier III gave to Grace Kelly as a wedding present in 1956.
The wedding almost didn't happen. Just a week before the lavish affair, it was reported that the former South African Olympic swimmer, who was 33 at the time, tried to escape Monaco and had her passport seized by police at the airport in France. The alleged attempt came amid rumors that Albert had fathered an illegitimate child when they were together. Charlene later dispelled those rumors, telling Vogue in 2011, "It is a shame that those rumors came at such a bad time, but I think they were timed to sabotage such a happy occasion. They are categorical lies. I won't dignify them with any response other than to say that the photographs of me and Albert in love and getting married will speak louder than any vicious gossip and empty rumors."