From Artists to Athletes, Kendall Jenner's Dating History Is Star-Studded
Out of all of the Kardashian-Jenner relationships, Kendall Jenner's dating life might just be the most interesting to look at. The model has been romantically linked to a number of pro athletes in the basketball world, including her former boyfriend Devin Booker, and now her latest rumored beau is none other than Bad Bunny.
As with most of her relationships, Jenner largely kept her once-blooming romance with Booker relatively private. "A relationship is only meant to be between two people, and the second you make it the world's business is when it starts messing with the two people mentally," Jenner told Vogue Australia in May 2019. "Like once everyone is let in, you're letting all these opinions into your relationships, and I don't think that's fair."
It seems Jenner is treating her romance with Bad Bunny the same way, as she has yet to confirm or deny a relationship with him. However, that hasn't stopped the two from making many public outings together amid rampant rumors.
While the reality star holds her cards close, she isn't afraid to bite back at those who seemingly think they know everything about her dating life. Back in July 2019, Jenner quickly shut down rumors that she had dated NBA players D'Angelo Russell, Jordan Clarkson, and Kyle Kuzma after someone tweeted a photo captioned, "Starting 5 of NBA Players Kendall Jenner Dated." She shot back: "2 out of 5 accurate, thanks."
Orlando Bloom and Lewis Hamilton have also been rumored partners of Jenner's. However, both men have denied all speculations, chalking it up to hearsay. "Me and Kendall have been friends for a while, so we're just friends," Hamilton told E! News back in 2015. That same year, Bloom addressed and denied their alleged connection, telling People, "I don't know Kendall Jenner, but if anyone has her number I would love it."
Despite the dozens of rumors that have circulated over the years, Jenner has only been in a handful of serious public relationships. Learn more about her dating history ahead.
01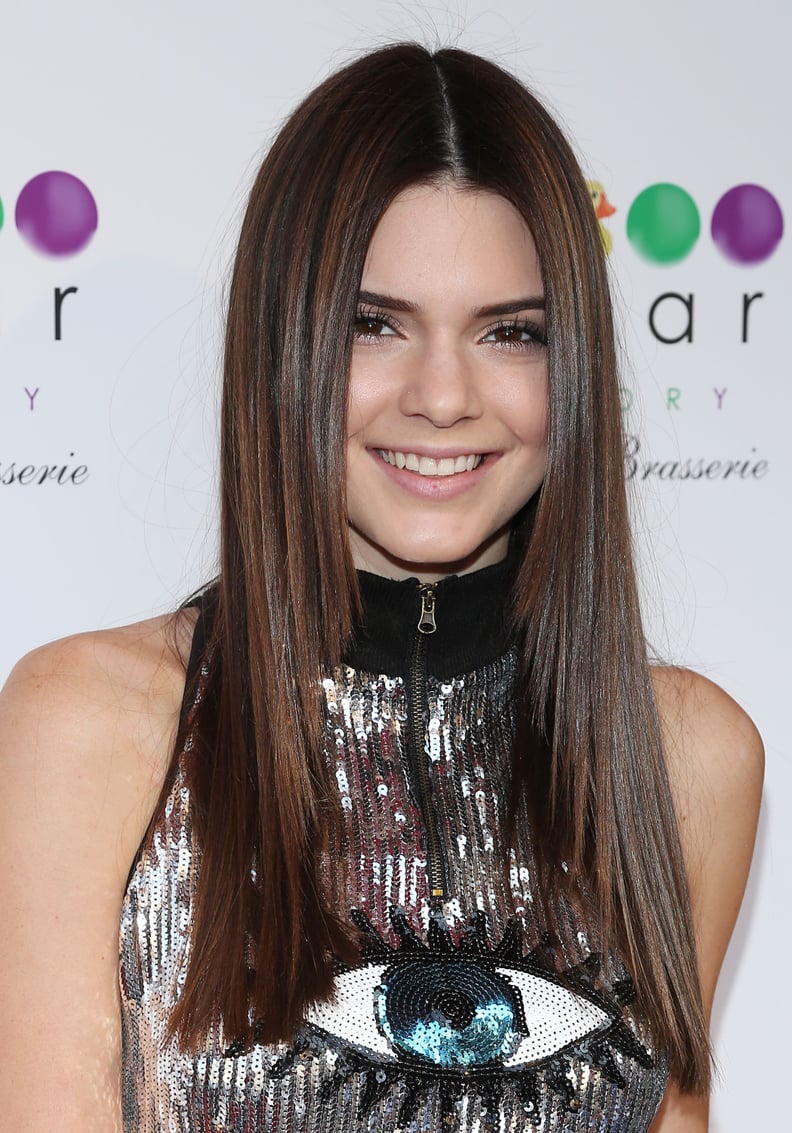 Julian Brooks
In high school, Jenner dated fellow classmate and high school football star Julian Brooks. While their relationship fizzled out in 2013, they had their share of memorable moments.
"When I got to high school I used to pretend that I had work, and I would go and tell the head of school that I really needed to leave and that I was really stressed out because I had work," Jenner told Hello!. "But then I would just leave school — and I would bring [sister] Kylie [Jenner] with me, but she didn't get permission. I would just leave school and go hang out with my boyfriend and get food and do absolutely nothing."
02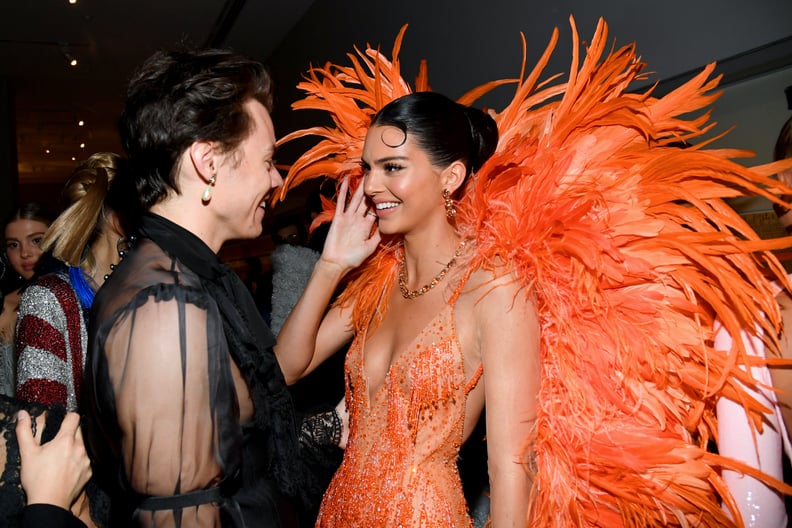 Harry Styles
For about two years, Jenner and Harry Styles were in an on-and-off-again relationship. The celebrity couple first fueled dating rumors after being spotted several times together in late 2013, followed by a Mammoth ski trip over the winter holidays, per Us Weekly.
The duo kept quiet about the status of their relationship until January 2016 when they were seen vacationing on a yacht together in St. Barts. At the time, Jenner's sister Khloé Kardashian told Entertainment Tonight that she believed the two were dating, though she was unsure whether it was casual or serious.
Naturally, it was momager Kris Jenner who confirmed that her daughter had dated the former One Direction singer. While playing "Never Have My Kids Ever" on "The Ellen DeGeneres Show" in 2021, Jenner showed the "They have" card after being asked, "Never have my kids ever dated someone from a boy band." Host DeGeneres quipped back, "Well, of course, Kendall, right? And Harry?," to which Jenner smiled and responded, "Yeah."
While they're no longer together, the two are amicable. Back in 2019, Jenner and Styles played "Spill Your Guts or Fill Your Guts" on "The Late Late Show With James Corden," in which they asked each other an array of personal and funny questions.
03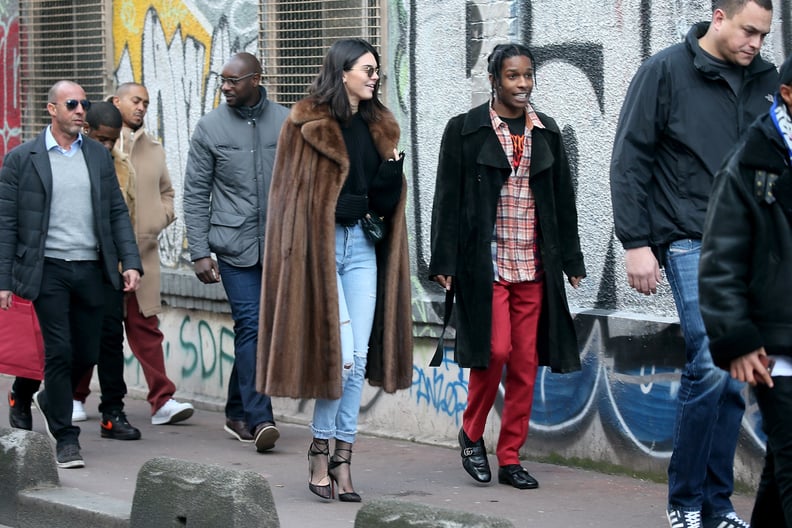 A$AP Rocky
According to The Sun, Jenner and A$AP Rocky allegedly took their friendship to new heights in 2016 when they were photographed together in Paris. They never publicly spoke about their rumored romance but were spotted getting cozy with one another on a number of occasions, including at the 2017 Met Gala, per People. The same The Sun report said the two split in 2017 "due to difficult schedules."
04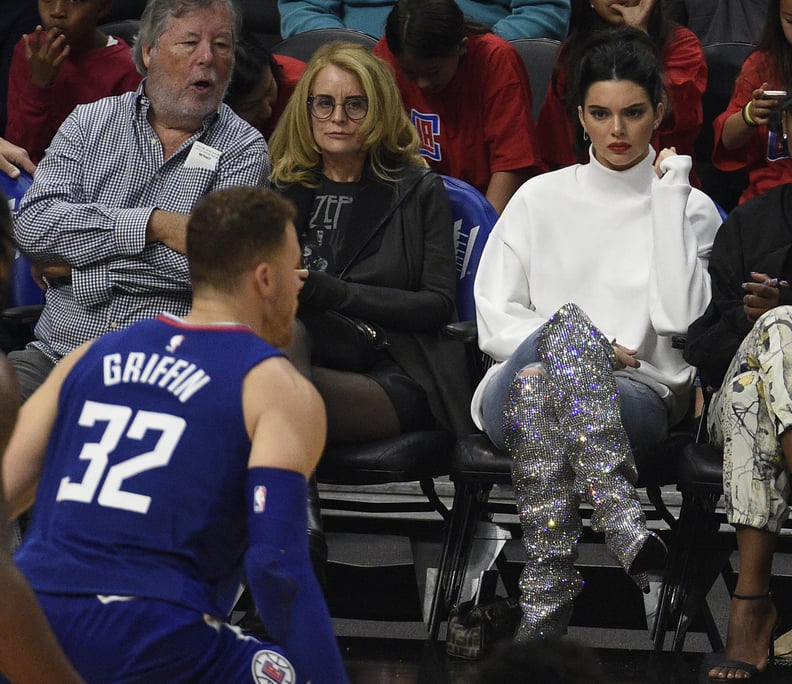 Blake Griffin
According to People, Jenner and NBA player Blake Griffin first sparked dating rumors in 2017 when they were seen leaving a club together in Los Angeles after attending a concert. Despite the gossip, Jenner and Griffin's relationship is left largely in the dark.
A very private person, Jenner only once (and very briefly) acknowledged being in a relationship around the same time the dating rumors started. "I'm happy. He's very nice. I have someone being very nice to me," she said during a 2018 interview with Vogue. However, according to a report from People, things started to fizzle out that same year shortly after Griffin was traded to the Detroit Pistons.
05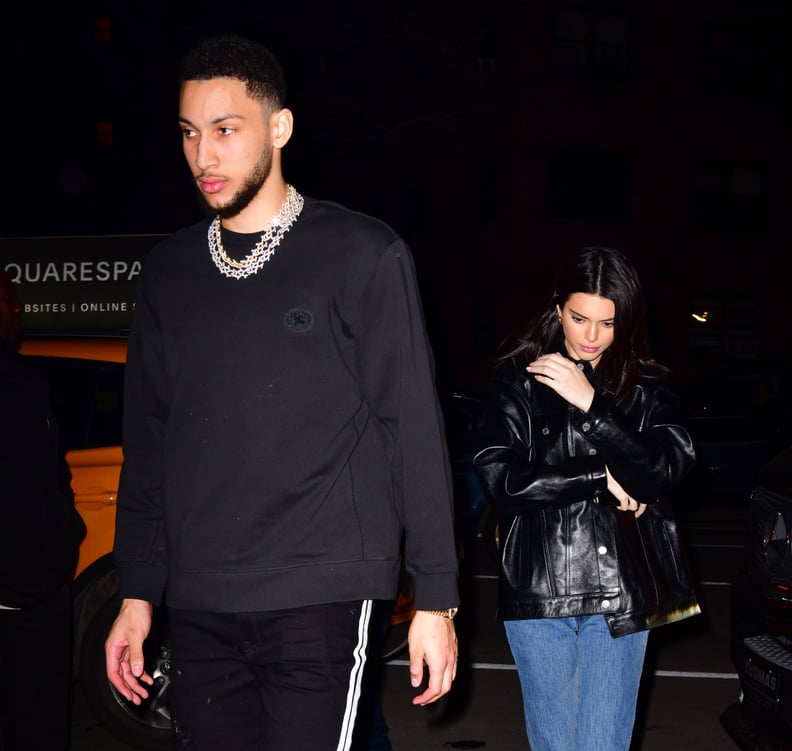 Ben Simmons
Jenner and Simmons's relationship was a rollercoaster, to say the least, as the couple took many breaks during their two-year relationship. According to E! News, the two began dating in 2018, but almost a year in, they went on their first break.
This was short-lived, though, as Jenner confirmed she was seeing the 76ers basketball player during an appearance on "The Ellen DeGeneres Show." According to Elle, the pair hit the pause button again in May 2019, just shortly after Jenner had spoken highly of Simmons in an interview with Australian Vogue, saying "maybe one day" she could envision them married.
However, the couple rekindled the flame just in time for the 2019 holiday season. "They've been on and off and there are periods where they definitely lost touch, but they've always had their eye on one another," an anonymous source told People. "Their breakup always seemed more like a break because of careers and distance."
Despite this, the couple likely called it quits in early 2020, right before Jenner started seeing Devin Booker.
06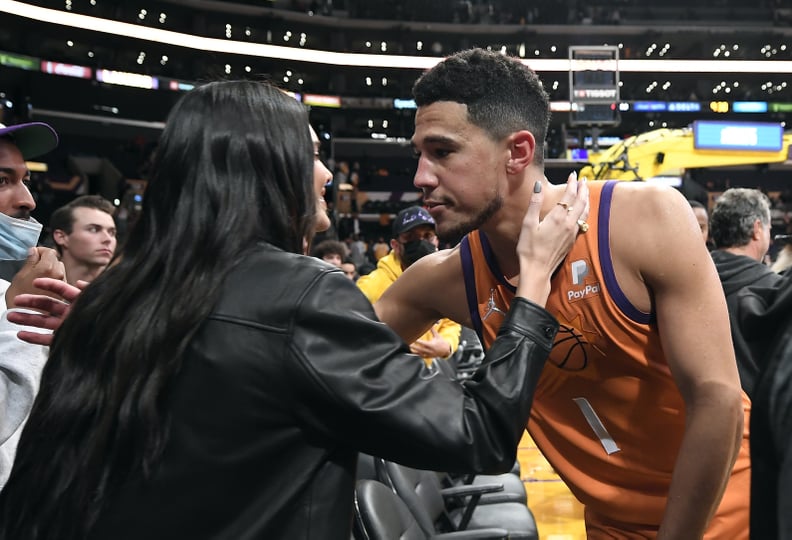 Devin Booker
Jenner also had an on-again-off-again relationship with her ex-boyfriend Devin Booker. In a 2020 report from TMZ, Jenner and Booker were first spotted together back in April of that year when they took a road trip together. In 2021, according to Bustle, the two went public and IG official on Valentine's Day and later celebrated their one-year anniversary that June with a slew of cute behind-the-scenes photos of their relationship.
While together, the two kept details about their romance relatively private, but every now and again, we'd hear from the former couple. In a March 2022 interview with WSJ Magazine, the Phoenix Stars player hinted at his relationship, saying, "I'm enjoying life to the fullest, and that came off my tongue so easily because it wasn't always this way, but I feel like I'm in a good place right now." He added, "I love the people around me."
However, three months later, the pair reportedly split after two years together. Though they seemingly reconciled shortly after, Jenner and Booker called it quits for good in October 2022, with a source telling People it was because of their "incredibly busy schedules." "They have a lot of love and respect for each other and wish only the best," the insider added.
07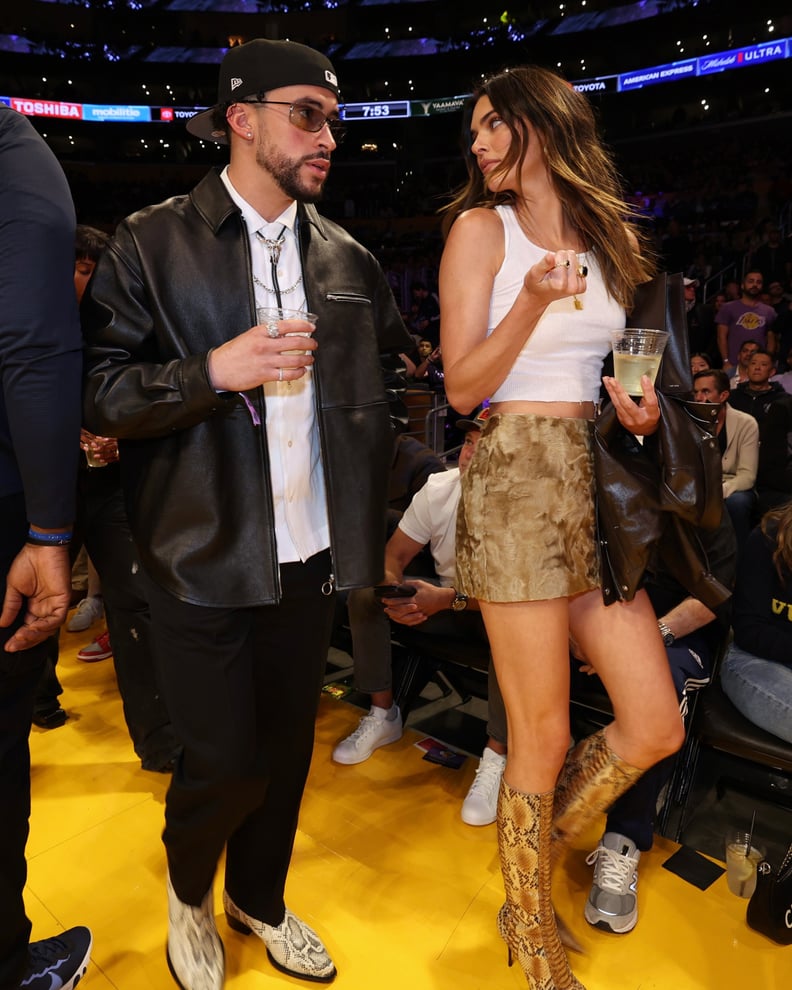 Bad Bunny
Jenner's latest star-studded romance involves music icon Bad Bunny. Though the pair have yet to confirm or deny a relationship (reps for the stars did not respond to POPSUGAR's requests for comment), they've been spotted out all over California since they first sparked dating speculation in February 2023.
At the time, a source told People that Jenner only "recently started hanging out" with the musician and is keeping things light. "She likes him and is having fun," the insider added. "He is different from guys that she dated in the past. He is very charming."
In the weeks following, Jenner and Bad Bunny's outings continued to make headlines — from dinner dates at sushi hot spots in LA to linking up at Coachella. It's unclear if the two will ever publicly speak on the nature of their relationship, but it seems they're staying tight-lipped for the time being.