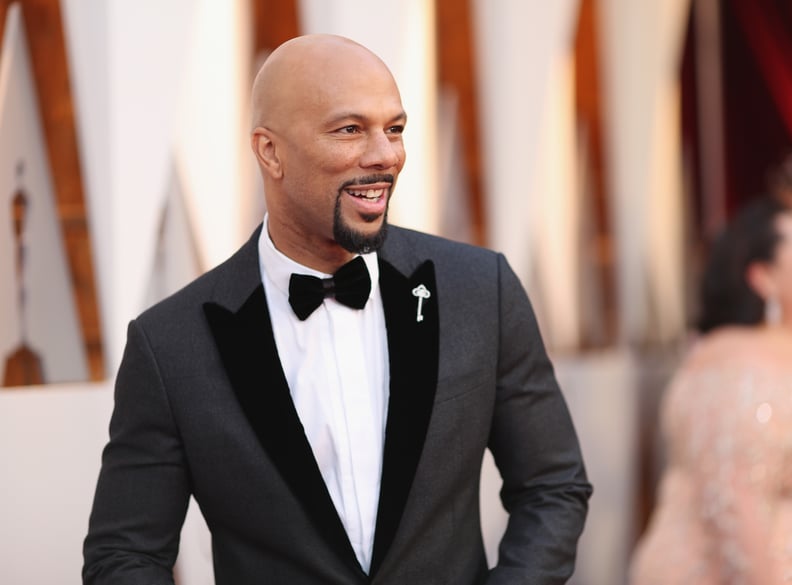 Getty | Frederick M. Brown
Common's love life is making headlines once again.
The 51-year-old rapper, born Lonnie Rashid Lynn, has earned chart-topping numbers and multiple noteworthy acting credits throughout his successful career, which spans three decades. He even secured the coveted best original song win at the 2015 Golden Globes and Academy Awards for his collaboration with John Legend on "Glory," featured in the 2014 film "Selma," plus countless other career achievements. From "John Wick: Chapter 2" to AMC's period drama "Hell on Wheels" and Netflix's coming-of-age dramedy "Never Have I Ever," the Grammy-winning artist has a stacked acting résumé, alongside an impressive music catalog that boasts a whopping 14 studio albums, including three RIAA-certified gold records.
Common has also dabbled in writing, releasing his memoir "One Day It'll All Make Sense" in 2011, with its 2019 follow-up, "Let Love Have the Last Word." The latter delves into the "Invocation" singer's perspective on love, community, and his relationship with daughter Omoye Assata Lynn, whom he shares with ex-girlfriend Kim Jones.
Still, despite having a busy career, fans are equally invested in Common's personal life and which star he may or may not be dating currently. Many famous women have captured his heart over the years, from Serena Williams to Tiffany Haddish. Right now, it looks like he may be romancing longtime friend Jennifer Hudson, but the two have yet to confirm the speculation.
Read on for a complete breakdown of everyone Common has been romantically linked to, and see what Hudson had to say about their dating rumors.
01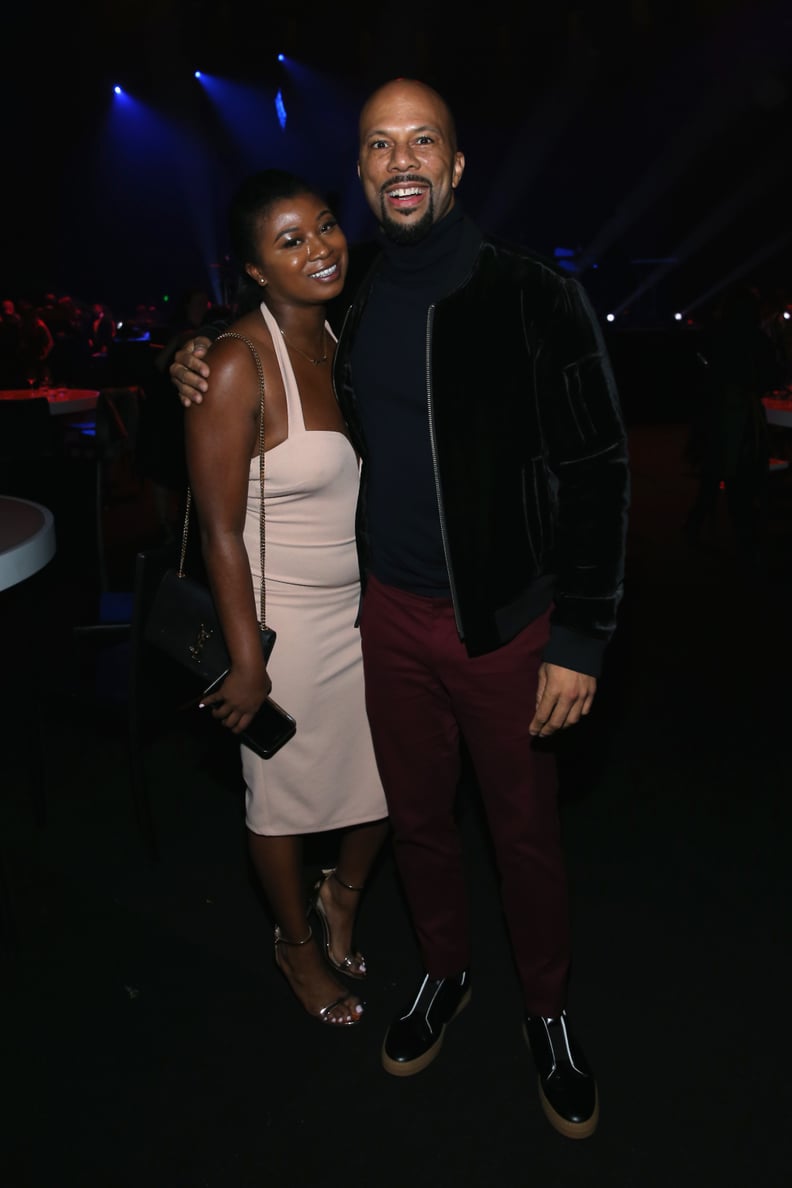 Kim Jones (Unknown-1998)
While not much detail about Common's relationship with Kim Jones is publicly known, the former couple reportedly dated in the late '90s and parted ways a year after the birth of their daughter, Omoye, in 1997. Common has since been open about the struggles of coparenting his daughter (pictured above).
In his candid 2019 memoir, Common shared his bumpy journey to fatherhood and how talking it through with his daughter proved to be a turning point in their father-daughter dynamics. The rapper shared that the two had a heart-to-heart late one night, where his then-19-year-old daughter opened up about her feelings of abandonment. "She said, 'It felt like you didn't fight for me,'" Common recounted about the eye-opening conversation with his daughter to People ahead of the book release.
Following his split with Jones, Common said, he admittedly didn't get to spend as much time as he would've liked with his daughter. He added that his tunnel vision toward his career also sidetracked his focus as a father. "It's the typical things you hear about with two parents who are splitting up, especially young. That love is obviously there. But it's like sometimes I wasn't able to have as much access and without that we couldn't build the strongest relationship. Some of it was me being in the pursuit of my career, too," he explained to People.
Common added that he participated in therapy with Omoye to help navigate their unresolved issues. "We had a therapy session together, and I loved it. Well, not everything that was said, but I knew it was something that would help her move forward," he said.
In May 2022, Omoye graduated from Howard University. Common shared a congratulatory Instagram Reel documenting the event in proud father fashion, with the caption reading: "There are no words to describe how proud I am! Finishing Law School at Howard University in the 3 years is pretty AMAZING! Congrats to my daughter and all the graduates of 2022. Now go out in the world and be great!"
02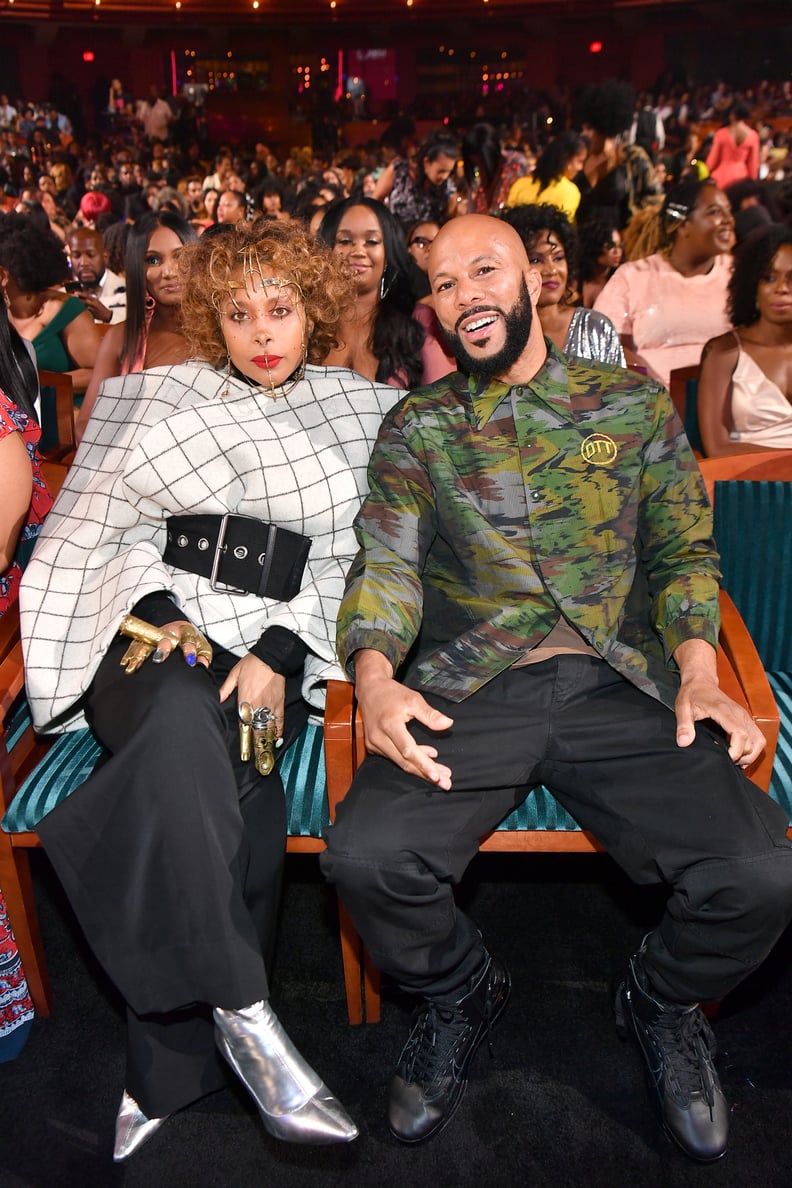 Erykah Badu (2000-2002)
While the exact beginning of their relationship is not confirmed, Common and Erykah Badu began dating sometime in 2000. During their relationship, the two artists even collaborated on the hit singles "Love of My Life (An Ode to Hip Hop)" and "The Light." Common and the "On & On" singer split in 2002 after two years of dating.
Common detailed the difficult breakup in his memoir. "With Erykah Badu, that was my first love where you're just open and floating. When we split, I was 27 or 28. I was in a haze, just going through the motions. It was hard to eat," he shared with People in May 2019, before the release of his book. "It wasn't her fault, the relationship just didn't go forward," he added, clarifying that the romance wasn't meant to be.
The former couple took the stage at the 2019 Black Girls Rock Awards for a power-packed performance, suggesting there are no hard feelings between the exes.
03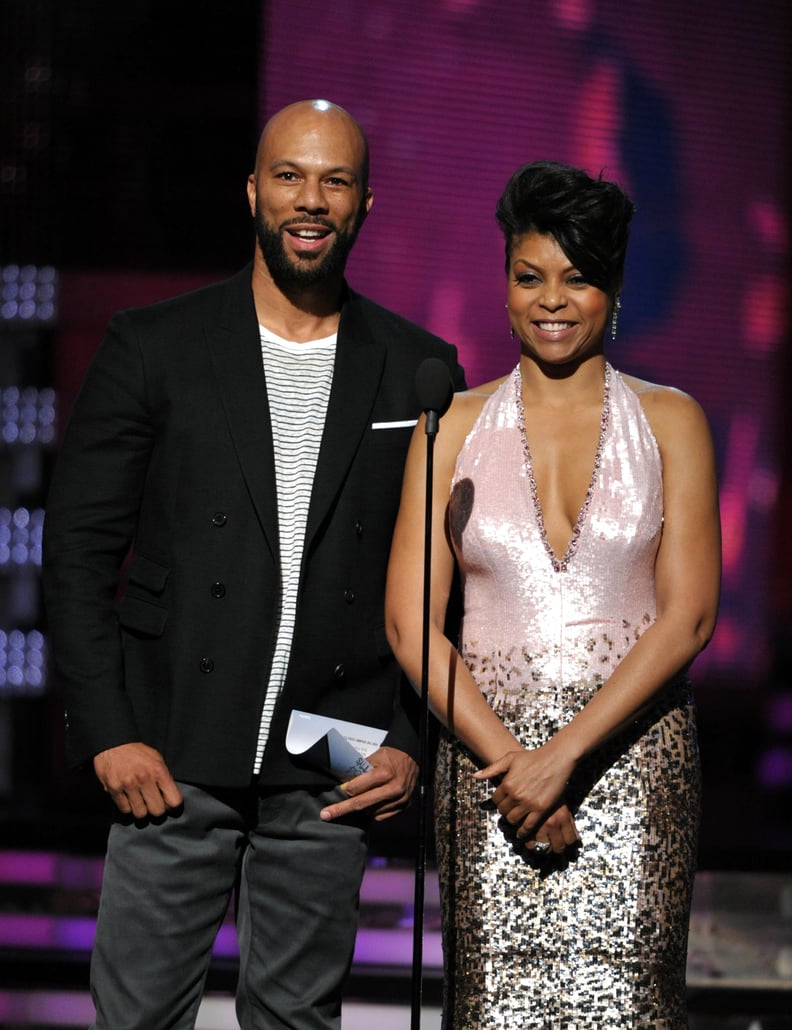 Taraji P. Henson (2005-Unknown)
Common and Taraji P. Henson dated in October 2005. However, the two maintained privacy in their relationship and barely ever opened up about their romance. The Oscar-nominated actor eventually confirmed that she and Common were an item at one point during a candid chat with Wendy Williams in 2011. "OK, I'll tell you the truth, Common and I did date," she said. It's unclear when they split.
04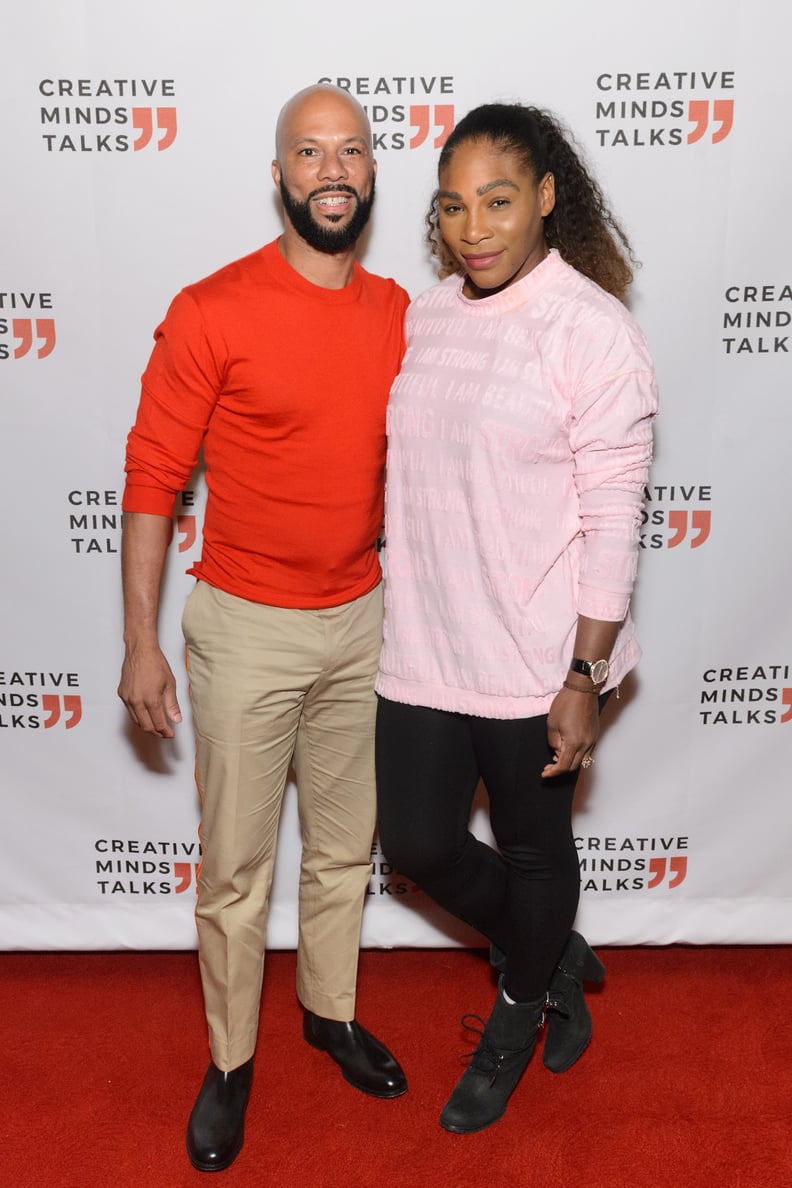 Serena Williams (2007-2010)
Common and the Wimbledon champion first sparked dating speculations when Serena Williams appeared in his 2009 music video for "I Want You." While the two were pretty private about their relationship, they were reportedly in an on-and-off romance between 2007 and 2010. Though the old flames mutually decided to go their separate ways, they have nothing but the best things to say about each other.
"Not every ex-girlfriend and I are still friends, but with some, I am," he said of his relationship with the tennis star during an interview with "The Meredith Vieira Show" in February 2015. "We got a great understanding, and I care about her as a person. It's not like every other person you talk to every other day, but you know, you still have that respect. You have love for them and want to see them do well."
In October 2018, the exes amicably walked the red carpet for a Creative Minds Talks charity event in Chicago, where they later joined the panel on stage.
05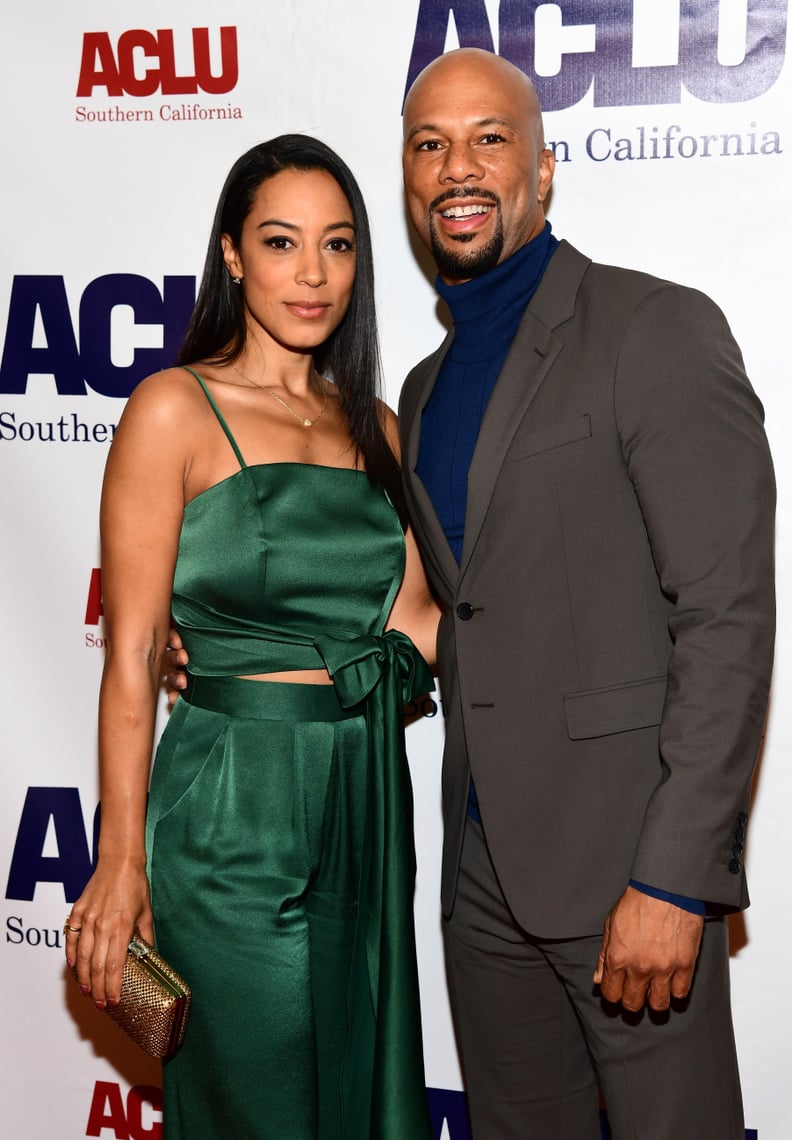 Angela Rye (2017-2019)
Angela Rye and Common got together in the summer of 2017 and made their red carpet debut at the Creative Arts Emmys later that year. The rapper confirmed their budding romance in a SiriusXM interview with radio host Bevy Smith in September 2017. "She's a wonderful woman, and, you know, I'll just say I'm dating; I'm happy right now, and she's an incredible human being," he said. The couple broke things off in March 2018, as confirmed by the popular CNN commentator to Page Six. "We have and will always be friends. He is an amazing human being, and I'm a much better person because he's a part of my life. May we all keep loving and living," she revealed, stating that they ended on good terms.
The former couple rekindled their romance in August 2019, but they eventually parted ways later that year. Rye addressed their split in her podcast "On One With Angela Rye," explaining that they both wanted different things. "We had been talking probably for two months about 'let's see where things go' because I'm leaning towards 'I want kids,' and he was leaning towards 'I don't know,'" she said. "And I think when somebody tells you they don't know, they don't really want that, they just don't want to hurt you," she shared.
06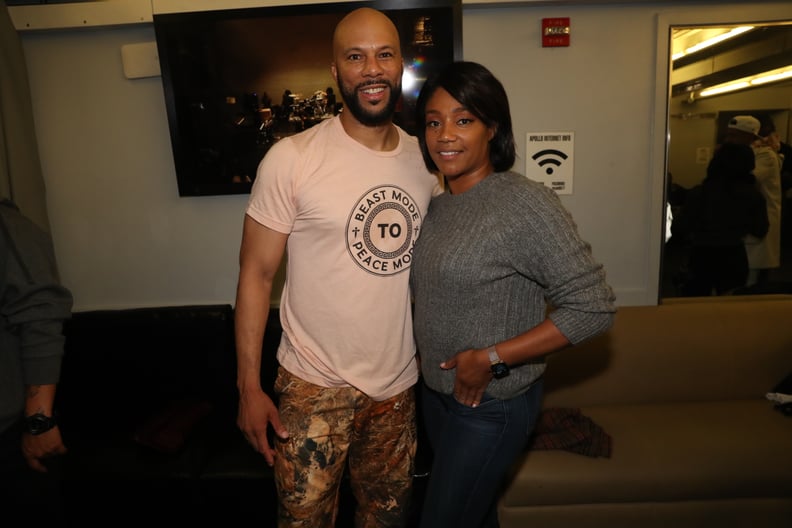 Tiffany Haddish (2020-2021)
Tiffany Haddish and Common first met at an Oscars event but became friends while costarring in the 2019 movie "The Kitchen." They connected on Bumble in April 2020, and their friendship gradually evolved into more from there. The comedian confirmed their relationship status on Steve-O's podcast, "Steve-O's Wild Ride," in August 2020. After more than a year together, the couple called it quits in November 2021.
They appear amicable, judging by Common's birthday post for Haddish in December 2021. "Happy Birthday to the Queen @tiffanyhaddish! One of the most beautiful and dynamic and wonderful people I've ever known. May the most HIGH continue to bless and shine through you. Wishing you joy, love, peace, light, and fun on your born day. Love!" he captioned the post.
In a December 2021 interview with "Hollywood Unlocked With Jason Lee Uncensored," the rapper praised his ex, saying she's "one of the best-hearted and most authentic and caring people that I've met in life." He cited their busy schedules as the reason for their breakup.
In a subsequent episode, the "The Afterparty" actor also weighed in on the matter, saying, "I miss him. I miss him from time to time, but that's with, I think, any intimate relationship that you might have, you miss them. But I'm fine with it. It's cool. I wish him nothing but joy and happiness. He will always be cool."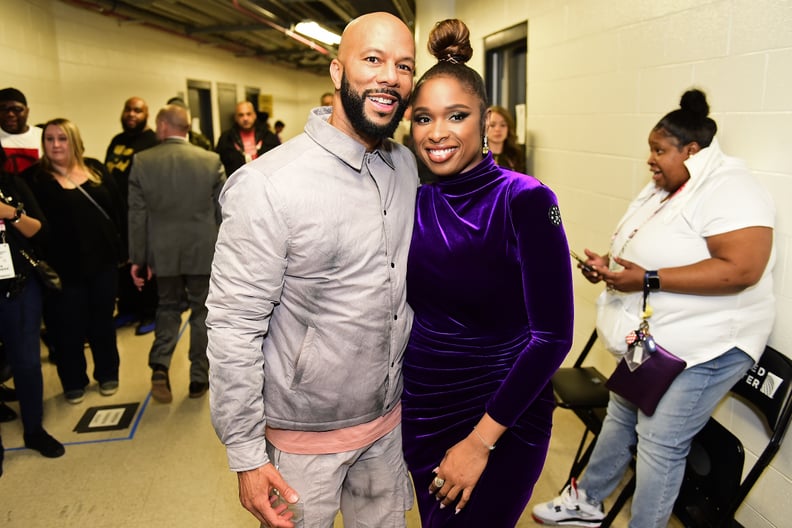 Jennifer Hudson (2022-Present)
Common is currently fueling romance romances with Hudson. The two have been friends for years and star alongside each other in the upcoming film "Breathe." However, they've been spotted out together quite a few times this year. Neither Common nor Hudson has publicly addressed the speculation, but on Feb. 22, the two were seen on a dinner date at Nobu in Malibu, CA, in photos obtained by TMZ.
On July 31, a TMZ reporter stopped Hudson in Beverly Hills to ask about her relationship status with Common. The actor-singer replied, "The rumors say a lot of things. He's a beautiful man, I will give you that." Hudson also somewhat entertained the idea of a potential music collaboration with Common, telling the outlet, "It'd be dope to see two Chicagoans together, but I don't know about that."
Common is open to the idea of walking down the aisle someday. During his "Red Table Talk" appearance in June 2019, he revealed his desire to experience domestic life. "I would like to be a husband. I think for a long time I was in and out with that. Do I really wanna be a husband? Or, is this what society says to?" he told host Jada Pinkett Smith. "Now, I just think I want that partnership to be able to experience life where I'm like growing as a human being. And kind of like spark each other. It's fun, too. It's fun at times. I know it's hard." During the episode, Common also said he's looking for someone who is "spiritual and fun" and has a "sense of humor."