Ross Lynch's Complete and Total Dating History
Ross Lynch delighted fans everywhere with a prominent cameo in Troye Sivan's music video for "One of Your Girls," which features Sivan giving a shirtless Lynch lap dance in full drag. The appearance in the Oct. 13 video reminded fans everywhere of why Lynch has been such a heartthrob for so long, and has also sparked some renewed interest in his personal life.
Fans have been speculating about Lynch's relationship status ever since he rose to fame with Disney Channel's "Austin & Ally." From there, he went on to star in "Chilling Adventures of Sabrina" alongside Kiernan Shipka, and at the time, fans wanted to believe there was some magic happening between Lynch and Shipka off screen, though that simply wasn't the case.
It's understandable why some people jumped to that conclusion, however, as the 27-year-old actor and musician did wind up dating a costar from "Chilling Adventures of Sabrina" — though it wasn't Shipka. He's also been linked to costars in the past — back in the beginning of his career, when he first got his start on "Austin & Ally," he was rumored to be romancing his costar Laura Marano, but that was also nothing more than a rumor. So who has Lynch actually dated? Check out the gallery to learn more about the women has reportedly romanced over the years.
Morgan Larson
Lynch first met dancer Morgan Larson while filming Disney's "Teen Beach Movie" in 2012. It's never been confirmed that the two dated, but during an April 2019 interview with Cosmopolitan, Lynch revealed that he'd been involved in a love triangle on the set of the movie, though he didn't say with whom.
"I was 16 at the time of the first movie, but it was basically a bunch of high school students or college students," he said. "And they just put us on an island in the Caribbean for two months." A flirty Instagram Lynch posted in July 2013 with Larson (who was also in "Teen Beach 2") led fans to believe something was going on between him and the backup dancer and that she may have been part of that supposed love triangle.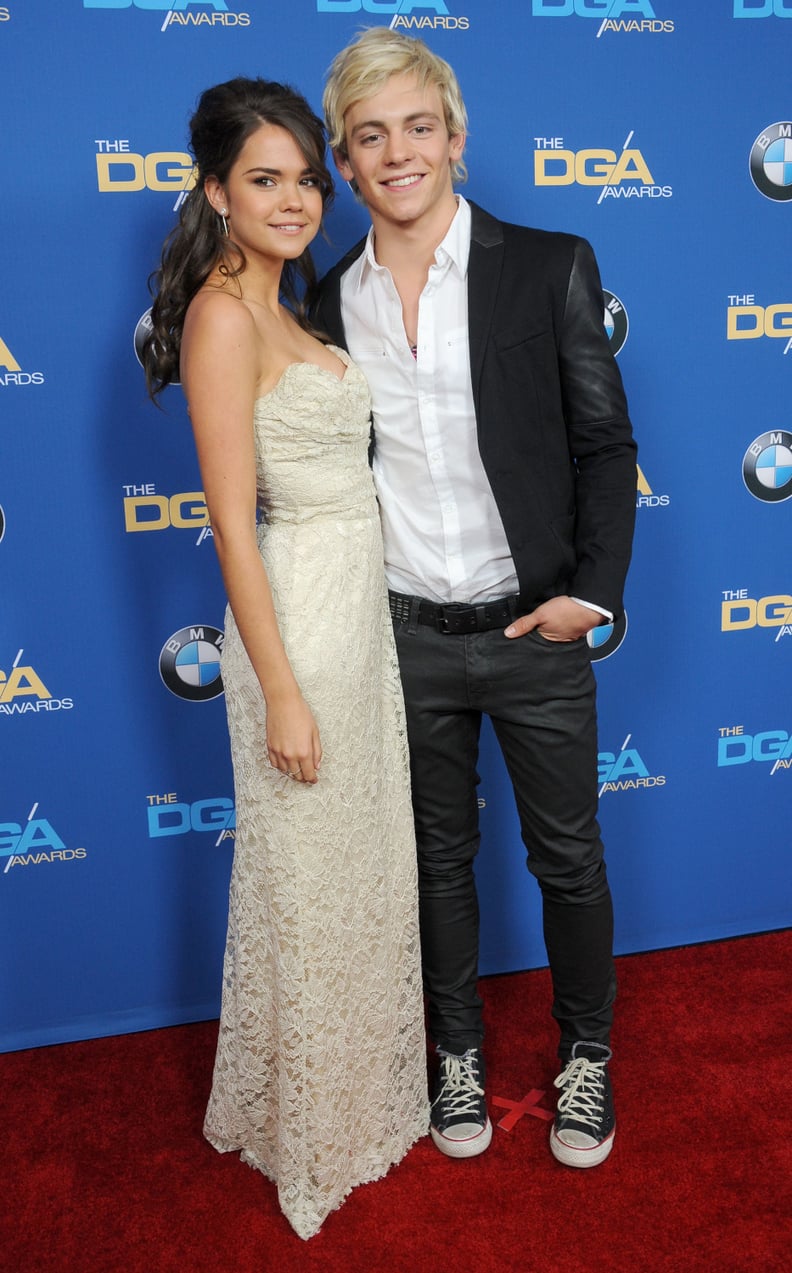 Maia Mitchell
The other person rumored to be a part of that love triangle: Lynch's "Teen Beach Movie" costar Maia Mitchell. While chatting with Hollywood Life in June 2015, Lynch shared that he and Mitchell had an unscripted kiss on "Teen Beach 2."
"Maia and I did a kiss spontaneously," he said. "We thought that Mac and Brady should have an onscreen kiss. It wasn't scripted and the director didn't tell us to do it and we just did it and hopefully it makes it in the movie!" Lynch also added that he thought Mitchell was a good kisser. However, just like with Larson, Lynch never confirmed that the two were ever an item.
Courtney Eaton
In September 2015, Lynch became Instagram-official with "Yellowjackets" star Courtney Eaton, which was the first time he'd gone public with any of his relationships. The couple reportedly met on the set of their film "Status Update," and they frequently posted cute pics together on social media. Eaton's last appearance on Lynch Instagram was in July 2017, and in a November 2017 interview with W, Eaton was described as Lynch's "then-girlfriend."
Though the two were spotted having lunch together in December 2017, it doesn't seem as though they ever officially reconciled. In January 2019, Lynch attended Eaton's birthday party, per a since-deleted Instagram post, so it appears the exes are on good terms.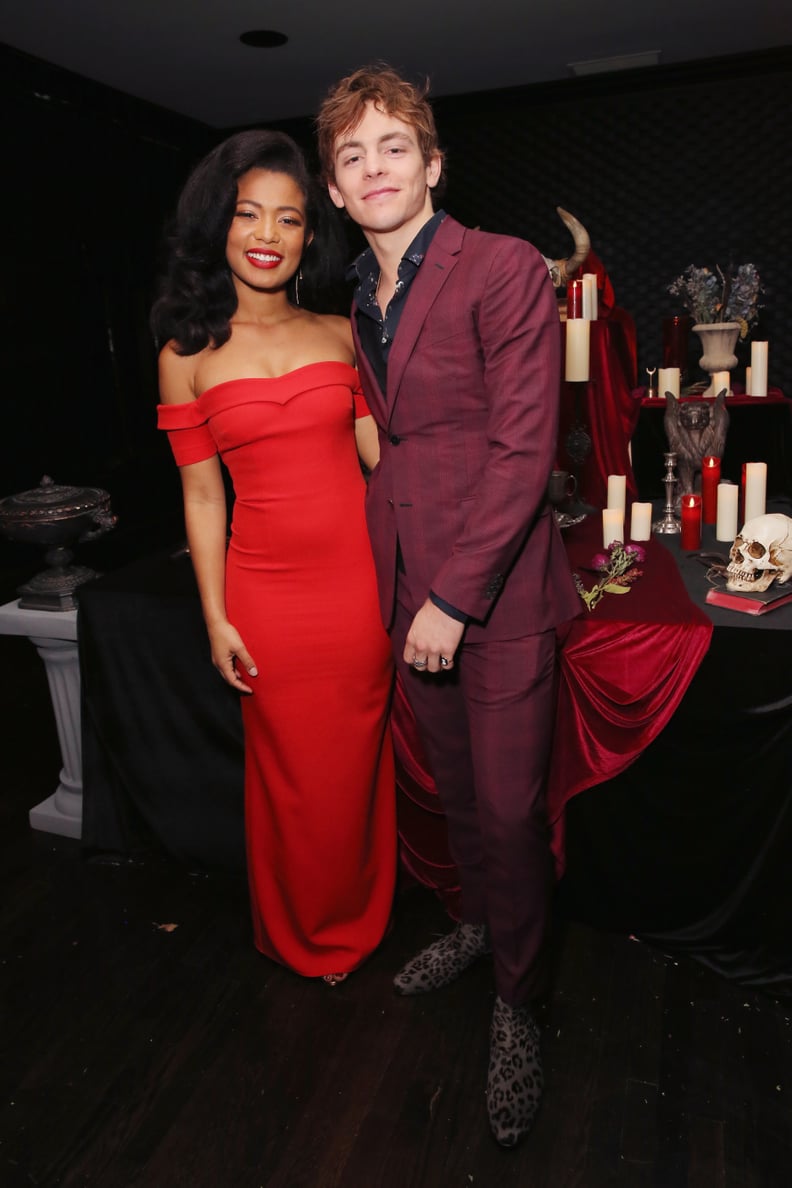 Jaz Sinclair
Dating rumors about these two began shortly after Lynch and Jaz Sinclair met on the set of "Chilling Adventures of Sabrina," but it took a while for the couple to go public. Fans were pretty convinced the two were more than friends after Lynch's sister, Rydel Lynch, shared a Snapchat of Lynch and Sinclair kissing on New Year's Eve in 2019, but when asked about their relationship by Entertainment Tonight later that month, Lynch insisted that Sinclair was just his "closest friend." Just a few months later, Us Magazine caught the couple getting cozy in NYC, and in January 2020, the costars finally made their red carpet debut together at the Balmain show in Paris.
Lynch later addressed negativity about his and Sinclair's relationship via Instagram in April 2020. "Yo guys whoever is being hateful to jasmine and I's relationship (especially on a race basis wtf) can take a step back," he wrote. "We are both extremely happy."
The pair continued to post sweet photos of their adventures over the years, though Ross's last Instagram post with Sinclair was from October 2022.
Rumors about a possible split began to swirl in the summer of 2023, when a fan shared a video of Lynch discussing heartbreak during one of his live shows with his band The Driver Era. "I didn't know it could get worse though, you know? The thing about heartbreak is . . . the only thing that really helps is music," he said.
The status of their relationship is unclear at present, and reps for Sinclair and Lynch did not immediately respond to POPSUGAR's request for comment.