Biggest Snubs at 2023 Grammy Awards
The 2023 Grammys Stunned Fans With These Surprising Snubs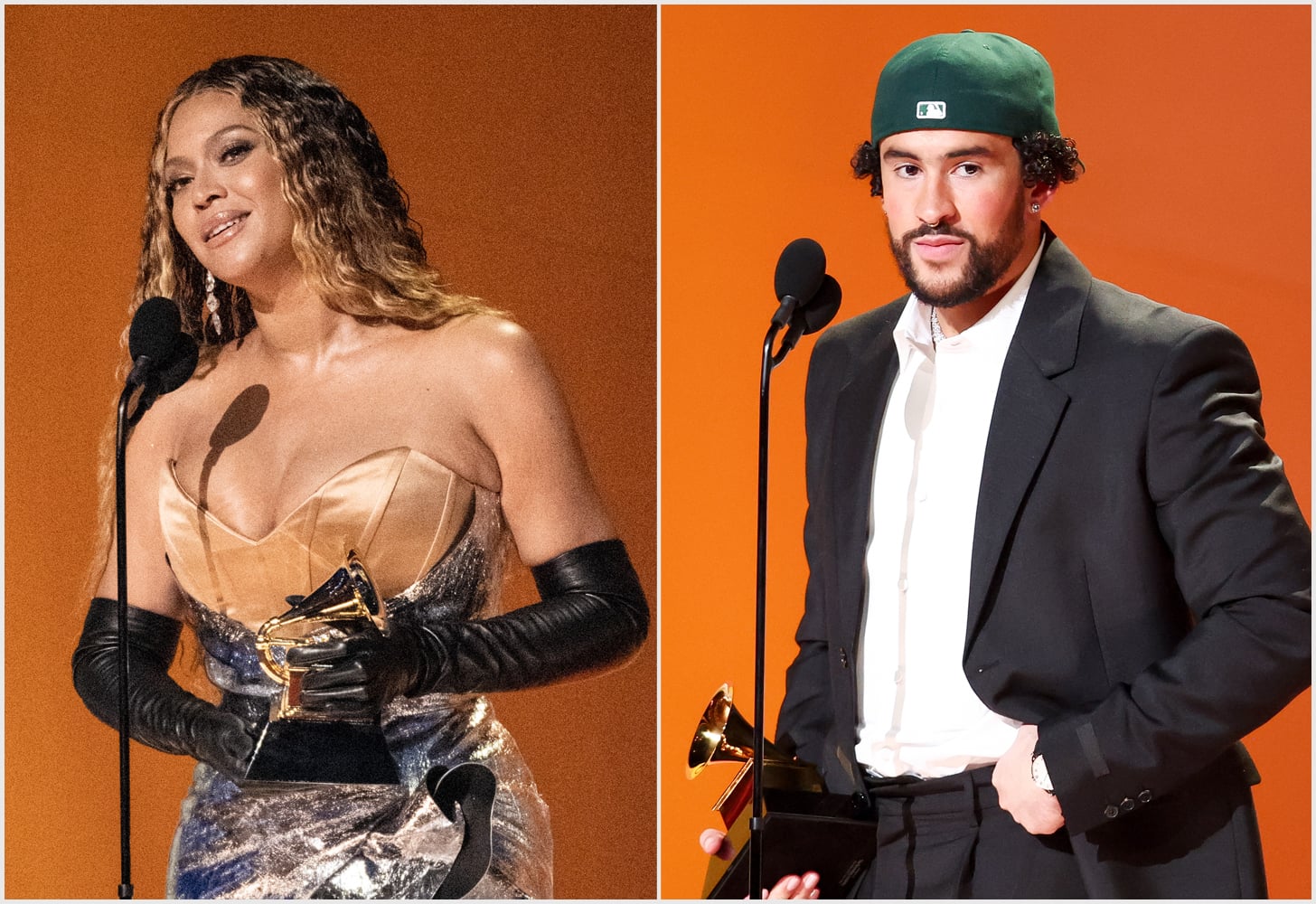 Like all award shows, the 2023 Grammys weren't without a few hiccups this year, even with 91 categories' worth of honors for music's best artists. Held live from the Crypto.com Arena in Los Angeles on Feb. 5, the ceremony awarded trophies to big names like Beyoncé, Harry Styles, Adele, Lizzo, Taylor Swift, and Kendrick Lamar, as well as first-timers like Viola Davis (now an EGOT winner), Kim Petras, and Samara Joy. However, some of the (not-so-shocking) snubs were the talk of the night.
Most notably, Styles's album of the year win over nominees like Beyoncé, Bad Bunny, and Lamar didn't blow over well with fans who thought he didn't deserve the award. On Twitter, one user wrote, "You must be nuts trying to justify Harry styles winning AOTY over Beyoncé/Adele/Bad Bunny/Lizzo in this current state of music," while another tweeted, "Harry styles said 'this doesn't happen to people like me very often' and I gotta be honest I can't think of a type of people this happens for more."
But that decision from the Recording Academy is just the tip of the iceberg, as there were a handful of other artists who missed out on getting recognized this year. See all the other notable snubs from the 2023 Grammys ahead.
Snubs: Beyoncé
Despite Queen Bey's history-making night at the Grammys, her four wins — for best electronic/ dance recording, best dance/ electronic album, best traditional R&B performance, and best R&B song — didn't make up for the fact that she was overlooked for album of the year (again) for "Renaissance." While being the most awarded artist in Grammys history is a phenomenal feat, the fact that the 41-year-old icon still doesn't have an album of the year trophy speaks volumes about how her artistry is valued by the Recording Academy — especially when peers like Styles, Swift, and Adele have all won the category in the last decade.
Before Styles's win, Beyoncé's husband, JAY-Z, sat down with Tidal and revealed why he thought "Renaissance" deserved album of the year. "Look what it's done to the culture. Look how the energy of the world moved," he said. "They play her whole album in the club. I don't know if I've ever seen that. The whole entire joint — like, everything?! Every remix is amazing. Everyone's inspired . . . When it just inspires creativity, that's an album. That has to be album of the year. It has to be."
Snubs: Bad Bunny
Like Beyoncé's "Renaissance," Bad Bunny's "Un Verano Sin Ti" album — which made history as the first Spanish-language LP to be nominated for album of the year — was another strong album of the year contender that missed out on a win, so many were shocked to see him lose to Styles's "Harry's House." Bad Bunny's global reach alone was enough to secure a win, on top of his critically acclaimed album being the most streamed on Spotify worldwide, per CNN. According to The New York Times, the album also set the record for the most single-month streams following its May 2022 release with two billion. If that isn't deserving of album of the year, then we don't know what is.
Snubs: Mary J. Blige
Blige had a big night at the Grammys with her slate of nominations, which included major categories like album of the year and record of the year alongside folks like Styles, Swift, Beyoncé, Adele, and more — and an impressive performance of her latest album's title track, "Good Morning Gorgeous." However, she went zero for six in all of the categories she was nominated in, which was a big surprise considering she was nominated in nearly all the R&B categories for her widely celebrated "Good Morning Gorgeous" album. It would've been a great year to see the queen of hip-hop soul snag a big Grammys win, or at least get a trophy in her own genre.
Snubs: Aaron Carter, Gangsta Boo, and Lil Keed Left Out of the In Memoriam Segment
A lot of celebrities died in 2022, so it's not surprising that the Recording Academy missed adding a few names to its in memoriam segment. However, that didn't stop some music fans from calling out the Grammys for seemingly excluding people like Carter, who died on Nov. 5, 2022; Three 6 Mafia's Gangsta Boo, who died on Jan. 1, 2023; and Lil Keed, who died on May 13, 2022.
Following the show, one Twitter user wrote, "Leaving out Gangsta Boo, one of the pioneers of southern female rap, from the GRAMMY memoriam segment is a sin and a shame." Of Carter, another tweeted, "Really @RecordingAcad ??? HOW do you leave @aaroncarter out of the in memoriam??? He sold millions of albums, his life was music. I am stunned and saddened you didn't include him. #GRAMMYs 🤬🤬 #Aaroncarter."