American Horror Story Comic-Con Clues 2017
3 Big Hints American Horror Story's Comic-Con Exhibit Gives About Season 7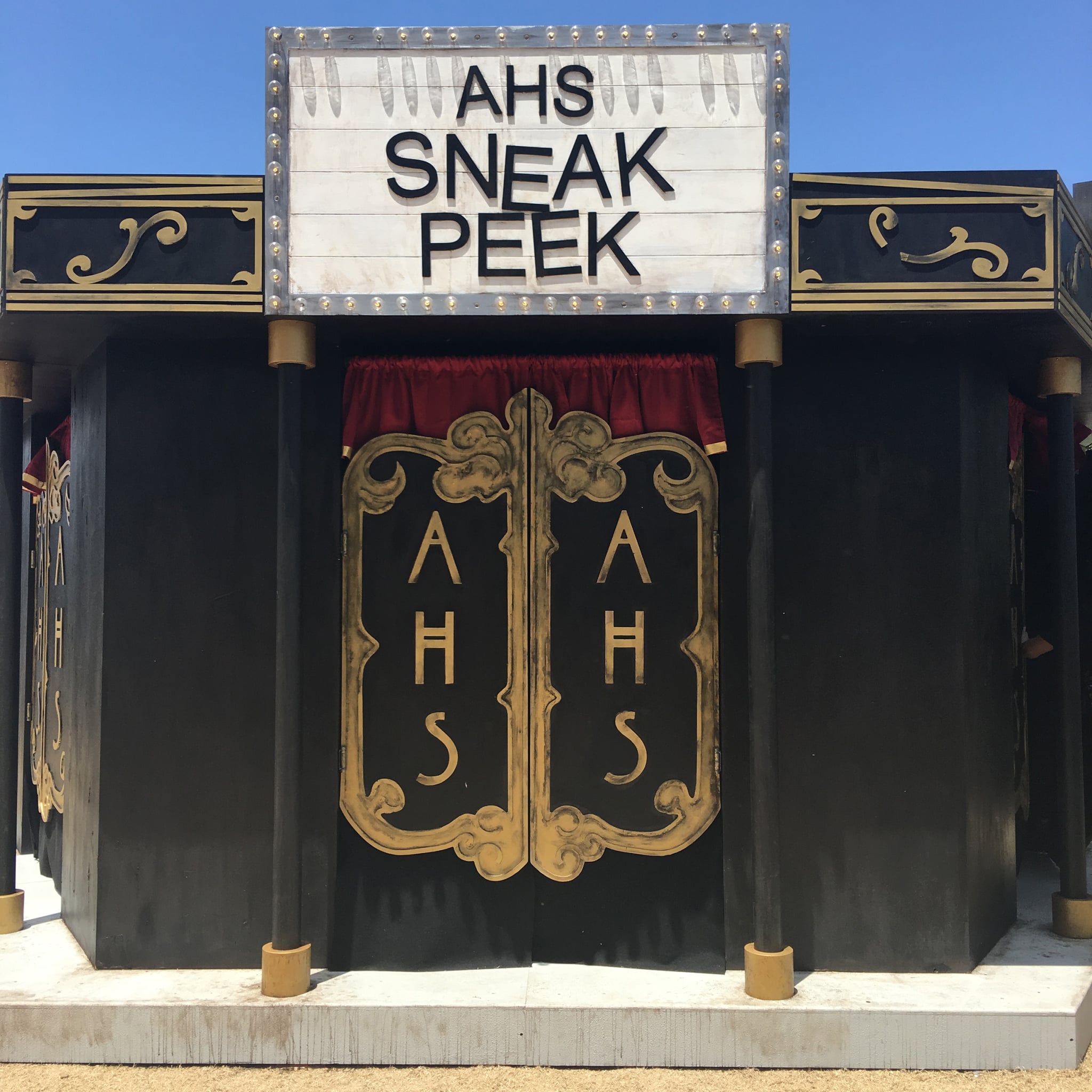 American Horror Story is hands down the most mysterious show on television, and we finally have some concrete hints about season seven. FX has an exhibit called the American Horror Story Zoetrope at San Diego Comic-Con this year, and we were one of the first people to see what was inside. Unlike last year's spooky VR experience, FX confirmed that the exhibit directly correlates to the upcoming season.
From the outside, it's the shape of a carnival tent reminiscent of Freakshow but with the aesthetic of Hotel, and the inside is separated into several small booths. When you step in, the eerie theme music is playing, and you see a three-tiered platform spinning beyond your glass window. It's initially dark, then the lights flash and you see what's on the platforms.
The top tier has two women (a blonde in a blue dress and a brunette in a red dress) in an embrace, and as the wheel spins, they pull each other closer and closer. Based on who we know is in the cast, the dolls could represent Sarah Paulson, Leslie Grossman, Billie Lourd, or the newly added Lena Dunham.
In the middle is a busy beehive with a piece of honeycomb sitting next to it. This connects to the Instagram that showrunner Ryan Murphy shared recently, which showed a man covered in bees. Murphy had captioned, "AHS last clue before this week's TITLE reveal. Ideas?" This may be a Candyman reference . . .
Finally, on the bottom layer is a clown mask. It doesn't look exactly like Twisty, who is supposedly returning to the series in the form of a comic book. The mask didn't even look like the horrifying elephant clown sketch that Murphy shared months ago, which leads me to wonder if there are multiple clowns coming to the new season.
So, what gives? Does any of this connect to the previously reported election theme? Are the colors of the dresses a political reference? Is the blonde in the blue a Democrat and the brunette in the red a Republican? What do bees have to do with politics? Is any of this even real?
FX is planning to reveal a key hint about season seven from Comic-Con on Thursday night, so stay tuned for more details!
Image Source: POPSUGAR Photography / Maggie Pehanick