Is The Art of Racing in the Rain Based on a Book?
The Art of Racing in the Rain Is Based on a Book, and It's Just as Heartbreaking as the Movie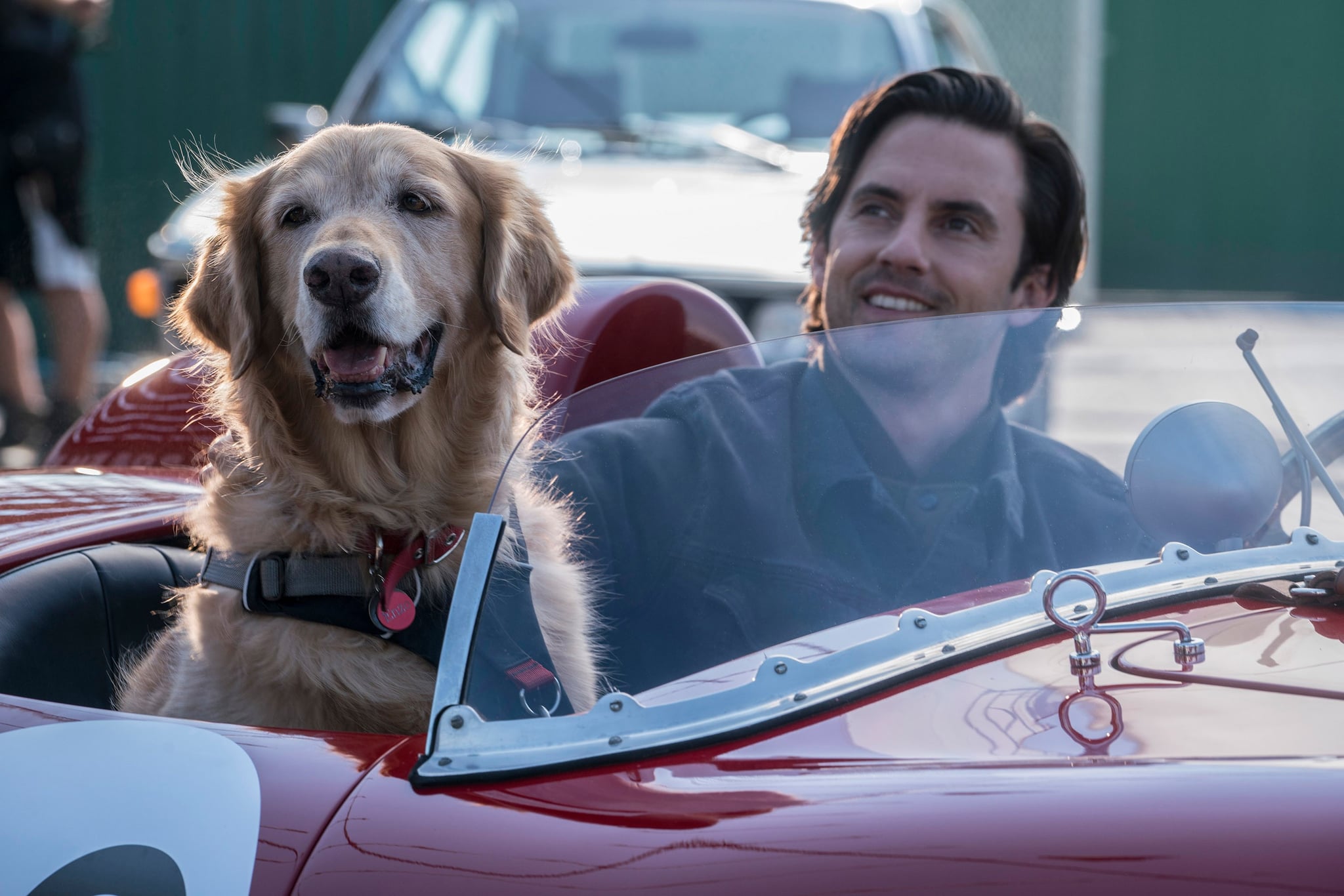 From the minute you saw "From the studio that brought you Marley & Me" in the trailer for The Art of Racing in the Rain, you probably knew you were in trouble. Honestly, has there ever been a movie about a dog that wasn't a tearjerker? The flick — which stars Milo Ventimiglia, Amanda Seyfried, and a very cute Golden Retriever voiced by Kevin Costner — looks like a total sob fest, and the This Is Us star basically already confirmed as much. "It's a really, really beautiful film," Ventimiglia said during his interview at at POPSUGAR Play/Ground. "I'm in the business of tears because of my role on This Is Us. Even I cried a little bit." Oh, jeez. We're toast.
Just like Marley & Me, The Art of Racing in the Rain is based on a bestselling novel of the same name. Gareth Stein's 2008 novel tells the story of a race car driver named Denny Swift (played by Ventimiglia) who adopts a dog named Enzo, and the pup quickly becomes his close companion and a race car fanatic himself. How do we know Enzo is a race car fanatic? Because — just like A Dog's Purpose and A Dog's Journey (which were both written and adapted into movies by W. Bruce Cameron) — Enzo is the one narrating the story, not Denny. Together, Enzo and Denny experience life's up and downs as Denny falls in love with a woman named Eve (played by Seyfried), starts a family of his own, and faces unexpected tragedies. Everything that Enzo observes, he relates back to race car driving, as it is the thing that he understands the most. After all, he was named after Enzo Ferrari, founder of the famous Italian automobile brand of the same name.
Stein first came up with the idea for the novel after watching State of Dogs, a Mongolian film that Stein discovered while working as a documentary filmmaker in NYC. According to Mongolian legend, a dog "who is prepared" will be reincarnated in his next life as a human. "I thought that was a cool idea," Stein explained in an interview back in 2010. "But how would I write about it?" A few years after watching the film, Stein moved to Seattle and heard poet Billy Collins read his poem "The Revenant," in which a dog addresses his owner from heaven. Though skeptical about whether people would want to read a book narrated by a dog, Stein found a way to make Enzo's voice funny and compelling enough to hold a reader's attention (and seeing as the book spent 156 weeks on the New York Times bestseller list, we'd say that it worked).
Denny's character is actually based on Stein's own experience as a race car driver. Before becoming an author, Stein received his racing license from the Sports Car Club of America and raced a Miata for about four years. His racing career ended after an accident, in which he crashed his car while racing — you guessed it — in the rain. "If you simplify racing and you simplify life, they pretty much amount to the same thing," Stein said in the same 2010 interview, which is exactly how Enzo sees it.
The move hits theaters on Aug. 9, and be sure to pack some tissues before you see it — you're going to need them.