Kristina Schulman on Dean Unglert's Podcast
Bachelor in Paradise: Kristina Was on Dean's Podcast, and It Got "Sufficiently Awkward"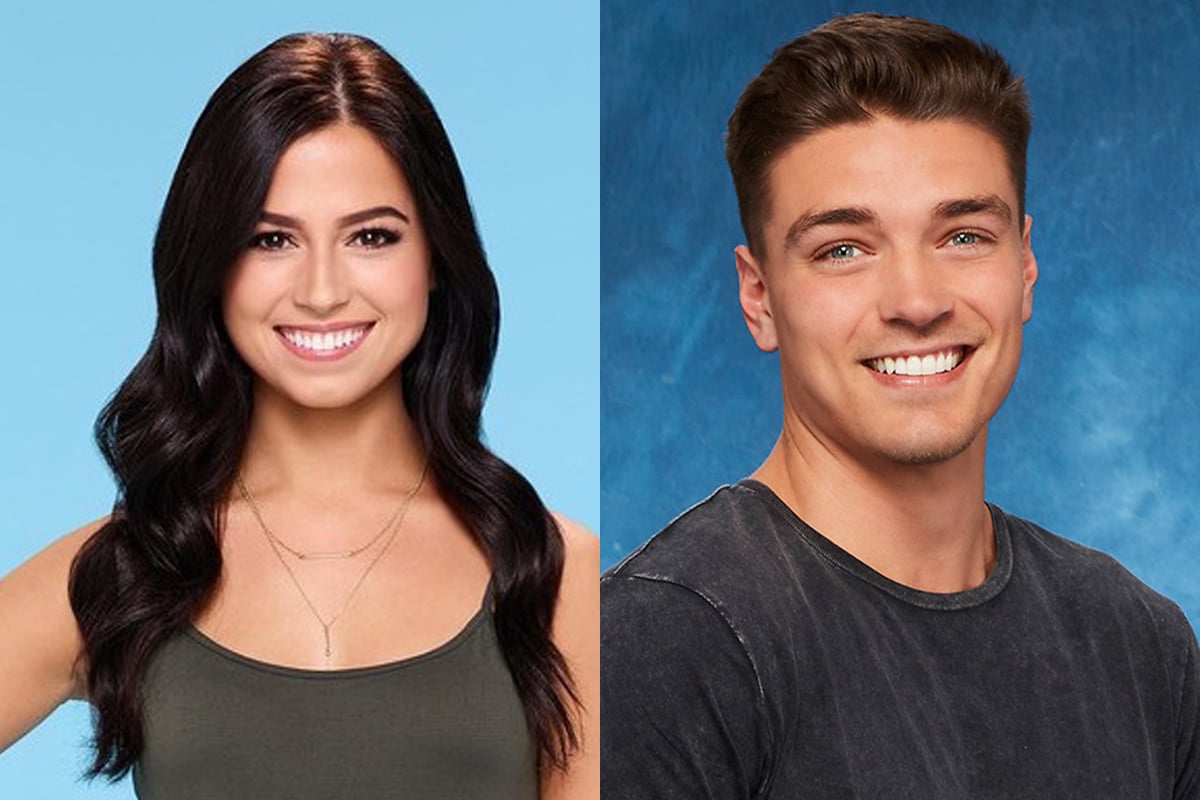 Another day, another Bachelor Nation podcast. *Sigh* Ben Higgins and Ashley Iaconetti from The Bachelor franchise have their own podcast series, as do other former contestants like Olivia Caridi and Becca Tilley. The latest Bachelorette alum to hop on the bandwagon is Dean Unglert, who appeared on Bachelor in Paradise this past Summer.
Dean quickly became a fan favorite on Rachel Lindsay's season of The Bachelorette, but that all changed when he strolled into Paradise and got wrapped up in quite the sticky love triangle with Danielle Lombard and Kristina Schulman, who were both contestants on Nick Viall's season of The Bachelor. Now that Dean has adequately put his f*ckboy ways on display on national TV, he's attempting to redeem himself and seek love advice on his new podcast, aptly titled Help! I Suck at Dating.
In a teaser for the series, Dean invited "probably the most questionable person we could have on this podcast," in his own words: Kristina Schulman. As you can imagine, things got pretty juicy, as seven minutes of semi-defensive back-and-forth ensued — with plenty of Dean's uncomfortable chuckles mixed in.
When Kristina phoned in, she admitted she was pretty "caught off guard" by the request to speak on the podcast, but nevertheless proceeded to dissect what went wrong between them on Bachelor in Paradise. Dean jumped right in by asking her to explain for listeners what makes him such a "sucky" dater. "This is a bad question, but a good one. The list is endless," she joked. Quite appropriately, Kristina started by touching on Dean's communication skills, which proved to be pretty juvenile on the show, as he avoided serious conversations with Kristina and chose to pursue D-Lo while also stringing Kristina along.
Image Source: ABC
"What I've noticed with you — and I'm sure the rest of America has too — is that you have this wall up, and you're always joking and you're smiling, but as soon as someone gets past that wall, you have a lot to say," Kristina said. "You have a lot going on. And between you and me, I think I noticed that early on." That prompted Dean to fire back, asking, "Don't you think it's more fun to have a dating relationship where you laugh and smile the whole time instead of talking about feelings?"
Although I sincerely hoped this was a pre-decided, half-joking question provided by someone else, Kristina, to her credit, agreed that it certainly is more fun to have that type of relationship. Ultimately, though, she noted it can only get "stronger" and "deeper" if both people involved talk about how they're feeling along the way. "It's supposed to be all fun and flirting and laughing in the beginning, but eventually I think it has to move into some kind of feelings talk," she said.
Dean agreed and prodded for more details on why he's a horrendous dater. "I was that person interested in dating you, and now telling you how bad you are, it's kind of weird," Kristina said. "But another thing, I guess, is you tend to sugarcoat things and not say exactly how you feel. You try to find a roundabout way. But sometimes it's best to just say it. It might hurt. I know I've told you this multiple times. It's going to sting in the moment. It's better than finding out later." Preach, girl — preach!
Kristina also noted that her time with Dean is something she views as "a good lesson," which Dean, sounding surprised, asked her to explain. "With the conversations we've had, I probably came off aggressive a few times, but I'm learning to be a little more sensitive," she said. "I get carried away with trying to get my point across, when I need to hear theirs, too."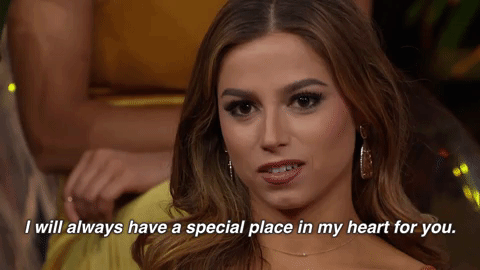 The podcast wrapped up with Dean apologizing for "bombarding" Kristina with the guest appearance. Though he mentioned that it was "sufficiently awkward," the way he ended it may have offered a glimmer of hope to those who (somehow) still believe the two are destined to be together. "I wish you the best, and I'll talk to you soon, I mean, obviously," he said right before the podcast cut off. So it sounds like these two have officially called a truce and are on friendly terms. We can't confirm whether this means they're technically "dating" again, but it's kinda nice to see the former love birds set aside their differences in the name of good ol' reality TV podcasting.
Listen to the entire podcast below to bask in seven minutes and 52 seconds of full-on awkwardness.