Leonardo DiCaprio Hates "I'm King of the World" Line Titanic
Apparently Leonardo DiCaprio Hated This Iconic Line From Titanic, and I Don't Blame Him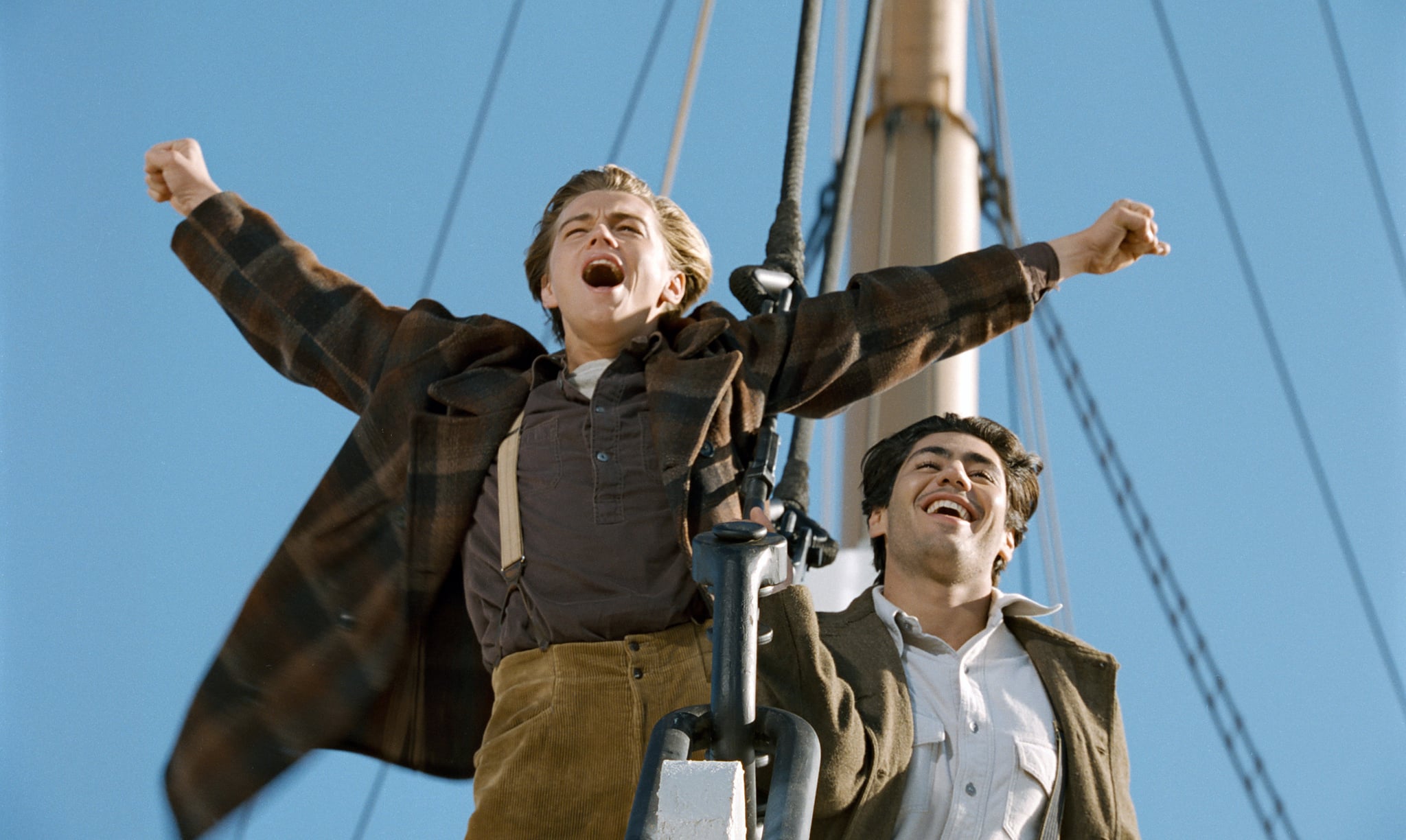 One of the best things about the never-ending fascination with Titanic is that a new behind-the-scenes fact seems to come out about the 1997 film every year. From discovering that Matthew McConaughey was originally supposed to play Jack instead of Leonardo DiCaprio, to the fact Celine Dion's iconic "My Heart Will Go On" almost never happened, it seems there's no shortage of fun facts still waiting to be revealed. And now, we have another one to add to our list: apparently DiCaprio hated one of the film's most iconic lines.
While sitting down with BBC's Movies That Made Me series, director James Cameron got on the subject of Jack's famous scene at the bow of the ship with his friend Fabrizio (Danny Nucci), where he shouts, "I'm the king of the world!"
"It was made up on the spot. I was in a crane basket, and we were losing the light. I had tried this and we had tried that, tried this line and that line and it was just coming up snake eyes," Cameron explains. "And I said, 'Alright, I've got one for you. Just say, 'I'm the king of the world,' and just spread your arms out wide and just be in the moment and just love it and just celebrate it and love it.' And he goes, 'What?'"
DiCaprio, understandably, wasn't exactly thrilled about the line. It's incredibly cheesy, but something about it works coming out of DiCaprio's mouth, which Cameron anticipated. "I'm getting this over the walkie talkie. 'I'm the king of the world,' just say, 'I'm the king of the world,' but you've got to sell it!'" Cameron adds. "And he goes, 'What?!' I said, 'Just f**king sell it.'"
Despite having to say that line on top of the hazardous, ice-cold conditions of filming that scene — Nucci told Vanity Fair that he and DiCaprio "were trapped on this little tower with our set coats so that we wouldn't freeze" for hours — the actor managed to pull it off. The same can't be said about Cameron, however, who decided to accept his Oscar for the film by infamously shouting the same line on stage. Unsurprisingly, everyone cringed.
Fortunately, Cameron has had time to accept that maybe that line is only acceptable if DiCaprio is saying it. "The way he sells it, yes. Apparently that's the difference between myself and Leonardo, he was able to sell the line," he jokes.