Melisandre's Necklace on Game of Thrones
Here's What to Know About Melisandre's Freaky Necklace on Game of Thrones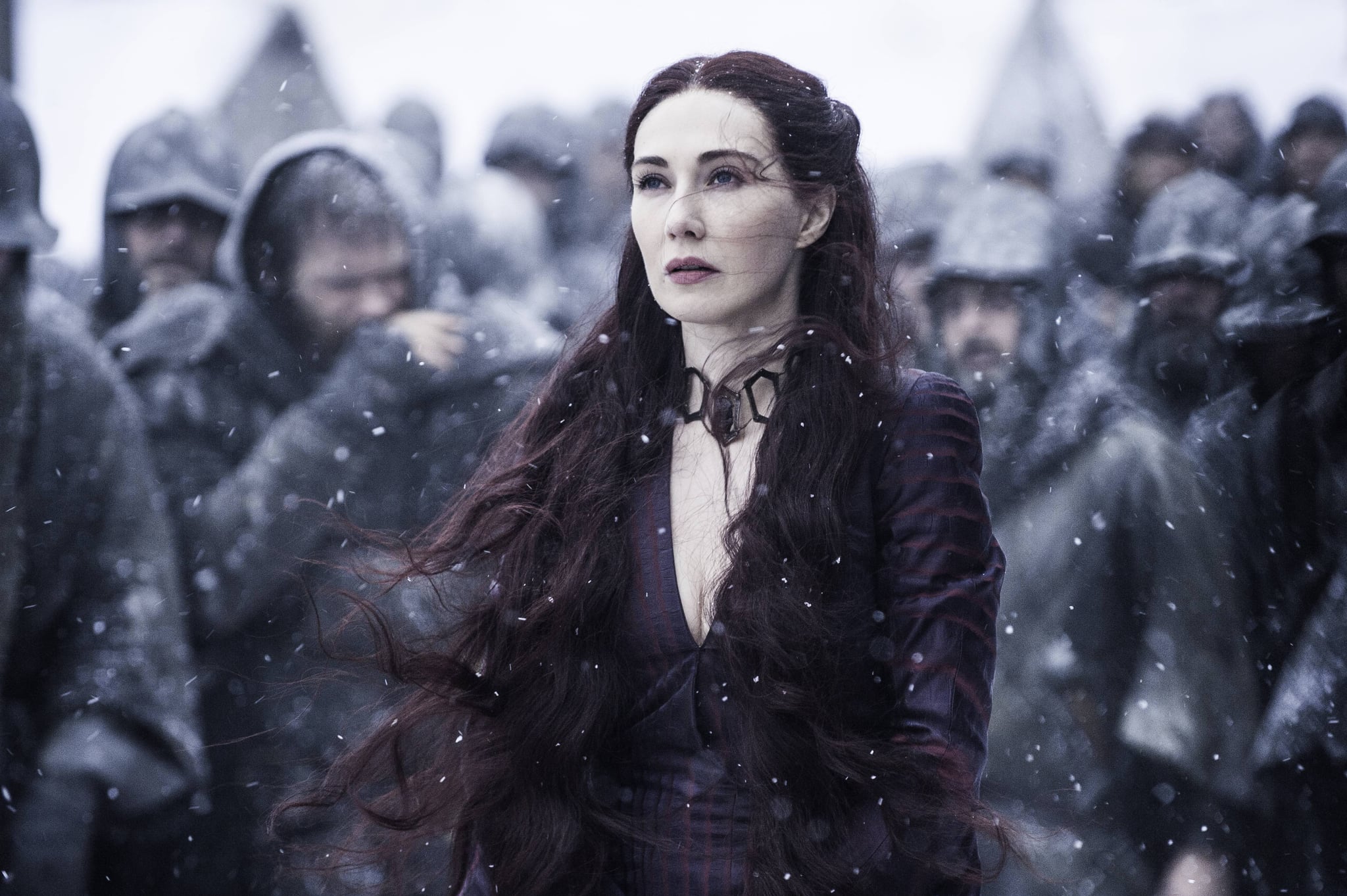 Game of Thrones' long-awaited Battle of Winterfell was packed with callbacks to previous seasons. From Arya's "stick 'em with the pointy end" to the Hound's fear of fire to Sansa and Tyrion's marriage, every scene seemed to have some significant callback to where the story has been so far. Another major return in the episode: Melisandre, the Red Woman, reappeared in time to use her fire magic to assist in the battle against the Night King's army. At the end of the episode, though, she reverts to her "crone" form and seemingly dies — and her transformation appears to hinge on her iconic necklace.
Melisandre has always had an iconic look, with her long, red hair and dark, flowing clothes. The one item she's never seen without is an elaborate, large choker-style necklace. In season six, though, we learn that the necklace isn't just a fashion choice: it's imbued with magic. When Melisandre removes the necklace, her "true" physical form is revealed: a withered, hunched old woman with long white hair. The magic-wielding woman isn't exactly immortal, but she's been alive for centuries, and her ruby necklace is apparently the key to maintaining her physical appearance and holding off the physical effects of having been alive for so long.
Game of Thrones famously doesn't always give explicit answers to the show's mysteries, and that's the case again with Melisandre's necklace. It's never been openly discussed on screen; much like the bulk of Melisandre's powers, the way that the necklace works is never laid out in detail. We've seen Melisandre wielding magic before, from her violent shadow-assassins and horrifying "sacrifices" of earlier seasons to her more heroic magic to resurrect Jon Snow and help defend Winterfell. It makes sense that, like so much about the Red Woman, the magic that's made her the character we know remains mysterious until the very end.