What Does the Roseanne Reboot Say About Donald Trump?
Exactly How the Election Storyline Plays Out in the Roseanne Reboot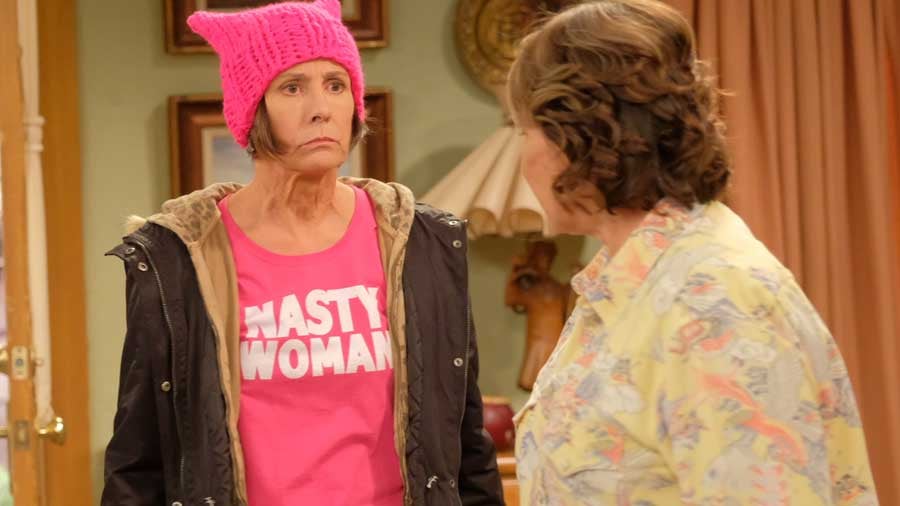 The original Roseanne never shied away from politics. It tackled everything from working-class financial problems to gay rights to racism to abortion, and the revival is no different. Roseanne Barr in real life is a known supporter of Donald Trump, something the creators chose to incorporate into the reboot.
But Roseanne having voted for Trump isn't glossed over with some throwaway comment. One of the main storylines of the premiere episode is the split between Roseanne and her younger sister, Jackie, over the 2016 presidential election. As you can see from premiere photos, Jackie is a Hillary Clinton supporter, so she and her sister have been at odds for over a year.
Without giving too much away, the show — which never actually name-drops either Trump or Clinton — seeks to explore why someone would have voted they way they voted, filtered through the lens of Roseanne's usual brash humor. The goal, the creators told us at the 2018 TCA winter press tour, was to present how real families have had to deal with this issue.
"My show has always been — I have always attempted to portray a realistic portrait of the American people and of working class, you know, working class people. And, in fact, it was working class people who elected Trump," said Roseanne. "So I felt that, yeah, that was very real, and something that needed to be discussed. And especially about polarization in the family, and people actually hating other people for the way they voted, which I feel is not American. And so I wanted to bring it right down the middle, and we did."
For Roseanne the character, the choice in the voting booth came down to economic anxiety about employment and also a desire to see things shaken up in Washington. Executive producer Whitney Cummings said that choice came right out of their own real-life experiences.
"I have some family members who were not on the same side on a lot of this sort of stuff . . . and, of course, I'm asking all the same questions. 'How could you do this? He said this and said this and said this.' And they said, 'Whitney, we're poor. We don't have a choice. We have to vote for people we disagree with because they said "jobs." That's how bad it is. And then we have to sleep at night knowing that,'" said Cummings. "And that was really interesting to me, the idea of it's gotten so bad in this country that you have to vote for someone who may trigger you, who might offend you, who might be any litany of insults that you have."
Barr added, "It's always the lesser of two evils, and we all have to face our own conscience of how we do that."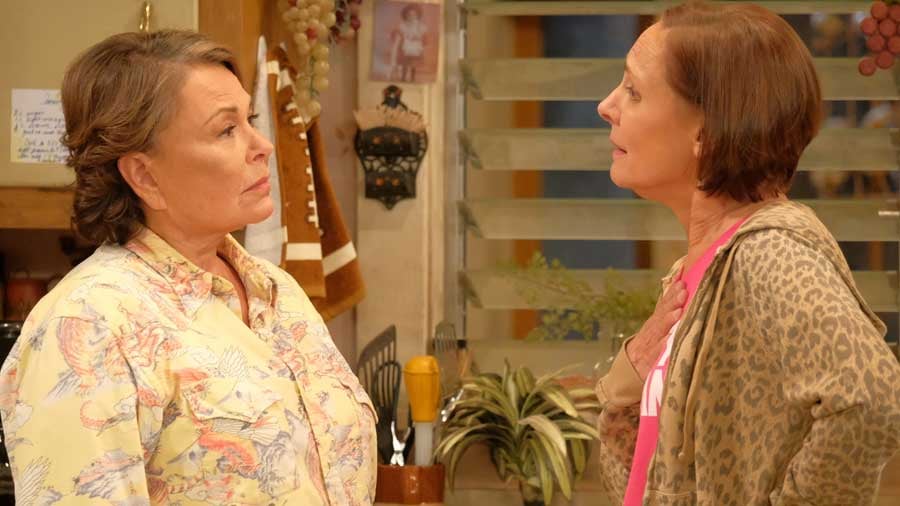 In the end, Roseanne and Jackie reach an understanding, because obviously the revival isn't going to keep Aunt Jackie off screen for nine episodes. What it boils down to is that they never stopped loving each other other and they both admit they should have tried harder to understand one another.
As Sara Gilbert said during the TCA panel, "I think part of what's going on [in this country] is that people feel like they can't disagree and still love each other or still talk to each other. So, to me, it was a great opportunity to have a family that can be divided by politics, but still is filled with love. And what a great thing to bring into this country right now."
It's a nice way to deal with it in the premiere, and then after that (at least in the first two episodes), the election commentary is done. It's not that the show isn't political again, but specifically addressing Trump and/or Clinton isn't something that continues, because that's not what the show is — or should be — about.