What Year Does Riverdale Take Place?
Riverdale Fans Are Extremely Confused About What Time Period the Show Takes Place In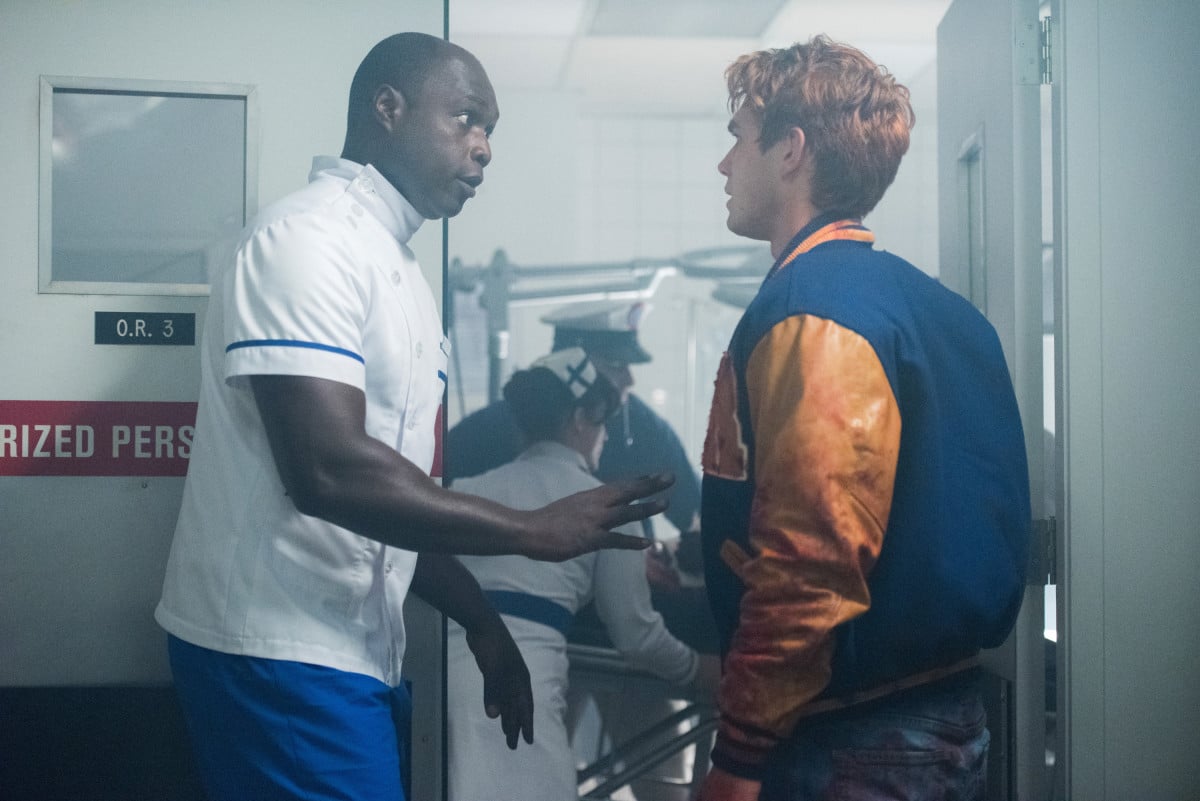 Riverdale has always existed in a gray area when it comes to the show's time period. Although most of the main characters — Archie, Betty, Veronica, and Jughead — are supposed to be between 15 and 16 years old and are regularly seen texting on iPhones, certain aspects of the show call the exact decade they're living through into question: Pop's Chock'lit Shoppe, the older car models, and Ethel Muggs's clothes, for starters. While most of those examples can be chalked up to the creative forces behind the show trying to pay homage to its source material, the Archie comics from the 1940s and 50s, the season two premiere further called Riverdale's time period into question.
The first few scenes take place in the town's small hospital, since Archie manages to drag his dying father there after he's shot by an unknown assailant at Pop's. Instead of being greeted by doctors and nurses in traditional scrubs and white coats, the hospital staff is outfitted in candy striper dresses and old-timey white and blue uniforms that seem straight out of a time capsule. It was jarring enough that fans couldn't help but call the odd moment out on Twitter.
Wait. Am I just realizing #Riverdale doesn't take place in 2017 because of this hospital? Am I dumb? Is it 2017? What's going on? Help.

— Kaitlyn Vella (@Kaitiii) October 12, 2017
Do nurses still wear these outfits? I feel like I've never seen a nurse in a hat or dress. #Riverdale pic.twitter.com/s36EbjSPWA

— Mekishana Pierre (@mekishana) October 12, 2017
What year is riverdale supposed to take place?? The hospital looks like it's from the 1950s¿

— jen (@holydobsley) October 12, 2017
So my question what year is @CW_Riverdale set in bc the hospital looks old and the nurses are dressed like there in 1970 #RiverdaleSeason2

— Olivia Marie (@livymarie21) October 12, 2017
Just started watching @CW_Riverdale and am v confused. Was the dead guy banging his sister? Why is @colesprouse so broody? What year is it??

— Hannah Jenkins (@hannahplantain_) October 12, 2017
Wait, what year is this again? Were those candy stripers? #Riverdale #RiverdaleS2 #RiverdaleSeason2

— Key Issues (@KeyIssuesCast) October 12, 2017
I don't know if I should be charmed or dismayed by the straight out of the 1950's hospital wear? #Riverdale

— Charlynn Rose Seidel (@oy_CharlynnRose) October 12, 2017
Riverdale don't know what decade it's in...shit be looking like 1950 in some scenes

— 😬 (@kinjapthooo) October 12, 2017
While it's definitely a weird way to go about incorporating Riverdale's 1950s roots, it does heighten the show's uneasy, eerie atmosphere. One fan even hypothesized that only certain parts of the town are affected by traces of the past, calling them "time pockets."
I swear that #Riverdale contains time pockets. What year is this hospital in? Love the Doctors & Nurses uniforms though.

— Dory (@dory1028) October 12, 2017
Fortunately, it seems like the cast is just as in the dark about it, according to Cole Sprouse, who plays Jughead Jones. "Riverdale has no formal or announced time period as of now," he explained during a Reddit AMA. "And with the amount of money we dedicate to atmospheric fog, the setting is supposed to feel dreamlike. My understanding of the town is some twilight zone between the modern and the nostalgic 'golden age America. Hence the set pieces like the autos."