The Real Events That Inspired Netflix's "All the Light We Cannot See"
Netflix's highly anticipated miniseries "All the Light We Cannot See" hit the platform on Nov. 2, and many watchers have wondered if the plot of the series, which takes place during WWII, is based on a true story. The miniseries is an adaptation of Anthony Doerr's 2014 novel of the same name that was a New York Times bestseller in 2014 and recipient of the Pulitzer Prize for Fiction in 2015. "All the Light We Cannot See" follows Marie-Laure LeBlanc, a blind French girl, and Werner Pfennig, a German boy, whose worlds intersect when the French port town of Saint-Malo becomes the fighting ground between German and Allied forces during WWII.
Despite the plot taking place during a historic time, it is not based exclusively on a true story. Rather, the inspiration for "All the Light We Cannot See" came from something Doerr actually experienced, as well as an eye-opening trip to the historic French coastal town of Saint-Malo, which was a real battleground during the Second World War.
The real-life experience combined with the inspiring and resilient story of Saint-Malo created a foundation for Doerr to write "All the Light We Cannot See." If you're curious about the series and book's riveting backstory, keep reading!
What Was the Inspiration Behind "All The Light We Cannot See"?
While riding a train from Princeton, NJ, to New York City's Penn Station in 2004, Doerr overheard the troubles of a passenger, which sparked the first idea for the book. "The man in front of me was on his cellphone call — this was in 2004 — and the call dropped. And he got kind of angry, a little embarrassingly angry, unreasonably angry," he revealed in a 2014 interview with NPR. "And I just remember thinking, what he's forgetting — really what we're all forgetting all the time — is that this is a miracle," Doerr continued. "He's using this little receiver and transmitter, this little radio in his pocket, to send messages at the speed of light rebounding between towers to somebody maybe thousands of miles away. He might have been talking to someone in Madagascar for all I knew. For me, that's a miracle."
About a year after Doerr's train experience, he was on a book tour that stopped in Saint-Malo in Brittany, France. After learning of its history, Doerr became fascinated by the city, and he was compelled to tell a story with it as the backdrop.
In a 2015 interview with HuffPost, he explained, "You walk its cobbled lanes, you smell the tides, you hear the echoes of your footsteps, and you think: this city has survived for well over a thousand years. But Saint-Malo was almost entirely destroyed by American artillery in 1944, in the final months of World War II, and was painstakingly put back together, block by granite block, in the late 1940s and early 1950s. That a place could so thoroughly hide its own incineration, and that my own country was responsible for that incineration, fascinated me."
What Happened at the Battle of Saint-Malo?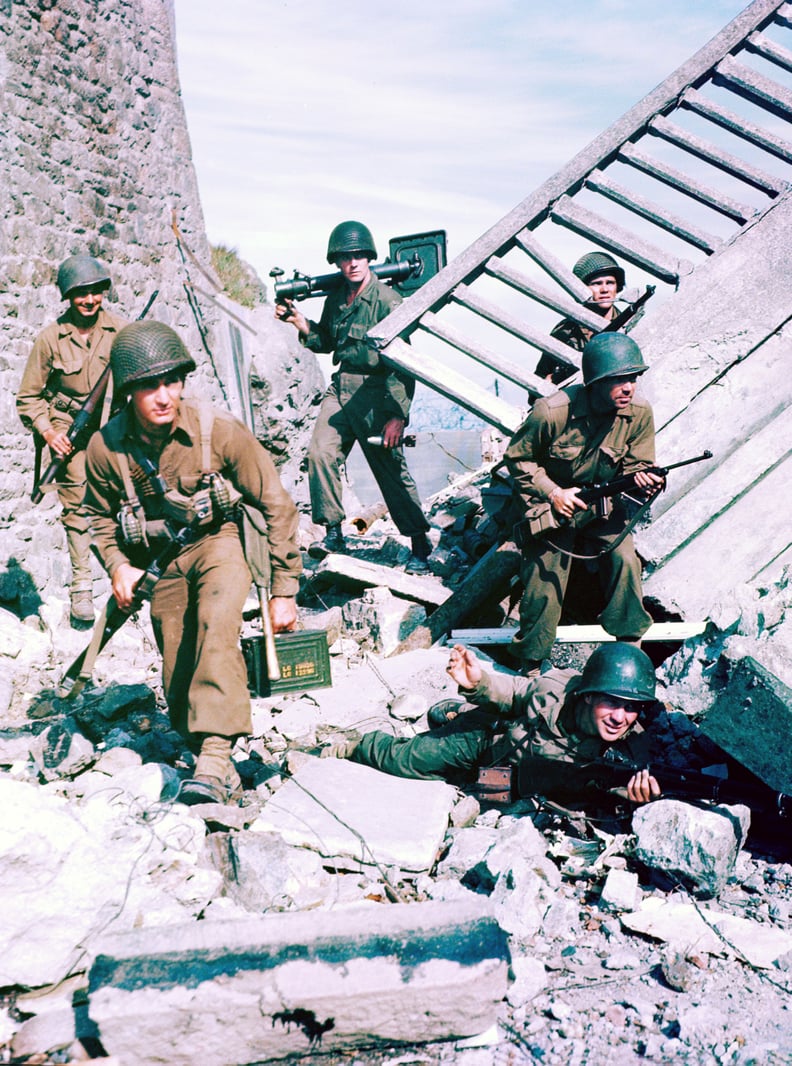 Lasting from Aug. 4 to Sept. 2, 1944, the Battle of Saint-Malo was fought between German and Allied forces for control over Saint-Malo, which was established as a coastal defense fortress under the German Atlantic Wall program, per Google Arts & Culture. The near-month-long battle was won by the Allies with the added help and effort of the Free French party and British forces, but the town was nearly decimated in the process. More than 600 of the historic town's 865 buildings were destroyed, and reconstruction took years to fully complete, as reported by France Today.
Find "All the Light We Cannot See" streaming on Netflix now, and watch the trailer for the series below!