Amrit Kaur Talks The Sex Lives of College Girls | Interview
On Our Radar: The Sky's the Limit For Amrit Kaur
Image Source: Getty / FilmMagic
Amrit Kaur was destined to play Bela Malhotra on The Sex Lives of College Girls. No, seriously. Even though the 28-year-old actor technically wasn't allowed to audition because she didn't meet the O-1 visa requirement, she did so anyway. She ended up nabbing the role after creators Mindy Kaling and Justin Noble personally wrote letters to the government to get Kaur across the border from Canada to the US. "It's unbelievable. There's so much gratitude," Kaur told POPSUGAR. "There's thousands of people that audition for this one part, and then someone really sees something in you, believes in you, and goes through all these hoops to get you across the border. I have so much gratitude for them because it's such a beautiful role."
The coming-of-age HBO Max comedy, which officially premiered on Nov. 18, follows a group of four eager young women — Kaur as Bela, Pauline Chalamet (yes, Timothée Chalamet's sister) as Kimberly, Alyah Chanelle Scott as Whitney, and Reneé Rapp as Leighton — while they navigate their first year at the prestigious Essex College in Vermont. Most of us can probably already guess how that goes, right?
"It's great that we see a character who's comfortable in her sexuality, irrespective of what her race is."
Although Bela comes from a conservative Indian family, she is very excited to explore sex and hopes to make it big on Saturday Night Live one day. For Kaur, it was a dream come true to simply have the opportunity to step into the shoes of a character like Bela and work alongside Kaling. "I've looked up to Mindy my entire life. She made waves for South Asian women on screen in Hollywood, representing us in a truthful way," Kaur said. "It was [also] exciting to see an audition of Bela, who's an outspoken, sex-positive girl; who's nerdy, intelligent, wants to be loved, and has so many qualities I relate to."
Kaur always knew she wanted to play Bela from the very beginning — there was no doubt in her mind. "Bela is me, and I am Bela. Everything that you see on the screen is everything I've experienced, whether it be facing the industry, coming to terms with myself as a South Asian with dreams of comedy, fighting for your dreams with family, wanting to feel more beautiful and figuring out, having these ideals of white beauty and trying to look that way," she explained. "It's great that we see a character who's comfortable in her sexuality, irrespective of what her race is."
Going into it, Kaur also had the goal of acquiring as much knowledge as she could from working with people as incredible as Kaling and Noble. One of the biggest lessons Kaur took away from observing Kaling on set was the importance of humility and collaboration. "Even though [Kaling] has a place in the industry where people look up to her and she could rest her laurels on that . . . she would [still] ask me, 'So do you think Bela would say this like this?' And that's just humility that speaks wonders of her. She's still collaborating with someone who this is their first job," Kaur said.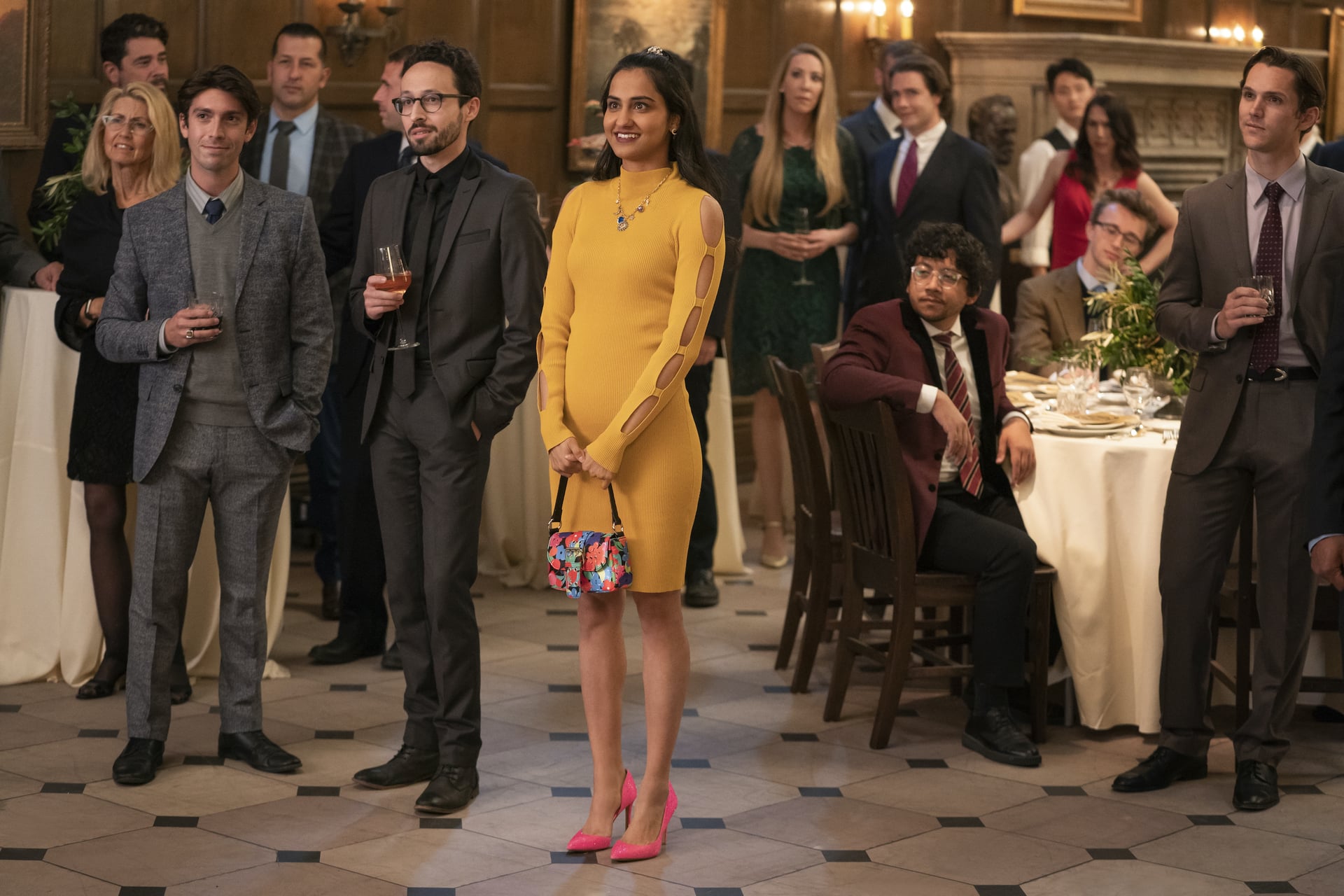 Image Source: HBO Max
Kaur's role on The Sex Lives of College Girls marks her biggest to date, but you may recognize her from previous appearances on American Gothic, Kim's Convenience, The Bold Type, and Star Trek: Short Treks. "Growing up, the arts wasn't a profession that was spoken about. I didn't know that it was a profession I could do. It's something I dreamt about," she recalled. Like many immigrant parents (mine included), Kaur's mom and dad "came here with the hopes of their child being a doctor, engineer, [or a] lawyer." So Kaur never really put much thought into becoming a professional actor — that is, until she got to high school, where drama class was a graduation requirement.
Kaur's drama teacher, Cameron Fraser — who's also now her best friend — encouraged her to do improv, and that's when Kaur really started taking acting seriously. "That permission from someone to explore being weird, being open, dropping into different characters, it really allowed me to fall even deeper into love and come to the reality that that's what I wanted to do for the rest of my life," Kaur added. "I became team captain of the improv team, and that was my first interaction with using the art form to express myself."
"There are so many stories to explore, and I want to be a part of doing that."
Kaur graduated from York University with a BFA in acting, though it initially took some convincing for her parents to get on board with her pursuing an acting career. "Our parents want us to be safe and protected, and the arts, it's a tough industry," she noted. Fast-forward to today, and Kaur's parents couldn't be prouder of her accomplishments. However, she still finds them "biting their tongue" every time they watch an episode of The Sex Lives of College Girls. "They're like, 'I'm going to bring my Gurbani,' which is the prayer book of Sikhism, 'and watch the episode at the same time, do a prayer, watch the episode, do a prayer,'" Kaur joked. "But they're very proud. As a result of the show, we've been able to have very complex discussions about sexuality in our family, in our culture, which I am so grateful for because I would've never thought that I could have these conversations with my parents, especially Indian parents. I'm glad the show and Bela is opening up these types of conversations within family and friends."
Looking toward the future, Kaur would love to work with Adam Driver and Kieran Culkin. She'd also love to act alongside Kaling now that they've gotten the chance to work together. But most importantly, Kaur wants to continue telling stories about the South Asian experience. "We're just starting to see representation in a bigger way for South Asians in Hollywood," Kaur said. "There are so many stories to explore, and I want to be a part of doing that."
As for Bela's future, now that the show has been picked up for a second season, Kaur wants to explore more of Bela's "trajectory of becoming a woman" and share her vulnerabilities. "In season one, we see that she uses humor as a vehicle, as an instrument to cope," Kaur said. "I hope in season two that she gets better at facing her own pain."
The Sex Lives of College Girls is available to stream on HBO Max now.