"The Sex Lives of College Girls"'s Season 2 Trailer Teases a New Handsome Face on Campus
"The Sex Lives of College Girls" is back for another sex-plosive season. On Oct. 19, HBO Max released the hilarious trailer for season two, teasing more sexy, fun-filled, and wild college adventures for our favorite suitemates. Oh, and a handsome new face on campus named Jackson (played by Mitchell Slaggert) — looks like he might win over one of the girls this season.
According to cocreator Justin Noble, one of the plots season two will explore is Kimberly's (Pauline Chalamet) financial crisis. If you recall from the season one finale, Kimberly cheated in one of her classes and is now in the hole for the $23,000 she's losing in scholarship money. In a June interview with Deadline, Noble teased a season two spoiler/solution to Kimberly's money troubles, saying, "At least one of the voices in her ear will suggest she go into the dark web."
Speaking to Entertainment Weekly in September, Noble also said season two "will pick up right after Thanksgiving break of their first year in college. And then this season will take us through the end of that first year."
However, things are going to look a little different this season. For one, viewers may notice a change in scenery for the prestigious Essex College. Season one of the show was filmed at Vassar College, but on June 17, a spokesperson for the university told the Poughkeepsie Journal that the HBO Max series did not return to their campus to film the second season.
There have also been some character changes for season two that include the departure of Gavin Leatherwood's character, Nico — who played Kimberly's love interest in season one — while some beloved season one favorites have been upped to series regulars.
"The Sex Lives of College Girls" first premiered on Nov. 18, 2021, and HBO Max renewed the series for its second season on Dec. 7, 2021. The show centers on the lives of four college roommates — Kimberly, Bela (Amrit Kaur), Whitney (Alyah Chanelle Scott), and Leighton (Reneé Rapp) — as they navigate love, life, and friendship as freshmen.
The series has proven to be one of HBO Max's top titles, so of course, bringing back the show for season two was a no-brainer. "Mindy Kaling and Justin Noble have created and written a show that is full of heart, female friendships, and awkward naked parties," HBO Max's head of original content, Sarah Aubrey, said in a statement. "We are delighted that this comic, honest portrayal of the college condition has resonated for everyone, whether they had sex in college or not. We can't wait to see where these uniquely complex yet relatable characters will go next."
The show's focus on the modern-day college experience has resonated with many fans thus far. And just as Noble previously told POPSUGAR, we hope season two continues to position the series as a "love letter to young women."
Read ahead for everything we know about "The Sex Lives of College Girls" season two, including the trailer, new and returning cast, and release date.
"The Sex Lives of College Girls" Season 2 Trailer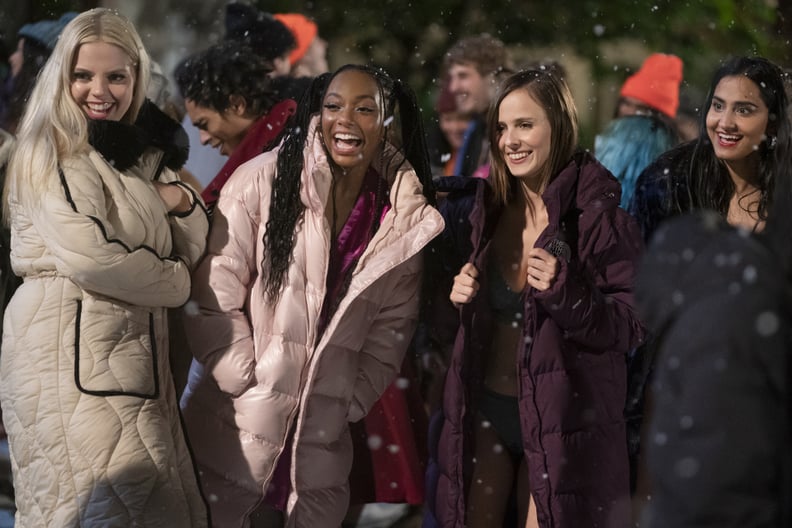 "The Sex Lives of College Girls" Season 2 Cast
Our favorite suitemates — Kimberly (Pauline Chalamet), Bela (Amrit Kaur), Leighton (Reneé Rapp), and Whitney (Alyah Chanelle Scott) — return in season two. Others including Mekki Leeper (Eric), Christopher Meyer (Canaan), Ilia Isorelýs Paulino (Lila), Lolo Spencer (Jocelyn), and Renika Williams (Willow) also star as series regulars this season, while Mitchell Slaggert joins as a new face who plays transfer student Jackson.
Gavin Leatherwood, who played Nico (Kimberly's friend with benefits), will not return in season two. The actor previously told Us Weekly that while he was "happy to do the first season," he'll be "branching off and going in a different direction" following his exit. "It was such an incredible experience. I think Mindy is brilliant and the cast, everyone's lovely," he said. "But with so many amazing opportunities out there, we want to keep spreading our wings and leading ourselves to other projects so that's the move."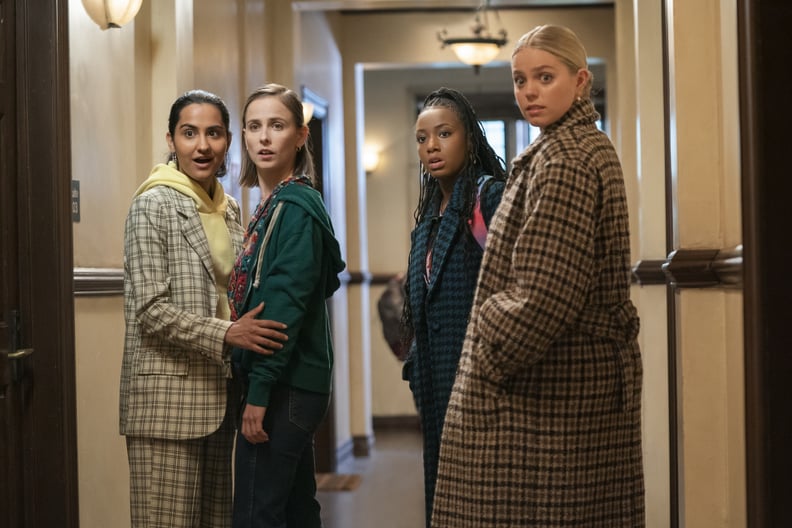 "The Sex Lives of College Girls" Season 2 Release Date
The show's second season premieres on Nov. 17 with two new episodes. The 10-episode season will conclude Dec. 15.