Here's Why And Just Like That Let Samantha and Her Sex and the City Fans Down
I was one of those 20-something-year-old girls who moved to Manhattan because of Sex and the City. I dreamed of having a life (and wardrobe) just like Carrie, Miranda, Charlotte, and Samantha. Except, I quickly learned I couldn't afford their lifestyle — outside of maybe the occasional cosmopolitan. That cruel reality aside, to say I'm a Sex and the City fan is an understatement. Obviously, I couldn't wait for the reboot, And Just Like That, to premiere, mainly so I could finally find out how the show would explain the absence of Samantha. She was the fun, sex-positive PR professional who always made me laugh, and she was always a great friend to Carrie, Miranda, and Charlotte throughout the show. Sadly, Kim Cattrall, who played Samantha in the original show and the subsequent two feature films, declined to join AJLT. "It's a no from me," Cattrall told The Mail Online in 2019 about her decision not to return. "You learn lessons in life, and my lesson is to do work with good people and try and make it fun." Indeed, it's long been rumored that Cattrall and Sarah Jessica Parker, who plays Carrie, do not get along.
So how was Samantha's glaring absence explained in the And Just Like That premiere? Well, after Carrie drops Samantha as a publicist due to changes in the industry, Samantha seemingly drops her as a friend, fleeing to London out of what Miranda speculates is embarrassment. Um, what? This turn of events isn't plausible at all. Consider the evidence.
In the first Sex and the City movie, Samantha moves to Los Angeles with her boyfriend, Smith, only to realize she misses her life in New York City so much, she has to return. And now I'm supposed to believe she picks up and moves to London without so much as a glance back at New York and her friends over a business decision that would have had little effect on her and Carrie's friendship had the writing stayed true to Samantha's previous development. Throughout the Sex and the City franchise, Samantha is a character who stays true to who she is, remaining a loyal and unwavering supporter of Carrie. This is a woman who spoon feeds Carrie to get her to eat after Big leaves her at the altar. But now, she's so hurt by Carrie's decision (that is just business) that she flees the city and refuses to even answer a text from her? Meanwhile, am I supposed to believe she doesn't have any other New York-based clients?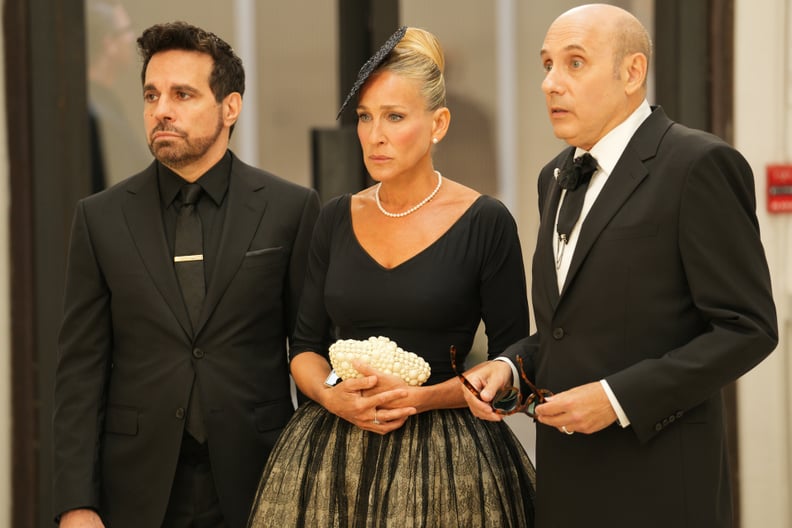 I acknowledge friendships are bound to change over decades, but in the second Sex and the City movie, we don't see any strain in the relationships with Samantha and the other women. So even if I accept Samantha ditched New York over her beef with Carrie, it doesn't make sense that she would also stop talking to Charlotte and Miranda. But that is, in fact, what she does. In the pilot episode, Miranda reveals she and Charlotte reached out to Samantha but got no response.The only time we "hear" from Samantha in the first two episodes is when she sends flowers for Big's funeral, writing only "Love Samantha" on the card. Carrie, who initially stipulates she wants "no flowers" at the funeral, changes her mind when she learns the arrangement is from Samantha. Later we see Carrie text Samanta a thank you. Is this it? All is good now? I'm confused. Because the flowers storyline is hardly adequate closure between Carrie and Samantha given everything they've been through. Consider what she did for Carrie when her Big wedding turns out to be a big flop: she drops everything to go on Carrie's Mexican honeymoon with her. And. Spoon. Feeds. Her.
Ultimately, the way Samantha was written off And Just Like That felt like an idea tossed around a writers' room that should have immediately been dismissed for being out of character. I can't help but wonder what other ideas they decided to cast aside if this is the one they went with.
There were so many other options that wouldn't have painted Samantha as a petty friend. Given the pandemic, it would have been more feasible that she left New York because of COVID concerns, like so many other real New Yorkers. I'd buy that storyline more than her casting off her decades-long friendships with Carrie, Charlotte, and Samantha over Carrie's business decision.
Considering it was Cattrall's decision not to return for the reboot, I can't help but wonder if making her seem petty and lame was the production's version of revenge. But, in the end, Cattrall was just doing what was best for her, and Samantha's character simply deserves more. As a fan, I deserved more too. Every Sex and the City fan deserved to see Samantha get the sendoff worthy of the pop culture icon she became.