Why And Just Like That's Spotlight on Gray Hair Is Important
The Gray Hair in And Just Like That... Sends an Important Message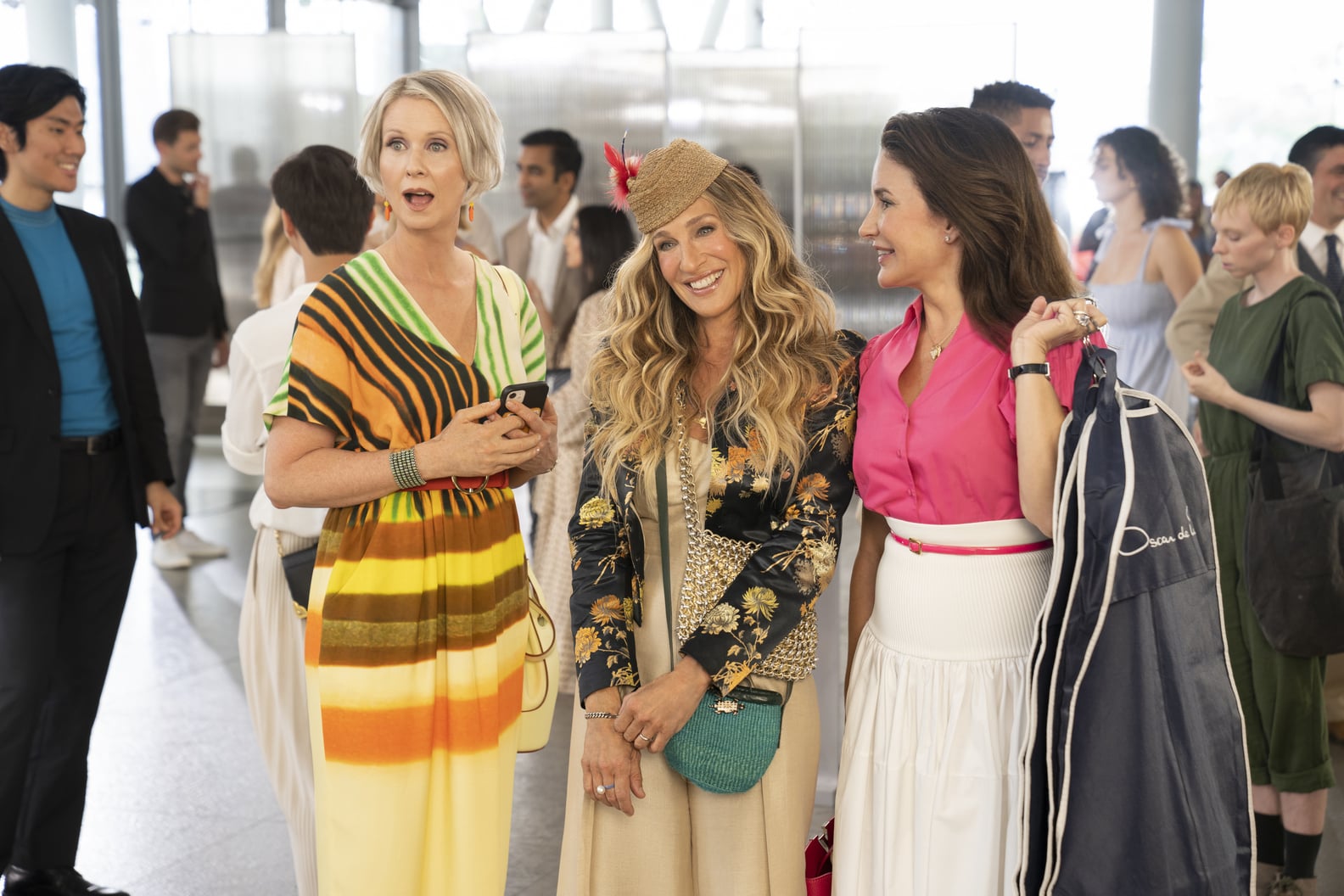 We already knew Sarah Jessica Parker felt OK about aging and — gasp — embracing her gray hair. Just consider her recent, much-photographed meal with her friend, Bravo's Andy Cohen, which prompted people to criticize the 56-year-old for daring to don her natural hue. Side note: salt-and-pepper-haired Cohen was not criticized.
For her part, Parker told Vogue, "It almost feels as if people don't want us to be perfectly okay with where we are . . . whether we choose to age naturally and not look perfect, or whether you do something if that makes you feel better. I know what I look like. I have no choice. What am I going to do about it? Stop aging? Disappear?"
Now, as the highly anticipated Sex and the City reboot, And Just Like That..., debuts on HBO Max, we learn that not only is the actress cool with her gray hair, but her alter ego, Carrie Bradshaw, embraces it too. In the series, we see the character for the first time since 2010. It's been more than a decade — and, naturally, that means everyone has aged. Luckily, the show is not afraid to address the elephant in the room head-on.
While Carrie doesn't have gray hair in the series, Miranda (played by Cynthia Nixon) does. In the first episode, during brunch, Charlotte (Kristin Davis) asks Miranda if she plans to color her hair before going back to school to earn her master's degree in human rights. (Both Carrie and Charlotte admit that they color over their grays, with Carrie saying she hopes it's not "obvious.") Miranda's response is perfect: "There are more important issues in the world than trying to stay young." Later, Carrie reassures Miranda that her hair is "fabulous."
Gray hair is a big theme throughout the first episode of the series. Carrie later jokes to Mr. Big that she remembers when his hair was black. Miranda then lets on that she's self-conscious about her gray hair, checking it out in the reflection of a bar window en route to her class. She also jokes, to her professor, that she doesn't look like someone who would care about her hair.
As someone with gray hair — not a full head of grays, but some gray hairs here and there — I appreciate that the show is not shying away from the topic of aging. We are not watching a bunch of 50-something women acting like they are in their 20s. Steve, Miranda's husband, has hearing aids. And the last scene of the first episode is, to put it mildly, about getting older. For that, I thank the writers, producers, and actors. It's so refreshing to see women we grew up watching actually age along with us, too. Because let's face it, for a lead character on a mainstream TV show to have gray hair is an anomaly, and that representation of older women, looking fashionable and having careers, is important. As Parker put it, we don't cease to exist after age 40. Our hair gets gray, we get wrinkles, we aren't 29, or even 39 — and our stories still deserve to be told.
Much like Carrie and Charlotte, I color my hair. Will the fact that the beloved characters from Sex and the City embrace gray hair embolden me to stop coloring mine? Maybe not. Will the fact that they are frank and honest about aging empower me to feel more comfortable in my aging skin (and scalp)? You better believe it.
Image Source: Craig Blankenhorn / HBO Max