And Just Like That, the Sex and the City Kids Are All Grown Up! Meet Who Plays Them Now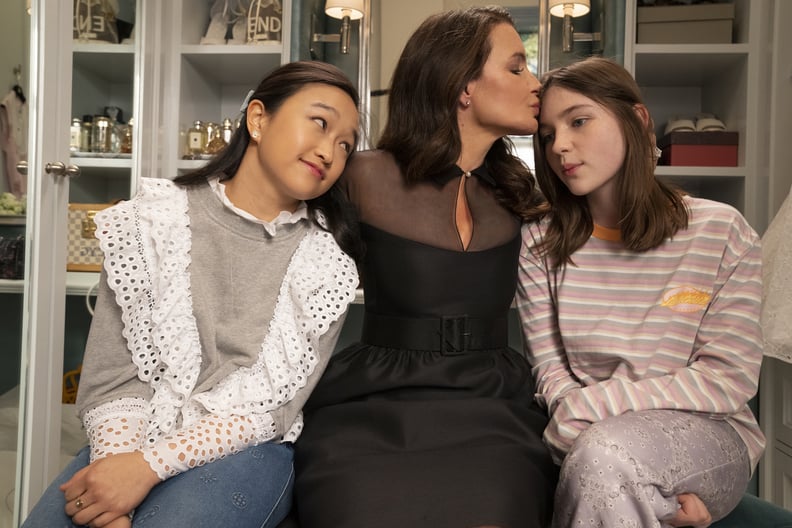 Craig Blankenhorn | HBO
Craig Blankenhorn | HBO
The wait is over — we've finally been reunited with the original Sex and the City gang after 11 years! The reboot And Just Like That… picks up with the women navigating their 50s following their last appearance in Sex and the City 2 in 2010. While Samantha (Kim Cattrall) may not have graced our screens this time around, the revival added an exciting batch of new faces to the cast. The kids, whom we previously saw as toddlers in the original series and movies, are all grown up in the reboot! From Lily, now a piano prodigy, and her younger sister, Rose, a rebellious spirit, to Brady, whose active sexual life is giving Miranda (Cynthia Nixon) many a sleepless night, the next generation of the iconic franchise is sure an intriguing mix! Keep reading to check out the young actors who bring these characters to life in the And Just Like That... revival ahead.
01
Cathy Ang as Lily York Goldenblatt
Cathy Ang plays Charlotte York Goldenblatt's (Kristin Davis) and Harry Goldenblatt's (Evan Handler) daughter Lily York Goldenblatt. When Charlotte faces fertility complications, the couple decide to adopt a baby girl named Lily on the 2004 series finale of Sex and the City. Lily's role was previously portrayed by twin sisters Alexandra Fong and Parker Fong in the subsequent spinoff movies, Sex and the City (2008) and Sex and the City 2 (2010).
Before landing the role of Lily, the 26-year-old actress lent her voice to the lead character of Netflix's animated flick Over the Moon. Other than that, Ang sharpened her acting chops through live theater. She starred in the prominent British rendition of the musical Maybe Happy Ending. She also earned a small role on Hulu's dramedy Ramy, where she played a White Castle cashier before And Just Like That... came along.
In an interview with Cosmopolitan, Ang revealed that she hadn't seen Sex and the City at all prior to her audition for the reboot. "I didn't understand how big it was because I hadn't watched it, and so once I got the audition . . . this was the wrong thing to do, but . . . I watched the movies first. And then once I got the role, I binged the show in, like, a week," she said.
02
Alexa Swinton as Rose Goldenblatt
Charlotte and Harry welcome their second child, a daughter named Rose, in Sex and the City 2. In the movie, two sets of twins — Sabrina and Liliana Pizzuto and Sienna Cheryl and Savanna Mae Dezio — play Rose. Alexa Swinton is now playing teenage Rose in the reboot.
The 12-year-old actress made her television debut in Flesh and Bone playing young Claire. Swinton has an impressive list of acting credits under her belt, including M. Night Shyamalan's Old, Billions, Emergence, Sometime Other Than Now, and more. Swinton is also a brilliant singer and writer, with her YouTube channel dedicated to showcasing her talents.
03
Niall Cunningham as Brady Hobbes
Miranda and Steve Brady (David Eigenberg) get pregnant in the fourth season of the series. Their ginger-haired toddler, named Brady, is played by Joseph Pupo in Sex and the City 2. The young adult in And Just Like That… is portrayed by CBS's Life in Pieces alum Niall Cunningham. He played Tyler Hughes in the sitcom, which ran from 2015 to 2019.
04
Cree Cicchino as Luisa Torres
Brady's girlfriend, Luisa, is played by Cree Cicchino, who first embarked on an acting career as Babe on the Nickelodeon comedy Game Shakers. Cicchino is also a proficient dancer, with her YouTube channel filled with her short dancing clips. You may also remember the 19-year-old actress from Mr. Iglesias, The Sleepover, Henry Danger, and more.
05
Tristan-Lee Edwards as Herbert Wexley Jr.
06
Ellie Reine as Gabrielle Wexley
Ellie Reine made her television debut as Amari Powell on Starz's series Run the World. The 8-year-old plays the youngest child of Lisa — Gabrielle Wexley.
07
Alexander Bello as Henry Wexley
Alexander Bello stars as Lisa's son Henry Wexley, whom we see play off-key piano in front of a full of audiences in the premiere episode. The 13-year-old actor has previously appeared in John Mulaney & the Sack Lunch Bunch, Thomas and the Magic Railroad: 20th Anniversary Celebration, and Stars in the House.
08
Isaac Powell as George
On July 28, Deadline reported that the Dear Evan Hansen actor was cast as a series regular on And Just Like That.... According to the publication, the 26-year-old actor will step into the character of George, "a student at the famed Fashion Institute of Technology who is unconstrained by fashion/gender norms." Powell has recently starred in Modern Love and the 2020 Broadway revival of West Side Story.