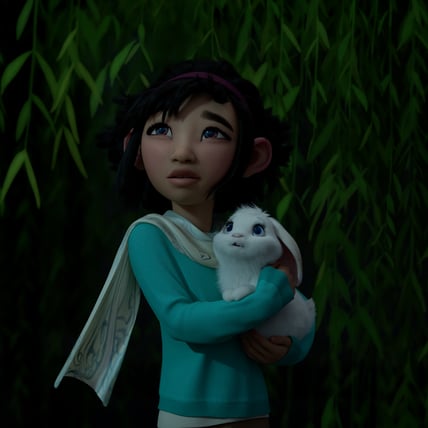 An upcoming animated movie will encourage viewers of all ages to believe in the impossible and their own ingenuity. Coming to Netflix in October, Over the Moon tells the story of a young girl, Fei Fei, intent on building a rocket ship to visit the moon goddess from her favorite childhood folklore. The movie musical also deals with themes of loss and remembrance, as the first trailer alludes to the untimely passing of Fei Fei's mother.
Over the Moon is based on the tale of Chang'e, the goddess of the moon in Chinese mythology. Phillipa Soo, who voices the goddess, said she's very familiar with the story. "I remember as a kid, asking my dad to read it over and over and over to me," the Hamilton alum told Variety. "Because I was just obsessed with this idea of the moon lady. And when I was asked to play her, I was of course honored because it's so infrequent that I'm being asked to play specifically Chinese characters. And also even more rare that I get to be in a film with incredible Asian actors who are surrounding me."
Also starring in the movie are John Cho, Ruthie Ann Miles, Sandra Oh, Kimiko Glenn, and Ken Jeong, while newcomer Cathy Ang voices Fei Fei. Over the Moon is directed by Glen Keane, who previously worked for Walt Disney Animation Studios and won an Oscar with Kobe Bryant in 2018 for their animated short, Dear Basketball. See the final trailer above and keep scrolling to see stills from the film before watching Over the Moon when it hits Netflix on Oct. 23.
Watch the Over the Moon Official Trailers