Margot Robbie Is "Naughty" and "Nice" in 2 New "Babylon" Trailers
The new movie "Babylon" is showing off its old-school Hollywood depravity in a series of new trailers released on Dec. 19. Paramount Pictures released the two at the same time: one is labeled the "naughty" trailer, and the other one is "nice." The former shows off all the sex, drugs, and chaos the movie has to offer. The latter is a little more sentimental about the art of filmmaking and silent pictures before also ultimately devolving into wild parties as well.
"Babylon," directed by Damien Chazelle, stars Margot Robbie as an old-school wild-child actor who gets into all sorts of trouble on and off set. The new movie, which also stars Brad Pitt, focuses on Tinseltown in the 1920s and the kinds of people who ended up shaping the movie industry forever. The new trailers also brag about the movie's Golden Globe nominations, which include best motion picture, musical or comedy, and nods for Robbie, Pitt, and Diego Calva.
"The basic idea was just to do a big, epic, multicharacter movie, set in these early days of Los Angeles and Hollywood, when both of these things were coming into what we now think of them as," Chazelle told Vanity Fair on Sept. 7. "Everything is shifting underneath people's feet," he told the magazine about the time period, "and I became really fascinated by the human cost of disruption at that magnitude, at a time when there was no road map, when everything was just new and wild." Chazelle also directed 2014's "Whiplash" and 2016's "La La Land."
"Babylon" is Robbie and Pitt's second film together after 2019's "Once Upon a Time in Hollywood." That movie, coincidentally, was about another tumultuous time in the history of Los Angeles and the movie business. "Babylon" also stars "Quantico" actor Li Jun Li and Tobey Maguire.
Robbie has kept her roster of movies very full. This October, she starred in "Amsterdam" with Taylor Swift, John David Washington, and Robert De Niro. And she just finished shooting her starring role in "Barbie," which will premiere next summer. She also has a role in Wes Anderson's upcoming "Asteroid City."
Read on for everything we know about "Babylon," including the cast, release date, and trailer.
The "Naughty" "Babylon" Trailer
The "Nice" "Babylon" Trailer
"Babylon" Trailer
Paramount Pictures released the full trailer for "Babylon" on Nov. 28.
"Babylon" Cast
The "Babylon" cast includes Pitt, Robbie, Calva, Jean Smart, Jovan Adepo, Li Jun Li, P.J. Byrne, Lukas Haas, Olivia Hamilton, Tobey Maguire, Max Minghella, Rory Scovel, Katherine Waterston, Flea, Jeff Garlin, Eric Roberts, Samara Weaving, and Olivia Wilde.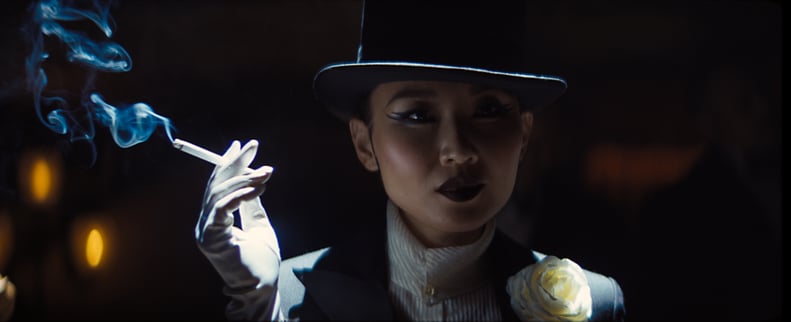 Is "Babylon" Based on a True Story?
"Babylon" is not a true story, though it's inspired by many. Robbie's Nellie LaRoy is a combination of early Hollywood stars including Clara Bow, Jeanne Eagels, Joan Crawford, and Alma Rubens. Pitt's character of Jack Conrad is inspired by John Gilbert, Clark Gable, and Douglas Fairbanks. The only real person portrayed in the film is producer Irving Thalberg, played by Max Minghella.