4 Mind-Blowing Lemonade Details You May Have Missed
There's still so much to unpack from Beyoncé's new album, Lemonade, which debuted on Saturday with a stunning HBO film special before being released via Tidal, then iTunes. From the multiple mic-drop moments when singing about her marriage to Jay Z and even the meaning behind the name of the project, Beyoncé has had fans working overtime to decipher the clues from her intense lyrics and compelling visuals. There are several signs placed throughout the hour-long Lemonade movie that have had Beyhive members freaking out a little; keep reading to see four of the most mind-blowing details you may have missed on your first viewing.
01
The Baseball Bat
02 The Serena Williams Swap
During the video for "Sorry," which features a supersexy cameo from Serena Williams, Beyoncé pays homage to the tennis star's 2015 Sports Illustrated cover in which she was named sportsperson of the year. The stunning cover shot shows Serena perched on a throne with her leg draped over the arm — the same pose that Bey keeps while Serena, as Beyoncé, dances next to her.
03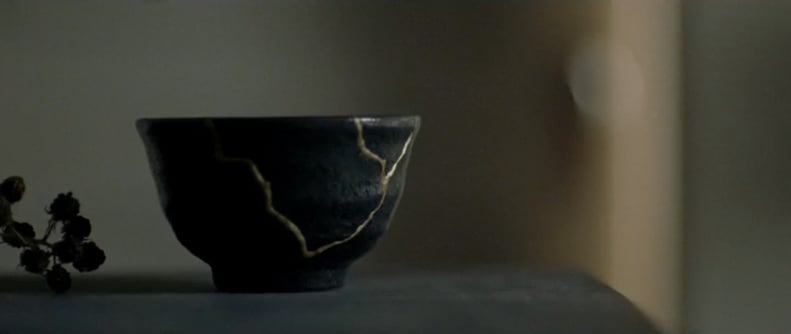 The Kintsukuroi Bowl
During the visuals for "Sandcastles," a frank and heartfelt ballad that features a cameo by her husband, Jay Z, Beyoncé plays the piano while sitting on the floor in a home with minimalist decor. The camera pans to one object, a bowl sitting on the counter. The piece is Kintsukuroi, the Japanese art of repaired pottery. Broken objects are pieced back together with lacquer, typically in gold, silver, or platinum. The philosophy behind the technique is to celebrate the flawed or imperfect, rather than disguise it, and that the piece becomes more beautiful for having been broken.
Given the sentimental undertone of the song's lyrics — Beyoncé sings "We built sandcastles that washed away" and "Show me your scars and I won't walk away" — and as they are purported to be about a rough patch in her own marriage, it makes sense why Beyoncé would include the symbolic piece in the video as a possible metaphor for her relationship.
04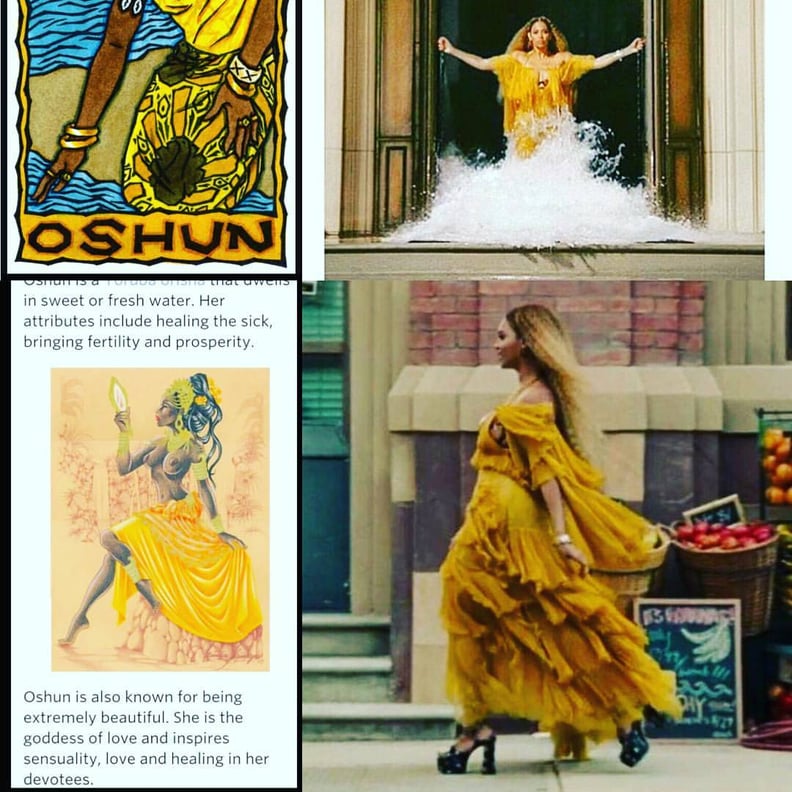 The African Goddess
Facebook user Tasha Robinson presented a mind-blowing explanation for Beyoncé's look during the "Hold Up" video; Queen Bey is "portraying Oshun, a Yoruba Orisha," she wrote. "Sensual, sexual, beautiful Goddess [and] deity who is a healer, gives life, growth, luxury, change and prosperity. That was the message of Lemonade. Love, change and prosperity."
The Yoruba people are an ethnic group from southwestern Nigeria and Benin dating back to the 15th century. They believe in a pantheon of 401 gods known as the Orisha, which includes the love goddess Oshun. She is known to be beautiful and benevolent, a "bringer of song, music, and dance," and a governess of "love and sweet waters." Sweet waters . . . like lemonade.