Before I Saw Butch-Femme Identity Represented on Screen, Minnie Bruce Pratt and Leslie Feinberg Inspired Me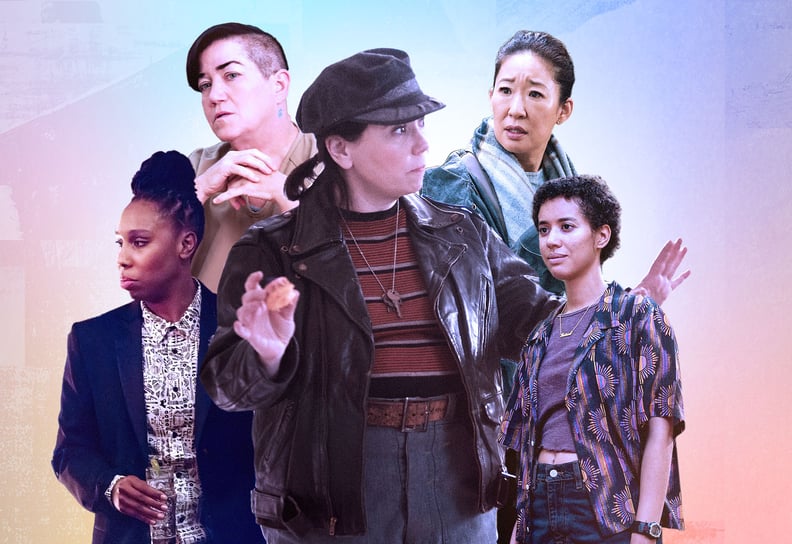 Everett Collection | Getty / oxygen
Photo Illustration: Ava Cruz
Everett Collection | Getty / oxygen
Photo Illustration: Ava Cruz
This LGBTQ+ History Month, we're asking writers to reflect on a moment in queer pop culture history that has allowed them to experience queer liberation in their own lives. Check out our coverage here.

---
It was 2017, and I was sifting through a hundred pages of printed-out poetry, essays, photography, and art. Earlier that day, I'd gone to my college campus's library and paid — at a painful 10 cents per page — to have the soon-to-be journal issue printed in its entirety.
I was just starting an internship with Sinister Wisdom, the nearly 50-year-old pillar of lesbian literary and arts publishing. I was an editorial assistant of sorts, helping the editor ready a journal issue for print and distribution. Now, sitting on the floor of my bedroom with hundreds of pages of writing fanning out around me, it was time to order the manuscript, paying attention to flow, theme, and genre. My favorite work was by a poet I'd never heard of before, Minnie Bruce Pratt. Her poems were about the long hallways of love and loss — it was clear, even without my heart ever being broken, Pratt was grieving a lover.

Pratt was a celebrated lesbian poet and writer, as well as an eminent LGBTQ+ and anti-racism activist and feminist scholar. She published eight books of poetry, as well as essay and story collections like "Yours in Struggle: Three Feminist Perspectives on Anti-Semitism and Racism" and "S/HE," which explores the fluidity of sex and gender. One of Pratt's most personal and widely lauded works was her 1989 poetry collection "Crimes Against Nature," where Pratt discusses motherhood and the impact of losing custody of her two sons after coming out as a lesbian. At the time — I was 19 when I began working with Sinister Wisdom — I didn't know any of this. I just knew Pratt's words spoke to me.
"Butch-femme relationships are a vital, legitimate part of life for many lesbians."
Later, when Sinister Wisdom's editor asked me what writing I loved best, I named Pratt immediately. "You know," the editor told me, "those poems are about the passing of Minnie Bruce's lover, Leslie Feinberg." I was floored. If you're a lesbian — or anyone who knows even a little bit about lesbian, gay, and trans activism in the 1970s, '80s, and '90s — you know Feinberg's name. Feinberg, who passed away in 2014 from complications related to Lyme's Disease, was a novelist, historian, and trans activist. I knew Feinberg mostly from her groundbreaking 1993 book "Stone Butch Blues," which lesbians of any age talk about with awe, as well as her oft-quoted last words: "Remember me as a revolutionary communist."
I hadn't realized that Pratt and Feinberg were not only contemporaries in art and activism, but lovers, confidants, and life partners. And their love was my first major introduction to butch-femme culture.
"It's standard fare to see femme lesbians overrepresented."
Femmes, on the other hand, are much more common — and it has a lot to do with palatability, respectability, the male gaze, and fetishization, unfortunately. There's a strong showing of femme queer women in shows like "Sex Education," "The L Word," and "Orange Is the New Black." There's Taissa from "Yellowjackets," Carol and Therese from the 2015 film "Carol," another set of femme lovers in the 2019 French film "Portrait of a Lady on Fire," and Sandra Oh's Eve and Jodie Comer's Villanelle in "Killing Eve." In pop culture, it's standard fare to see femme lesbians overrepresented, butch lesbians shunned, and the intricate, communal bonds between them almost completely erased.
As a femme lesbian, freshly out and reading about Pratt and Feinberg for the first time, I was able to understand just how integral butch-femme relationships are to my community. I started looking for more of this living subculture — finding books like Joan Nestle's "A Sturdy Yes of a People" and an oral history of butch-femme lesbians, "Boots of Leather, Slippers of Gold," as well as dozens of zines — and deepened my understanding of lesbian history.
Butch-femme dynamics emerged from working-class lesbian bar culture of the 1930s, '40s, and '50s. And just like now, these relationships are sites of pleasure, community, safety — and, in the case of Pratt and Feinberg, activism, caretaking, and artistic expression. For me, there is something deeply transgressive — and seductive — about unmaking gender roles and recalibrating the bond between masculinity and femininity into a freer, queerer expression of desire.
Unlike what was historically shown (or not shown) in pop culture, butch-femme relationships are a vital, legitimate part of life for many lesbians. In contrast to the disgruntled criticism of those who write off butch-femme as antiquated or regressive, I knew this type of love between women would never be obsolete. Butch-femme is about choice, not compulsory heteronormativity. And in my experience, butch-femme isn't so much about gender expression as it is the feeling of looking, finding, and being seen by another. In the love between Pratt and Feinberg, I found this type of gaze. And through their love, I found the foothold I needed to fully embrace my love of butches.
Pratt passed away this summer at the age of 76. So I did what I could. I took on more work with Sinister Wisdom because, as I'd quickly learned at my internship, the work of lesbian publishing never ends. I watched my butch wife draw a portrait of Pratt and Feinberg late at night. I rustled through my papers once more and pulled out that very first poem I'd ever read by Pratt.