Uh Oh . . . Arie Told 2 Women That He Loves Them on The Bachelor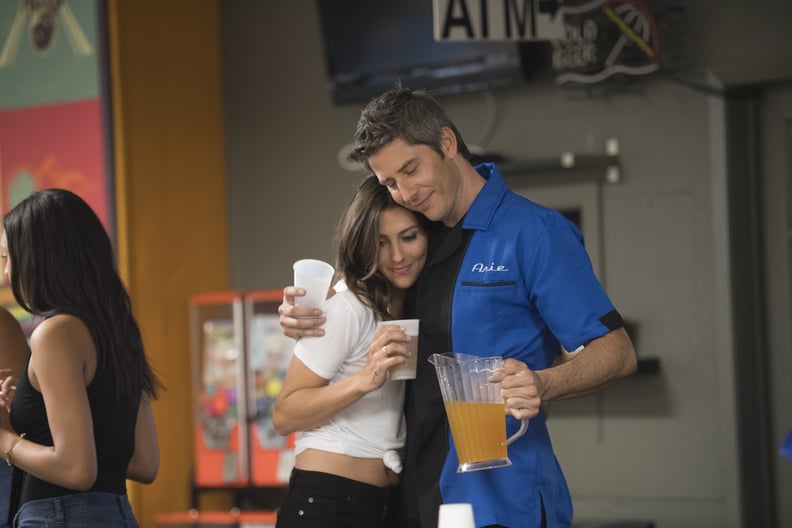 One of the reasons that we love The Bachelor is because we truly want to believe that two strangers can find love in an unconventional way in a short amount of time. But what happens when that occurs twofold? That's what happened with Arie Luyendyk Jr. Lauren Burnham and Becca Kufrin told Arie that they love him, and he said it back . . . to both of them.
The "L" word is typically avoided until the finale — partly to keep viewers guessing and partly not to lead anyone on. But in recent seasons, we've heard multiple "I love you"s from one leading man or lady. Arie talked about being in that same situation. "Watching previous seasons, the Bachelor doesn't usually reveal how he feels about somebody," he said, adding that it's an "unspoken thing," not a rule. "I went and asked production, 'Can I tell this person how I feel about them?' And they said, 'Yeah, of course, do whatever you want.' So I did."
The interesting thing is when Lauren first told Arie her feelings for him, he had a very strange reaction. He got up from his seat, left the room, and paced back and forth. When he came back, he said, "I feel vulnerable with you, and to hear you say that you're falling for me makes me really, really happy. I really do see something between us. I'm falling so deeply in love with you. It's crazy." First off, WOW. Arie then told Lauren that he loves her multiple times during the overnight-dates episode, so it's official.
If you thought Arie's words were powerful for Lauren, you'll be blown away by what he said about Becca. She said "I love you" and he said it back. Well, first he said he was "falling in love" with her, before clarifying, "I'm not just 'falling' — I am." Then, off camera he said, "At this point, I don't see my feelings changing for Becca. You know, I see us at the end of all this. And there's a part of me that wants to end this now and propose here in the sand dunes." Again, WOW.
Hmm . . . so maybe this dual "I love you"s has something to do with why former contestant Caroline Lunny confronted Arie on "The Women Tell All." We'll have to see on the two-night finale!