See Cardi B and Megan Thee Stallion's Cute Friendship Moment in "WAP" Behind-the-Scenes Video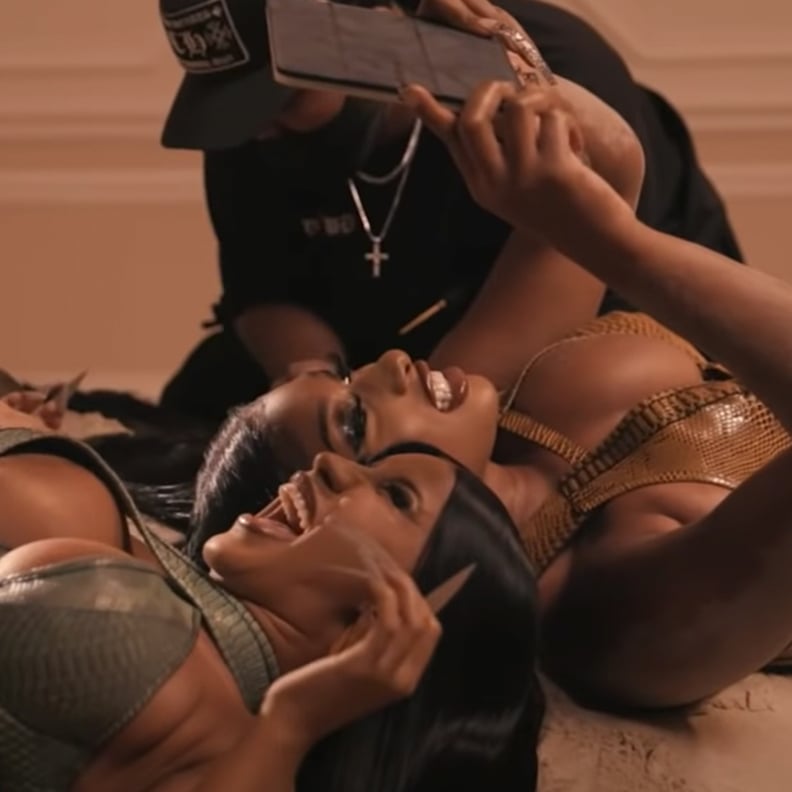 Cardi B and Megan Thee Stallion unveiled their sexy "WAP" visuals on Aug. 7, but there's still more collaboration content for us to enjoy. Ever since the music video dropped, the duo and their squad of powerhouse women — including Normani, Rosalía, Kylie Jenner, Mulatto, Sukihana, and Rubi Rose — have been posting fun photos and videos from filming. But after only sharing snippets with fans on social media, on Sept. 9 Cardi dropped the first part of "Inside the WAP," featuring behind-the-scenes footage from the shoot — including her directing the guest stars, her and Megan working with real-life snakes, and an adorable friendship moment between the two.
"I wish the people knew what you were like in real life," Megan said to Cardi in the video above. "You are the nicest f*cking person that I know." The "Press" rapper then explained that it didn't make sense to have anyone else feature on "WAP" except Megan, as she exclaimed, "it's so you!" From the first rehearsals and building the set to the final shoot, the first part of "Inside the WAP" takes us through the epic BTS moments between Cardi, Megan, and their crew.
In a hilarious Instagram clip shared by Cardi a few weeks prior, the rapper hypes up Normani while the "Motivation" singer dances in front of a green screen. "It's the way she ate that for me @normani," Cardi captioned the video. "I can't wait till Normani put her project out.She been working for a long time and I CANT wait till she show ya 😱She gonna wake ya up 🤫🤫🤭."
Cardi had teased an official forthcoming behind-the-scenes reel on Instagram back in early August. "BTS COMIN SOON REAL SOON!" she wrote. "I can't wait for you guys to see.Everybody work hand in hand and so hard.Sharing ideas and creative on group chats. It was soo dope.We wanted to do more stuff but we ain't had enough time😩." Between the fierce latex ensembles and the gorgeous beauty looks, the BTS compilation is as enthralling as the actual music video. Look ahead to see all of the offscreen fun the stars have shared thus far!
Cardi B x Megan Thee Stallion - Inside the WAP (BTS) [Part 1]