The Best Cameo in Star Wars: The Last Jedi Is, by Far, Carrie Fisher's Bulldog
Minor canine-related spoilers for Star Wars: The Last Jedi below!
One of the most endearing things about the late Carrie Fisher was her adorable relationship with her beloved French bulldog, Gary Fisher. Little Gary, who proudly rocks his floppy tongue, came into Fisher's life as her therapy dog, but it didn't take long to realize that the two were best friends. He accompanied her everywhere, from TV show sets to book signings to glam red carpet affairs. After she tragically passed away last year, Gary went to stay with Fisher's daughter, Billie Lourd, and her former assistant, Corby McCoin.
We can only assume that Gary was a faithful presence on the set of Fisher's last film, Star Wars: The Last Jedi, especially because director Rian Johnson has honored the little pup with an exceptionally cute cameo.
Although Gary's big reveal might have been intended as a surprise, Star Wars fan club website Fantha Tracks noticed a small, rolly alien in the arms of someone in the background of a movie still a week ahead of the film's release. Twitter user Clair Henry, a member of the fan club, asked Johnson if he could "confirm this cute little creature is #spacegary in #TheLastJedi." Not only did he oblige, but he also seemed genuinely (and happily) surprised that the eagle-eyed fans were able to spot Space Gary.
So, are you ready to see what Space Gary looks like? Drum roll, please . . .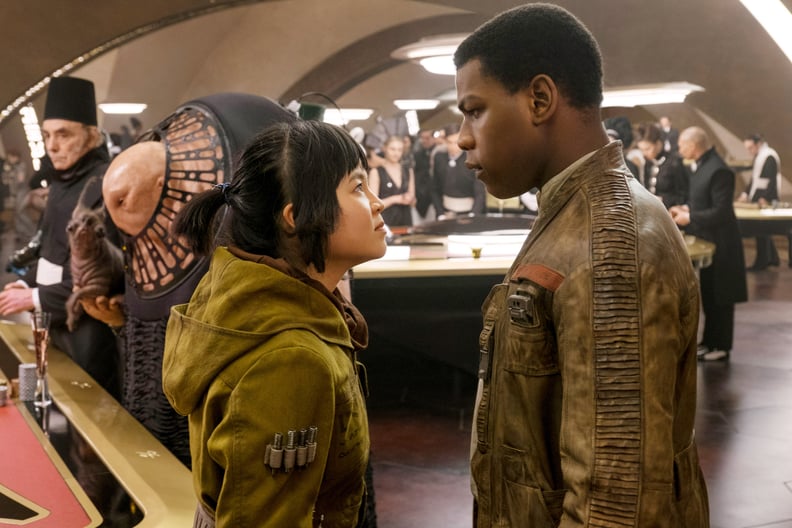 Ta-da! Pretty freakin' cute, right?
If you have plans to see the alienified version of Gary for yourself (if you're still not seeing him, he's in the above photo, on the left), don't schedule your bathroom break for a scene toward the middle of the movie with Rose Tico (Kelly Marie Tran) and Finn (John Boyega). The pair journey to a glam, Monaco-esque city to find a hacker to help them take down the First Order, and they have a tense conversation in front of an alien who happens to be holding Space Gary. It's a blink-and-you'll-miss-it moment, but so, so worth it.