Who Is Rose Tico in Star Wars?
What You Need to Know About Rose Tico, The Last Jedi's Breakout Character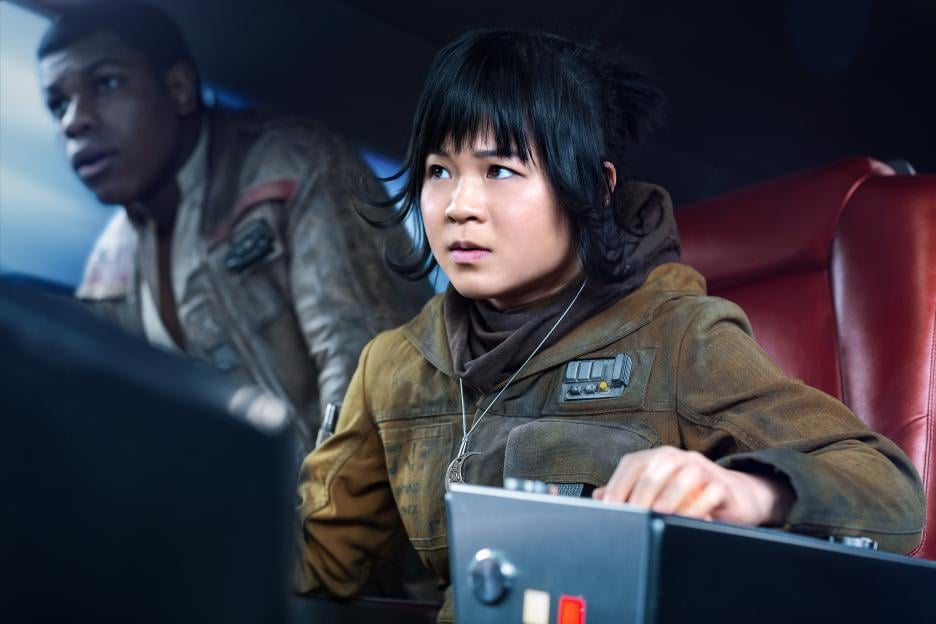 When Star Wars: The Force Awakens hit movie theaters two years ago, it delivered a new cast of characters — Rey, Finn, Poe, and villainous Kylo Ren — who intermingle with original trilogy returning favorites Han Solo and Leia Organa. Luke Skywalker, the story's MacGuffin, doesn't appear until the closing minutes of Episode VII, after the map to the Jedi's whereabouts is revealed by R2-D2 and Leia sends Rey to her brother. Finn stays behind, gravely wounded by a blow from Kylo Ren's lightsaber. With Rey away on a personal quest to uncover the mysteries of her awakened Force powers, Finn finds himself paired with a new partner in The Last Jedi. Her name is Rose Tico, played by newcomer Kelly Marie Tran.
According to the StarWars.com official Databank, Rose Tico is a member of the "support crew that keeps the Resistance starfighters flying" and "has hated the First Order since she was a child." Rose steps into the role of the "no one" previously held by Rey. Unlike Rey and Finn, whose families were notably absent from their lives, Rose has a sister: Paige, a Resistance gunner. A middle-grade novel, Cobalt Squadron, set to release the same day as The Last Jedi, tells "the harrowing story of the courageous bomber pilots and technicians" including the Tico sisters, according to promotional material. Pilot Ello Asty, the alien X-wing pilot shot down during the assault on Starkiller Base near the end of Episode VII, wears the Cobalt Squadron emblem on his helmet. Like other members of the Resistance, it appears Rose will be dealing with personal loss when The Last Jedi picks up where The Force Awakens left off.
Tran told Entertainment Weekly that Rose looks up to Finn as "a big deal," a hero. "She is a gearhead, a grease monkey, a behind-the-scenes jack-of-all-trades" and perhaps doesn't consider herself to be as important to the Resistance as gunners and pilots fighting on the front line, like her sister Paige or Poe Dameron. John Boyega suggests Finn might still be the reluctant hero we met in the first movie, but Rose's expectations may provide an impetus that helps him rise above the former stormtrooper's urge to run when the going gets tough.
In Star Wars, unused ideas rarely are discarded forever. The name Rose originally was used in reference to a character in The Force Awakens: Maz Kanata, the diminutive-but-wise alien who explains the ways of the Force to Rey. Rose Gilbert was J.J. Abrams's high school English teacher, and she inspired him when creating the character. When Maz gained her final name, it left Rose available for The Last Jedi writer-director Rian Johnson to use for Tran's character. In Star Wars, names often carry symbolism, too. Prequel trilogy character Padmé is derived from a Buddhist word for lotus, a flower that represents divine beauty and purity. The rose is a symbol of balance, a word that keeps coming up as a talking point about character journeys in The Last Jedi.
It seems likely that Rose and Finn will provide balance to an otherwise weighty story full of angst and war. Boyega's sense of humor is well-known to Star Wars fans. Tran has a background in improv, and she told Time that she and Boyega improvised on set.
Tran and Rose also will balance the saga by the inclusion of a woman of color in a major speaking role that isn't obscured by computer-generated imagery. With her appearance on The Last Jedi's May issue of Vanity Fair, the Vietnamese-American actress became the first Asian woman to grace its cover. On her Instagram and elsewhere, Tran has expressed the importance to her of increasing the representation in Star Wars. "It's something that I think about a lot," she told BuzzFeed. "I just remember growing up and not seeing anyone that looked like me in movies."