Revisit Every Chris Evans Movie
Chris Evans knows how to capture an audience and do it well. People's 2022 Sexiest Man Alive made his big break in the 2005 hit "Fantastic Four," but you might know him better from his starring roles as Captain America in the MCU or Buzz Lightyear in "Lightyear."
Evans has been in the acting game for quite a while now, with his first role in 2000's "The Newcomers." In addition to 2022's "Lightyear," Evans also starred in Netflix's "The Gray Man" released that July, and most recently, a rom-com action-adventure film called "Ghosted." Naturally, the movie star already has several other projects lined up, too — including an action holiday flick titled "Red One" with Dwayne Johnson, which is slated to premiere sometime this year, and a "Scott Pilgrim vs. The World" anime series he's set to help voice with his original costars.
That being said, you may be wondering how many movies Evans has been in. Scroll through the gallery ahead to see all of his films through the years, because we're obviously keeping track.
01
"The Newcomers" (2000)
"The Newcomers" is about a big-city family that moves to a small town to start a new life. But the family struggles to fit in — especially their good-hearted but troublemaking son, Sam. Evans plays the role of Judd, the cute boy who takes interest in Sam's older sister, in this family favorite.
02
"Not Another Teen Movie" (2001)
This flick is a play on all of your favorite teen-movie tropes, parodying the biggest teen rom-coms from the '80s and '90s, from "Never Been Kissed" and "Bring It On" to "The Breakfast Club." Evans plays Jake Wyler, the classic high school football jock everyone loves to hate. He bets that he can turn the school's outcast, Janey (Chyler Leigh), into the prom queen. Yes, just like the plot of "She's All That."
03
"The Perfect Score" (2004)
Have you ever wished you had the answers to your SATs before you had to take the actual exam? So did Evans in this 2004 film. Evans plays Kyle in "The Perfect Score," and his friends, led by Francesca (Johansson), sneak into the exam headquarters after hours to steal the SAT answers. Surprisingly (or unsurprisingly), this ends up being trickier than taking the actual exam itself.
04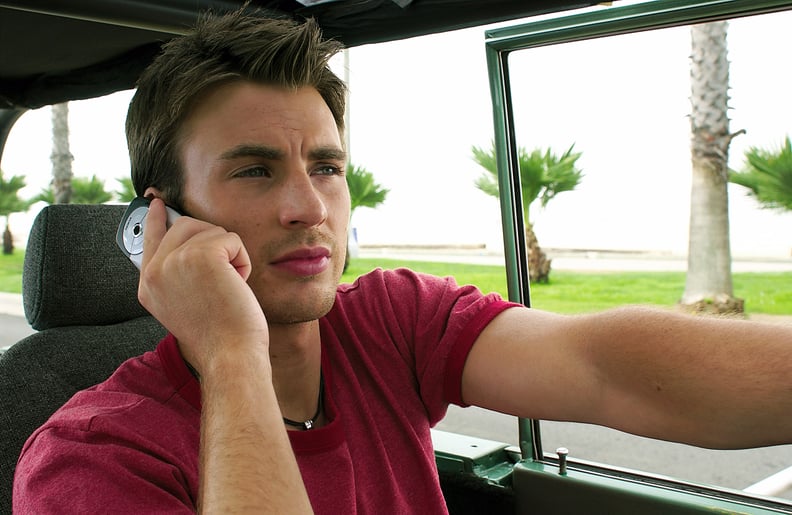 "Cellular" (2004)
When Jessica (Kim Basinger) is abducted by Ethan (Jason Statham) and brought to a remote location, she finds a broken cell phone. She tries to contact the authorities but instead reaches Ryan (Evans), a college student who wants to help and won't stop until he finds her.
05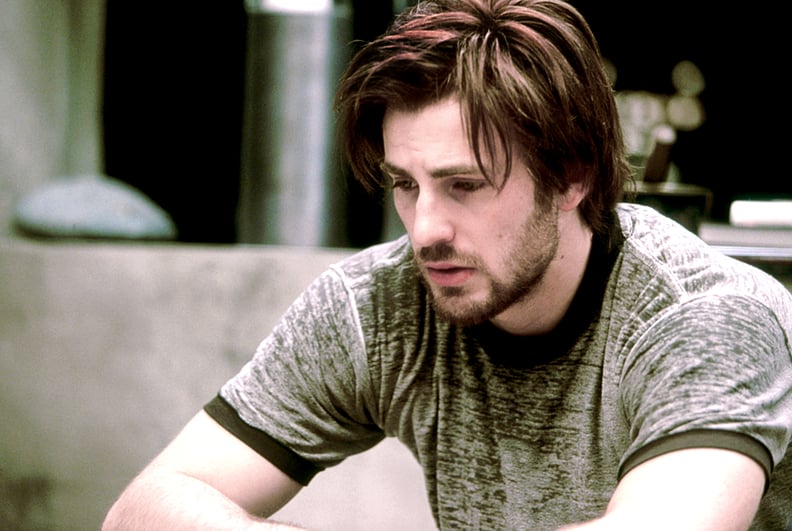 "London" (2005)
Evans, Statham, and Jessica Biel . . . what could go wrong? Apparently, a lot. When Syd (Evans) learns that his ex-lover (Biel) is leaving New York, he crashes her going-away party and holes up in the bathroom with a stash of cocaine. In a drug-fueled conversation with a man he barely knows (Statham), Syd tries to find the courage to talk to his ex before she leaves for good.
06
"Fantastic Four" (2005)
Scientist Reed Richards somehow convinces his old enemy and classmate, Victor Von Doom, to fund his latest experiment with cosmic energy. On Von Doom's space station, the crew — including astronaut Ben Grimm, researcher Sue Storm, and pilot Johnny Storm (Evans) — are all exposed to a cosmic storm that gives them superpowers.
07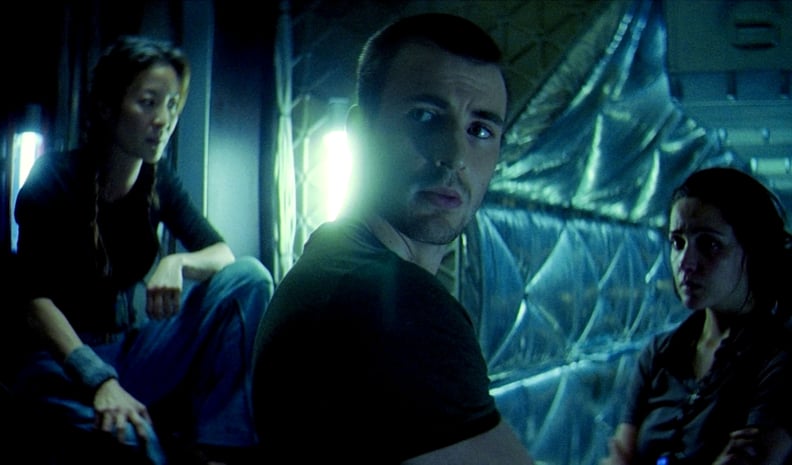 "Sunshine" (2007)
In this film set in the not-too-distant future, the sun is dying, and humanity on Earth is facing extinction. In a last-ditch effort to save the planet, Mace (Evans) joins a crew of space explorers with a device that could hopefully save the sun and the world.
08
"Fantastic Four: Rise of the Silver Surfer" (2007)
The OG Fantastic Four are back again, and this time they're up head to head with Victor Von Doom because the world as we know it is on the brink of collapse. Evans reprises his role as Johnny Storm in this sequel.
09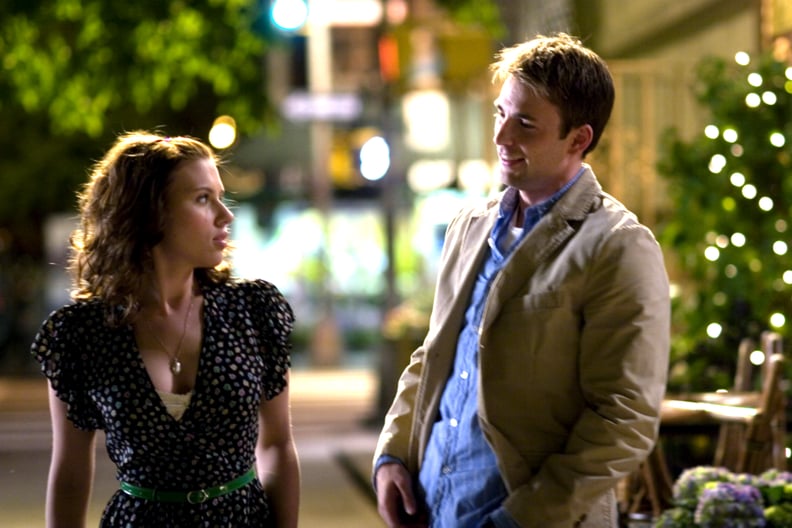 "The Nanny Diaries" (2007)
This isn't your average nanny story. College student Annie Braddock (Johansson) takes a nanny job from a very wealthy and dysfunctional Manhattan couple. A frazzled Annie has to find a way to balance her college studies, new boyfriend and Harvard hottie (Evans), and the demands of her new employers and their spoiled-rotten child.
10
"Street Kings" (2008)
Detectives Tom Ludlow (Keanu Reeves) and Paul "Disco" Diskant (Evans) solve a murder together in this action-packed movie. The two work together to take down murderers and drug dealers and ultimately uncover the crime happening within their own police unit.
11
"Push" (2009)
What do you get when you put Evans and revenge together? A movie worth watching. Nick Gant (Evans) is out for vengeance against Division, a government agency that plays around with psychic warfare and isn't afraid of experimenting with drugs. Why? It brutally murdered his father. Nick and Cassie (Dakota Fanning), a teenage clairvoyant, band together to destroy Division once and for all.
12
"Scott Pilgrim vs. the World" (2010)
As a bass guitarist for a garage-rock band, Scott Pilgrim (Michael Cera) has never had trouble getting a girlfriend. When Ramona Flowers (Mary Elizabeth Winstead) glides her way into his life, he finds she has the most troublesome baggage of all: an army of ex-boyfriends who will stop at nothing to eliminate him from her list of suitors. Evans plays the role of Lucas Lee, a professional skateboarder and one of Ramona's many exes.
13
"The Losers" (2010)
Adapted from the popular comic series of the same name, Evans and Jeffrey Dean Morgan join forces as an elite team of commandos out to accomplish a mission in the Bolivian jungle. After they're betrayed and presumed dead, the men are out for revenge with the help of an enigmatic operative named Aisha (Zoe Saldana).
14
"Puncture" (2011)
In this drama, Evans plays Chris Weiss, a drug-addicted lawyer who is not only battling his own personal demons but also fighting a medical-supplies corporation in a lawsuit.
15
"What's Your Number?" (2011)
Anna Faris plays Ally Darling, who's realizing she's a little lost in life. Her latest romance has just ended, and her job is also coming to an end. When she reads an eye-opening magazine article, she has a slight crisis over a statistic — 96 percent of women who have been with 20 or more lovers are proven to have more trouble finding a husband. Wanting to turn her life around, Ally goes on a mission to find the perfect suitor based on her numerous exes. Evans plays her love interest, Colin Shea.
16
"Captain America: The First Avenger" (2011)
The year is 1941, and America is at war. Steve Rogers (Evans) will do anything he can to help but keeps getting rejected by the military because of his small stature. After many failed attempts, Steve is asked to participate in an experimental trial where he's turned into a supersoldier, Captain America. He, along with Bucky Barnes (Sebastian Stan) and Peggy Carter (Hayley Atwell), go head-to-head with the Nazi organization Hydra.
17
"The Avengers" (2012)
"The Avengers" sees Captain America join Iron Man (Robert Downey Jr.), the Hulk (Mark Ruffalo), Thor (Chris Hemsworth), Black Widow (Scarlett Johansson), and Hawkeye (Jeremy Renner) to stop Thor's evil brother, Loki, from using the unlimited power of the Tesseract to invade Earth and become its king.
18
"Captain America: The Winter Soldier" (2014)
When Nick Fury is seemingly killed by the Winter Soldier, Steve comes to learn SHIELD has been infiltrated by its enemies. With the help of Black Widow and the Falcon, Steve works to get to the bottom of this torturous mystery that leads to the discovery of the shocking connection Steve has with the Winter Soldier. However, the battle will be costly for the Sentinel of Liberty, with Rogers finding enemies where he least expects them while learning that the Winter Soldier looks disturbingly familiar.
19
"Before We Go" (2014)
New York City and romance just go together, don't they? In this romantic flick, Evans plays Nick Vaughn and is joined by Alice Eve, who plays Brooke Dalton. A once-in-a-lifetime encounter between the two in Grand Central leads to a life-changing night in the city.
20
"Snowpiercer" (2014)
In "Snowpiercer," those who have survived Earth's second ice age live on a luxury train that runs through Earth's icy terrain. But they're separated by class, with the poorest residents banished to the train's grubbiest carts at its tail end. Sick of their situation, the poor residents hatch a plan (led by Evans's character, Curtis) to take over the train's engine room and, in doing so, the rest of the train.
21
"Playing It Cool" (2014)
Evans really has made a name for himself as a romantic, hasn't he? In "Playing It Cool," he's lovestruck and falls into a platonic relationship with an engaged woman (Michelle Monaghan).
22
"Avengers: Age of Ultron" (2015)
Captain America is back with his fellow Avengers in this action-packed film. When Tony Stark, also known as Iron Man, jump-starts a retired peacekeeping program, things don't go as planned. Cap, along with Thor, the Hulk, and the rest of the Avengers reassemble to battle Ultron and save Earth as we know it.
23
"Captain America: Civil War" (2016)
The Avengers aren't perfect. Let's face it, they're far from it. Evans reprises his role as Captain America and believes that superheroes should remain free to defend humanity without interference. Iron Man can't say the same, and the two debate until they break out into an all-out feud. As the two bicker, they force their fellow Avengers to pick sides.
24
"Gifted" (2017)
Evans plays single man Frank Adler in "Gifted," who's charged with raising his incredibly gifted young niece Mary (Mckenna Grace). Frank's plans for her to have a normal school life are ruined when her mathematical abilities come to the attention of his mother. From there, Frank and Mary's relationship is on the line as his mother threatens to separate the duo.
25
"Avengers: Infinity War" (2018)
The Avengers are back, this time to battle their most powerful enemy yet: Thanos. Thanos is on a mission to collect all six Infinity Stones, take over the universe, and become the most powerful being in existence. The fate of the universe and existence itself have never been more threatened, and Captain America and the rest of the Avengers must do everything they can to stop Thanos in his tracks.
26
"The Red Sea Diving Resort" (2019)
In "The Red Sea Diving Resort," Evans's character, Ari Levinson, hatches a bold plan: renovate an abandoned Italian hotel on the coast of Sudan, an eight-hour drive from the capital of Khartoum, and use it as a cover to smuggle Ethiopian Jews from refugee camps to Israel via boat. Based on a true story, Ari recruits agents from all over the world to help him in his mission.
27
"Avengers: Endgame" (2019)
Cap and the Avengers take on Thanos for a second time in "Avengers: Endgame." He and his team have to figure out a way to bring back their allies for an epic showdown with Thanos, the evil being who completely wiped out half the planet and universe.
28
"Knives Out" (2019)
In this classic whodunnit, Evans takes on the role of Ransom, the moody, selfish, and ungrateful grandchild of Harlan Thrombey. When Harlan is found dead in an obvious murder, it's anyone's guess as to who committed the crime.
29
"Lightyear" (2022)
We all know him from "Toy Story," but who exactly is Buzz Lightyear? Evans voices the legendary space ranger Buzz Lightyear, the character from the fictional movie that the "Toy Story" toy is based on, as he embarks on an intergalactic adventure alongside ambitious recruits Izzy, Mo, Darby, and his robot companion, Sox. Taking on their toughest mission yet, the team must learn to work together despite their strengths and weaknesses if they stand any chance against the evil Zurg and his robot army.
30
"The Gray Man" (2022)
When Court Gentry (Ryan Gosling), a top black-ops mercenary in the CIA, unwittingly uncovers skeletons in the agency's closet, the agency sets out to kill him. The man tasked to bring down Court in an international manhunt is his psychopathic former CIA colleague, Lloyd Hansen (Evans).
31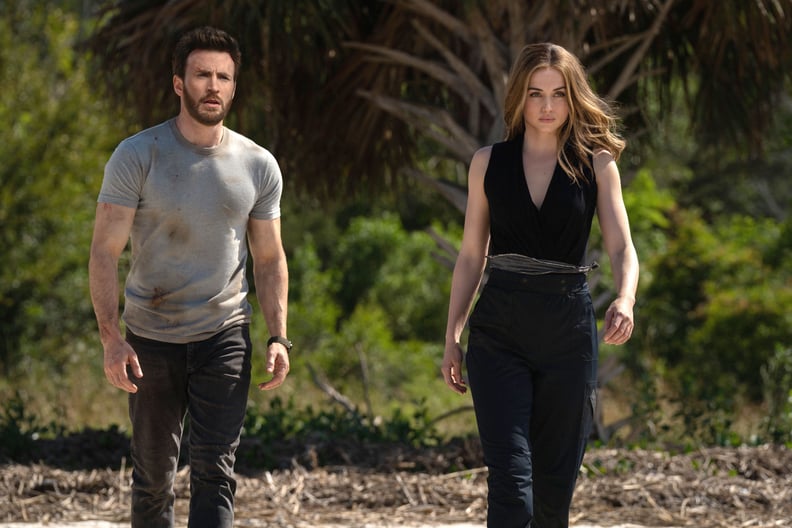 "Ghosted" (2023)
Evans and Ana de Armas take the meaning of ghosting to new heights in the Apple TV+ thriller rom-com. In the movie, Cole (Evans) meets and falls for Sadie (de Armas), not knowing she's secretly a CIA agent. When she disappears to London and ghosts him, Cole is convinced there's been a misunderstanding and travels there to find her and pick up where they left off. However, he soon finds himself sucked into a complicated, globe-trotting game of espionage and action.