It Finally Happened: Joanna Gaines Gets the Full Spotlight in Magnolia Table — and Every Minute Is Gold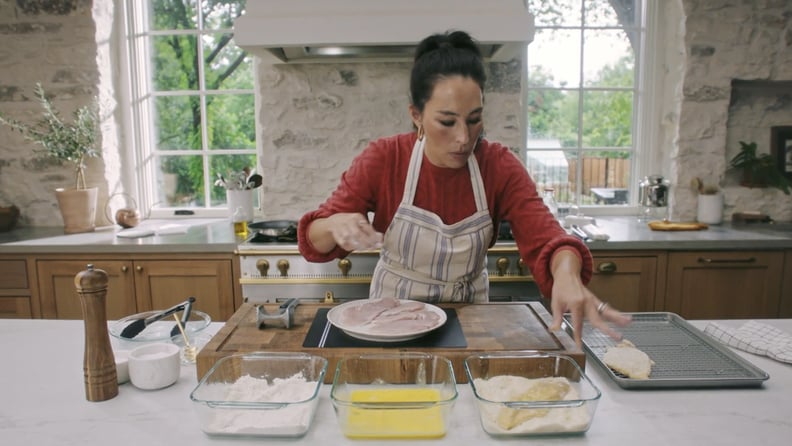 Discovery | Magnolia Table
Discovery | Magnolia Table
Unlike most of my friends, I was never that entertained by renovation shows — until I watched Chip and Joanna Gaines on Fixer Upper. I was hooked within the first half hour. I can mostly blame this sudden interest on my parents, who truly do not go a weekend without tuning into a rerun from the Gaines family, but what I cannot credit them with is my love for Joanna. While they're big Chip fans — they truly get so excited to watch him gear up for demo days — I've waited a long time for a stand-alone show all about Joanna. The fact that it revolves around her farmhouse kitchen is just a bonus.
Magnolia Table with Joanna Gaines is exactly what you'd imagine: Joanna showcasing some of the exact recipes you may have seen in her Magnolia cookbooks. But before you think this is yet another food show, it's not. Well, it is, but there's something extra special about watching Joanna make relatively simple but mouthwatering recipes that I can easily make, too. (If you think I didn't immediately make chicken cutlets and homemade alfredo sauce after watching the third episode, then you're a fool.)
Joanna's informal sound bites are all too familiar — I swear it's what I'm thinking to myself as I cook. "Where was I?" she asks out loud as a producer reminds her off camera in the first episode of the new series. You can feel Joanna's lighthearted aura through the screen; it's just downright relaxing to watch her cook. From her own personal family favorites to weekend appetizers perfect for you and your roommates, Joanna makes you feel right at home. So far there are only five episodes streaming on Discovery+, but her using a Danish whisk to cream a bowl of custard already lives rent-free in my mind.