Outlander Season 4 Episode 9 Recap
Outlander's New Episode Changes 4 Key Plot Points From the Book — Here's Why That's a Good Thing
Warning: spoilers for Outlander season four, below.
It's no secret that the Outlander show writers have had a formidable task in adapting Diana Gabaldon's lengthy books for television. As executive producer Maril Davis told POPSUGAR in a recent interview, "Diana's books are huge and there's no way to get ever nook and cranny from the books onto the show."
That being said, the latest episode, titled "The Birds and the Bees," felt even more sped up than most entries into the series. The 50-minute story manages to cover months of time, condensing and omitting key plot points from the book left and right. In case you need a refresher about how exactly it all goes down in the Gabaldon's novel — or if you've never read the books and are curious — here are the biggest differences in the adaptation and what they mean for the show.
The Aftermath of Brianna's Rape
In the book, days pass between Brianna (Sophie Skelton) consummating her marriage to Roger (Richard Rankin) and being raped by Stephen Bonnet (Ed Speleers), whereas on the show, less than an hour goes by between when Roger storms off and Brianna meets Bonnet. In fact, readers don't see the rape happening in real time; they hear about it later when Brianna recounts her trauma to Claire (Caitriona Balfe). All of this happens after she has met her father and traveled to Fraser's Ridge.
But it makes sense to change the order of things around, especially here. Seeing it onscreen — even if the rape actually happens mostly offscreen — gives Brianna's attack a greater impact than hearing about it later. Plus, it has always felt a little weird reading the book to think that sometime in the midst of handfasting with Roger and meeting Jamie, Brianna meets Bonnet and is raped. She goes about her business as if nothing has happened, and we only learn about the rape months later, which is quite jarring.
Fergus's Trial
Non-book readers may be surprised to learn that there's a whole side plot where Fergus (played by Cesar Domboy in the show) is on trial for attacking a redcoat who was trying to steal his horse. That's what brings Jamie (Sam Heughan) down from the ridge, to testify on Fergus's behalf — and it turns out it was actually Marsali (Lauren Lyle) who kicked the redcoat in the jaw when he tried to steal the horse. Brianna even attends the trial before heading back to the ridge.
This sort of thing definitely adds more intrigue to the agents of the Crown being out to get Jamie — they try to make him come to the trial to testify during harvest, thereby damaging the harvest because Claire can't possibly bring in all the crops herself — but it makes sense why it was cut. The show just doesn't have the same luxury Gabaldon has with her pacing.
"I think if you're a book fan, you're like — I want to see every single page in that book translated to the screen," Davis told us. "[But] we have 13 episodes, as opposed to Diana — she's said many times she has so much more time and luxury to spread these things out . . . The best we can do is lay out the story, lay out the major tent poles, lay out where we need to go and fit in as much as we can. That means, obviously, that a lot of story has to go. But at the end of the day, if we can stay true to the spirit of the book and the spine of the book, we feel we've done our job."
Brianna Finds Her Parents
Brianna meeting Jamie happens basically the same way on the show as it does in the book, though interestingly, book Brianna gets to briefly meet her aunt, Jocasta (Maria Doyle Kennedy), at River Run before Fergus's trial.
Claire, however, is nowhere to be seen. Brianna isn't reunited with her until they make their way back to Fraser's Ridge — and we don't get to hear Brianna tell her parents about the death notice. It is mentioned in passing and doesn't come up again until much later, plus in the book, they have a definite date for the fire that will kill Jamie and Claire.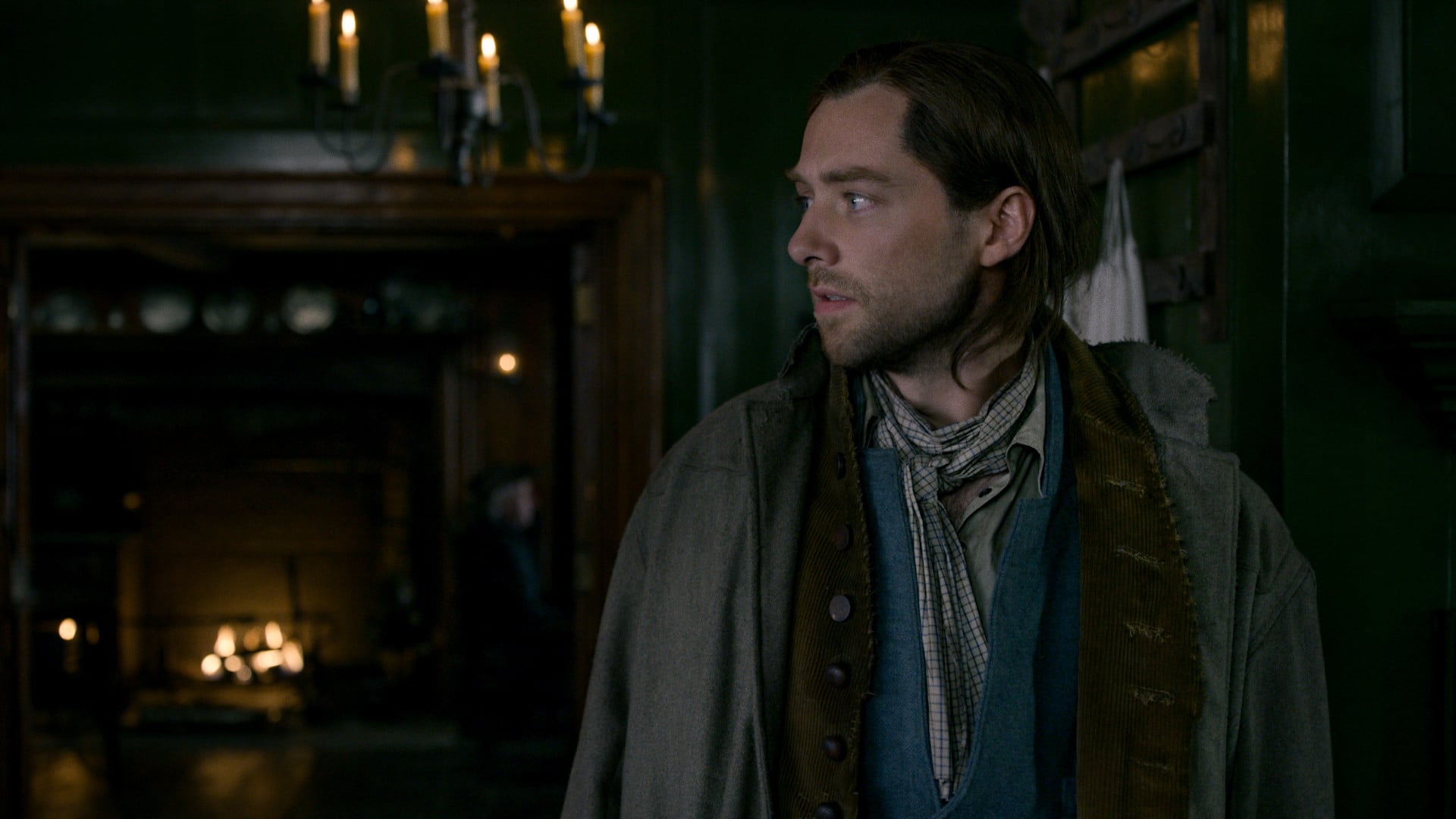 The Misunderstanding With Roger
The show definitely has the gist of this storyline down, but there's one big difference: on the show, Lizzie (Caitlin O'Ryan) knows for sure that Brianna was raped because she sees the aftermath with her own eyes. Lizzie assumes it was Roger, the man she saw arguing with Brianna in the street. When he appears at Fraser's Ridge, Lizzie tells Jamie and Ian (John Bell) that he's the man who attacked Bree.
In the book, when Bree returns from her handfasting and lovemaking with Roger, she hasn't been raped yet. That happens days later. That night, Lizzie infers an awful lot based on Bree's demeanor after her fight with Roger and then later, Lizzie takes it upon herself to tell Jamie that Roger raped Brianna. Lizzie is quite meddlesome and presumptuous in the book, and it's actually kind of nice that the show changed this a bit. It makes the misunderstanding feel a bit less contrived.
Suffice to say, the show writers managed to squeeze a great many events from the book into this episode. But as Davis tells us, they do the best they can with the allotment of screen time they're given, and she actually doesn't think this season is whizzing along any faster than previous seasons have.
"I'm not sure I've noticed this season more than other seasons that it's going so much faster, but I'm thrilled the way it all worked out. We certainly break the season where we pull out the tent-pole moments and want to make sure we hit everything, and I'm sure that we did that," says Davis. "At the end of the day, we just have to try to come to a consensus among ourselves and try to do the major moments and stay on the path. If we can stick to the spirit of the book and if Diana is happy, we feel we've done the best job we can. I think there's a very satisfying ending to the season."