Euphoria: What Was on Nate's USB?
Nate Got Revenge on Cal in the "Euphoria" Finale — Let's Break It Down
Watch out! This post contains spoilers.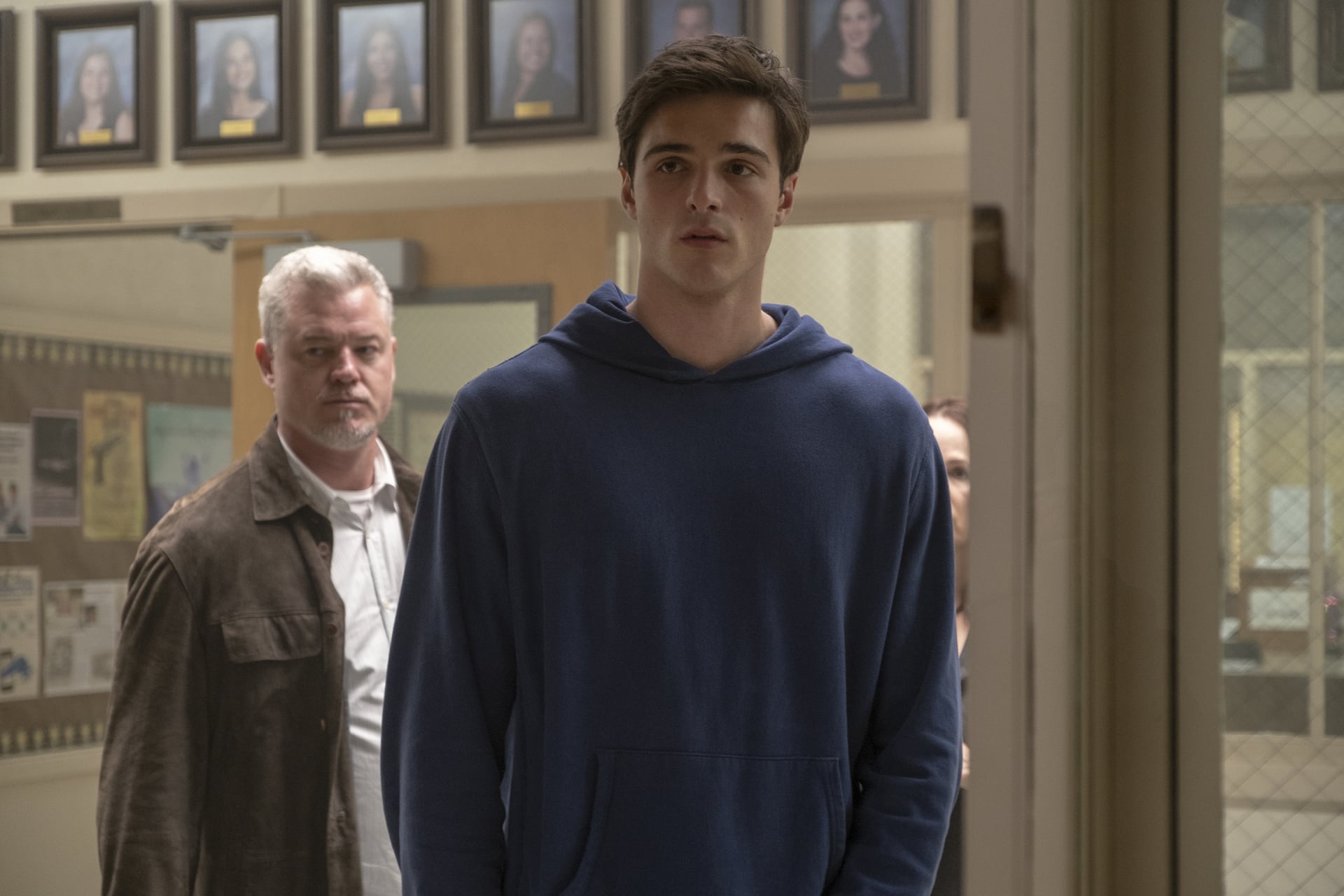 After an incredible run, "Euphoria" season two is officially over. The season finale of the HBO Max hit series aired on Feb. 27, with the high amount of viewers crashing the streaming service just minutes before the premiere, as reported by Variety. The episode, titled "All My Life, My Heart Has Yearned For a Thing I Cannot Name," picked up where episode seven left off and shows the fallout of Lexi's (Maude Apatow) play, Fezco (Angus Cloud) and Ashtray (Javon "Wanna" Walton) in the midst of a police raid, and the individual fates of the characters we've (mostly) grown to love.
Nate Jacobs (Jacob Elordi), a universally disliked character on the show, has a unique turn of events in the finale, leaving viewers with several questions regarding his actions. Let's break down what all happened with Nate in the "Euphoria" season two finale.
The last two episodes of "Euphoria" have been a lot, particularly for Rue (Zendaya), Maddy (Alexa Demie), Cassie (Sydney Sweeney), and Nate, whose most vulnerable and messy parts of life are aired out to all of their peers via Lexi's play. Nate's onstage counterpart, Jake, is portrayed as a hypermasculine jock who is happily dating his girlfriend, Marta (aka Maddy), on the surface but struggling with his sexuality underneath. Nate's portrayal in the play, especially during the "Holding Out For a Hero" homoerotic dance scene, embarrasses and enrages Nate, causing him to storm out of the auditorium in the middle of the play and break up with Cassie at the same time. Picking up in the season finale, Nate is seen driving his truck while drinking a beer and loading a gun at the same time. Eventually, he pulls up to his dad's construction site and finds his dad, Cal Jacobs (Eric Dane), hiding out from his family with a group of men and women with whom he's presumably having sex. What follows is a plot twist no one saw coming.
What Happened Between Nate and Cal in the "
Euphoria

" Season 2 Finale?

Nate's relationship with his dad is a toxic one, which shapes Nate into the complicated, immoral person he is. Nate confronts his dad about this. "You know what I think we have in common? We both get off on hurting other people," Nate says. An uncomfortable Cal tries to bring Nate to another room, but Nate wants to have their conversation in front of Cal's new friends. Nate reveals to Cal that when he was 11 years old, he found his dad's sex tapes, which traumatized him and left him with disturbing nightmares.

The two continue to talk, and Cal apologizes for not being the father he should have been — and furthermore, for not shielding him from his sexual life. Nate rebuffs his apology and then points his loaded gun at Cal, telling him, "I don't want your apology. I just want revenge."

While it's unclear exactly why Nate pulled a gun on Cal (since he never ends up using it), it could have been a physical display of power he never feels he has over his dad up until this point. In all the ways Cal traumatizes, intimidates, and hurts Nate, he wants to do the same to his dad. Rather than use the gun on Cal, however, Nate pulls out a USB and tells him that "everything" is on it.
What on Nate's USB in the "Euphoria" Season 2 Finale?
Nate's revelation that "everything" was on the USB is vague, but it undeniably refers to the numerous sex tapes Cal recorded without his partners' consent over the years (minus Jules's, of course, since Nate gave that one back to Jules in episode six). As Nate shows Cal the USB, red and blue lights blaze through the windows of Cal's construction building as the police come to arrest Cal for his crimes. As Cal pleads for Nate not to betray him, Nate responds, "You are who you are. I don't think you're ever going to change." In saying this, Nate ultimately condemns his dad for his behavior and concludes that all of Cal's toxic, evil characteristics are unchangeable and cemented into his being, no matter where he goes or what he does.
What Will Happen to Nate and Cal in Season 3 of "Euphoria"?
The fates of Nate and Cal Jacobs are left open in the season finale. The only thing we can presume from the episode is that Cal is going to jail. In a recent interview with Variety, Dane confirmed that we'll be seeing more of Cal's story unfold in season three. "There's gonna be redemption," he said. "I mean, that's the trajectory he's on. I can't imagine Cal's life from solitary confinement. It's tough to work Cal into the storyline when he's behind bars."
As for Nate, he's presumably single going into season three after breaking up with Cassie. So the question is: is Nate who he is, or is there room for him to change?
There's a solid chance that these plot points will be addressed in season three of "Euphoria," which is expected to release in 2024. Until then, you can relive the drama and rewatch "Euphoria" seasons one and two on HBO and HBO Max.