Gaten Matarazzo on Eddie's Death in Stranger Things
Gaten Matarazzo Was "Really Scared" Filming Eddie's Final Scene on "Stranger Things"
Watch out! This post contains spoilers.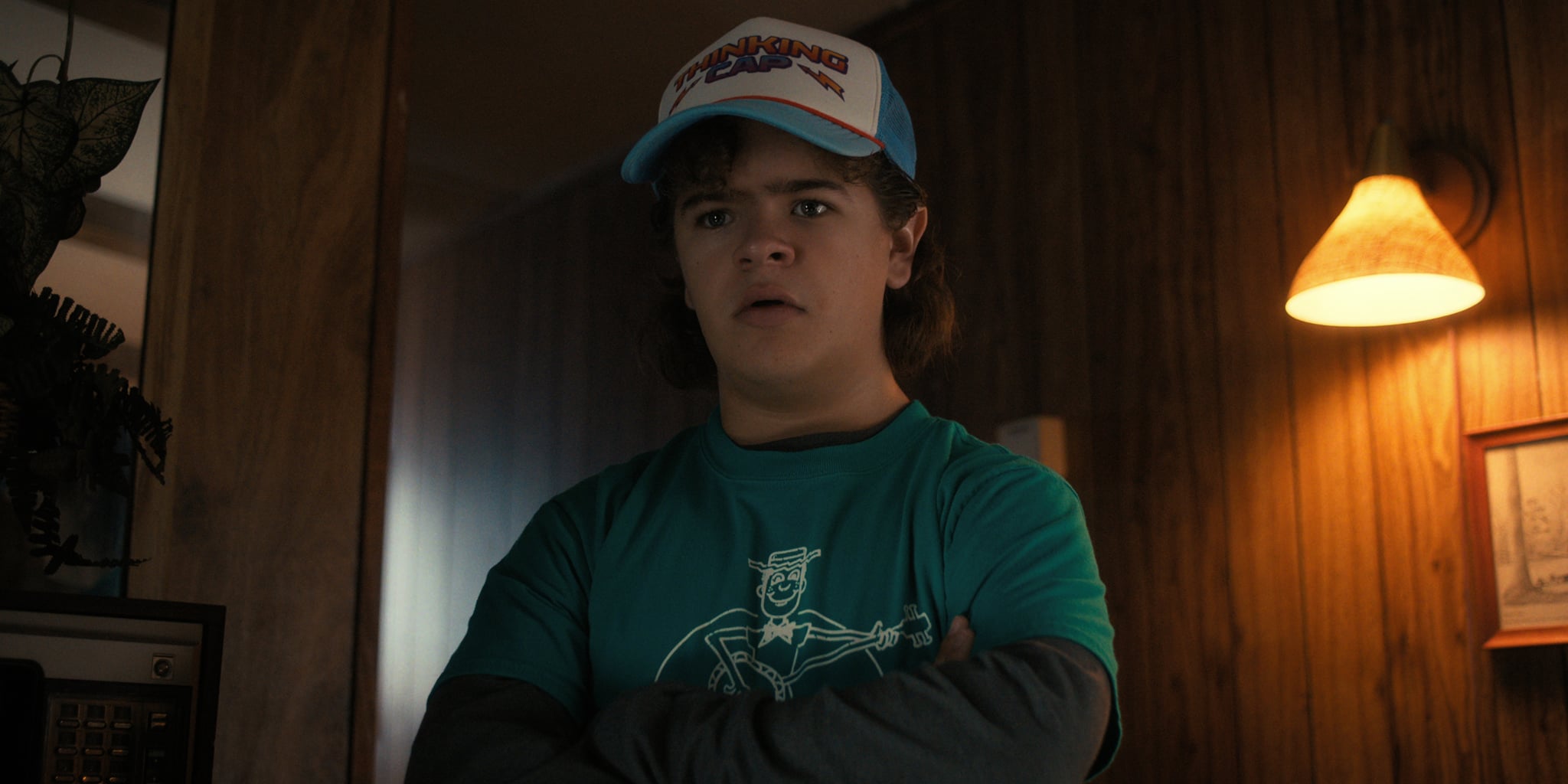 Image Source: Netflix
Gaten Matarazzo is still reeling from the fan reaction to the "Stranger Things" finale, which was released on July 1. Lots of people have told him that his scenes as Dustin reacting to Eddie's death made them cry. "It's such a weird thing to say thank you to," he tells POPSUGAR. "They're like, 'You made me cry,' and it's like, 'Oh, thank you.'"
Matarazzo admits that filming Eddie's (Joseph Quinn) death scene was extremely hard. "We knew that it was going to be close to the end of our journey on the show together, and to wrap it up in such a really intense and really, really scary way was satisfying, but really difficult," he explains.
"I was going into it really scared, like, 'I need to cry, I need to do all this stuff, I need to be focused,'" Matarazzo says. "[But then I thought], just chill out, this is for him. This is his goodbye to the show." Matarazzo knew his scene with Wayne (Joel Stoffer), Eddie's uncle, would come later, and Dustin could have his own moment of grief then.
"It was a big day," he says of filming the ending. "There were a lot of people there for that scene, which was really scary. But it felt good. It felt a lot better than I thought it would've." Still, he says it was long and tiring, with "a lot of crying."
Matarazzo knew from the beginning that Eddie was destined to die, but he was still able to embody how upset Dustin was. "It was less about making other people heartbroken. It was just more important that I remain heartbroken, and that me and Joe remain heartbroken, especially because that was one of the last scenes that we filmed together," he explains.
In Matarazzo's newest project, the Paramount+ high school movie "Honor Society," his character, Michael, is much closer to the real Gaten than Dustin is. "I went from playing 14 to playing 17 in the same year. That was pretty interesting," the 19-year-old says.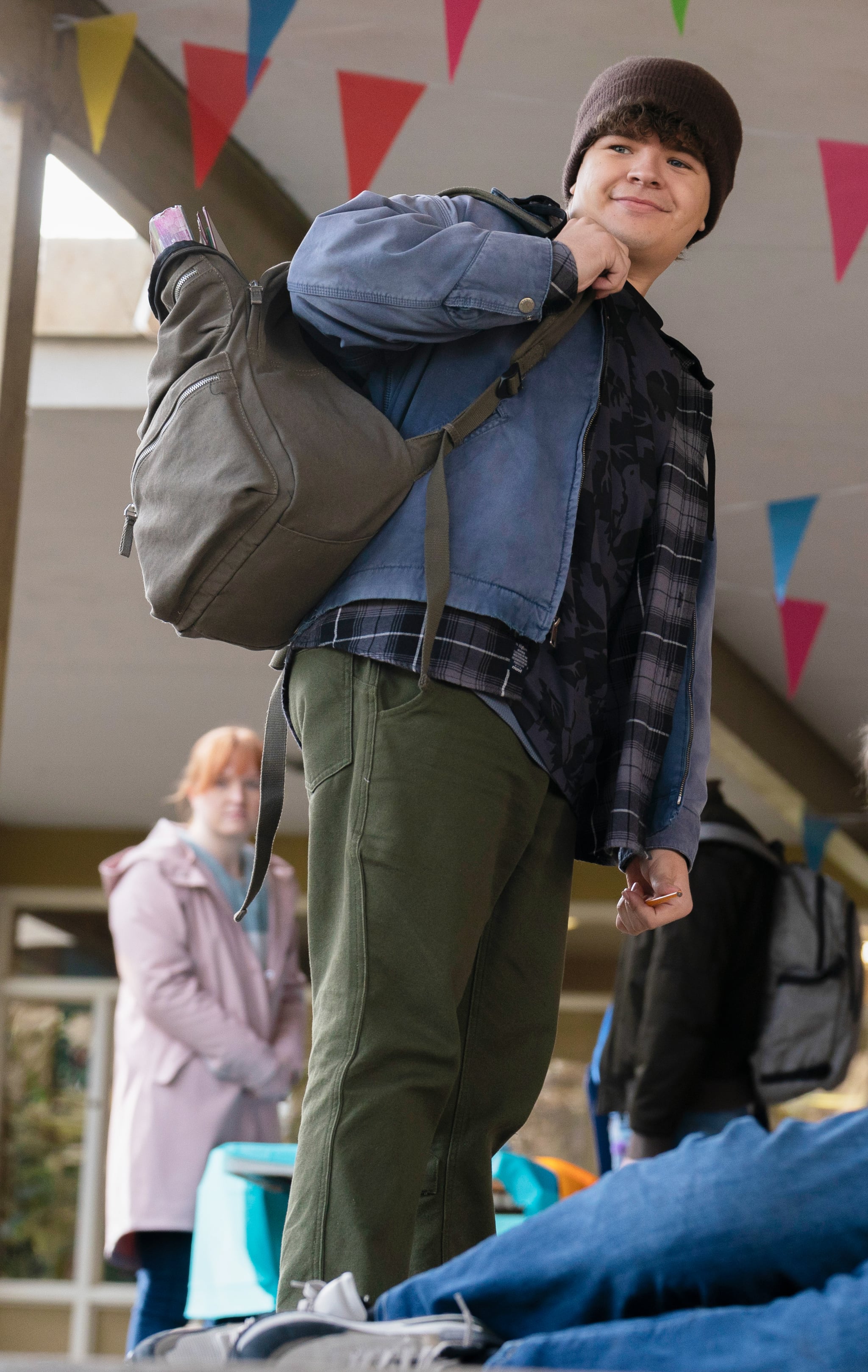 Image Source: Paramount+
Matarazzo says he actually just tried to be himself for the part. "I got to kind of be a little bit more natural than I think I would've before," he explains. "On 'Stranger Things' . . . I get in that Dustin headspace, and I think that Dustin headspace is a lot younger naturally than the stuff I played before. But this one, it really was about breaking that kind of, and getting to play somebody my own age in a setting that was very similar to my own high school experience."
The movie stars Angourie Rice (who you might recognize from "Spider-Man: Far From Home") as Honor, an extremely driven teen who would do anything to get into Harvard. Matarazzo's Michael is just one of the other smart students standing in her way, so she gets close to him to manipulate his emotions, only to start to fall for him herself.
Matarazzo admits it was "kind of odd" to do more adult material, but he says he was proud to work with the cast and crew. "Angourie's incredible . . . and it's great to see her take this leading role and really take charge and drive this movie forward," he says. "She really is the heart and soul and driving force behind it. There wasn't a day of shooting that she wasn't on set, which was bananas."
On set, Matarazzo says, there was a lot of laughter. "I got a cut that they made of a blooper reel. They made a compilation of me laughing," he says. "I was a little bit offended by it, but I understand completely where they're coming from. . . . There was a sign in Mr. Sailor's English class in sixth grade that said, 'A day without laughter is a day wasted.' And I will remember that sign for the rest of my life, I think."
For now, Matarazzo has a full plate ahead of him. Currently, he's starring in "Dear Evan Hansen" on Broadway. Then there's the fifth and final season of "Stranger Things," which will shoot sometime soon. For now, he's focused on making New York City his home and enjoying the ride.
"Honor Society" streams on Paramount+ starting July 29.