The Great British Baking Show: Why Prue Is on Crutches
Poor Prue! Why the Great British Baking Show Judge Is on Crutches in the Holiday Specials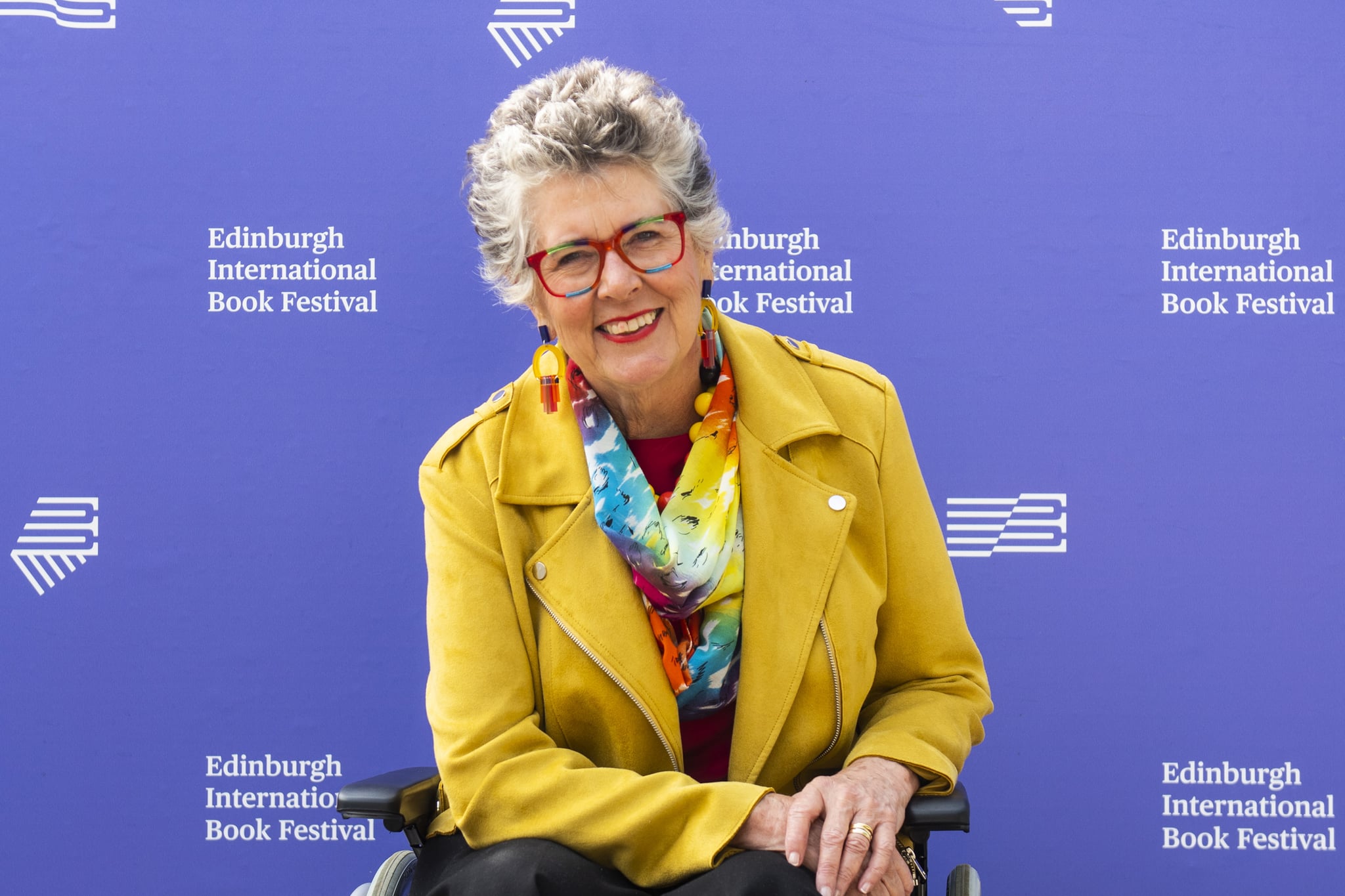 If you watched the latest batch of The Great British Baking Show's holiday specials, you might be wondering why Prue Leith was on crutches during both episodes. As it turns out, the famously chill show is more dangerous than expected — Prue sustained the injury while filming!
Prue told the painful, hilarious story for The Spectator. "Picture the scene: we are filming the opening link for The Great British Bake Off," she wrote. "Here I am in the woods, dressed in a lion suit; Paul Hollywood is the Tin Man, Sandi Toksvig the Scarecrow, and, guess what, Noel Fielding is Dorothy. I leap out on to the yellow brick road, roaring — I feel a hammer blow to my ankle, and end up whimpering like the Cowardly Lion I'm portraying. I have snapped my Achilles tendon." The set medic, "who has had nothing more exciting than bakers' cut fingers to deal with for three years, finally gets to use his ambulance, wheelchair and considerable skills." He treated Prue with painkillers and ice until she could get full medical care.
As a result of the injury, Prue had to wear a boot until it healed and get around either in a wheelchair or on crutches. She noted in her Spectator piece that her temporary situation made her more aware of the issues that people with disabilities face on a daily basis. "I'd no idea how many pavements have a nice slope to the street on one corner but on the other side there's a big step up — and there you are, stuck in the road," she wrote. "Or how often people park in front of the disabled access, or how some 'accessible toilets', like the one I used at Gatwick, are too small to turn a wheelchair in, the door opening inwards so you end up being rescued by a stranger responding to your banging the door with a crutch."
American viewers, though, might not realize that Prue's injury actually happened over a year ago! Both episodes released on Netflix in the United States as the third season of The Great British Baking Show: Holidays — a typical reunion special, plus a special episode featuring the cast of Derry Girls instead of the usual amateur bakers — were actually filmed in late 2019, prior to the current season, and aired a year ago in the United Kingdom. It also marked Sandi Toksvig's last outing as cohost before Matt Lucas took over. Prue was all healed by the 2020 season, but these episodes serve as a permanent reminder of one skit gone wrong.