Hadley Robinson Sally Field Interview For HBO's Winning Time
Hadley Robinson's Folder Holds the Key to the Lakers Success on "Winning Time"
"Winning Time" might be about the Showtime Lakers and the rise of Earvin "Magic" Johnson, but it's the women behind the scenes that hold the keys to the wildly successful franchise. The show — which premieres on HBO Max on March 6 — features a young Jeanie Buss (played by Hadley Robinson) and a behind-the-scenes look at the Buss family's takeover of the Los Angeles team in 1979. POPSUGAR chatted with Robinson and Sally Field — who plays Jessie Buss, the accountant and mother of famed owner Dr. Jerry Buss (played by John C. Reilly) — about their bond on and off the screen and how Jessie prepared Jeanie for the windy road ahead.
It's important to note that the Buss family, the Lakers, the NBA, and the players portrayed were in no way involved in the making of "Winning Time." The series is an adaptation of Jeff Pearlman's 2014 book "Showtime."
Let's set the scene: the year is 1979, the Los Angeles Lakers have the first pick in the NBA draft and Magic is declaring for the league after two seasons at Michigan State. A smooth-talking, sunglass-rocking Jerry recently purchased the Lakers, and to say he has big dreams would be an understatement. Not only is he revving up to transform the organization, but he's about to transform the league into what it is today. On "Winning Time," Jerry is the visionary behind the huge crowds, the celebrity fans sitting courtside, and the glamorization of what was once considered a "meh" sport. Viewers will soon see that Jerry wouldn't be Jerry without the two leading ladies in his life: his mother and daughter.
In 1933, a 19-year-old Jessie gave birth to Jerry in the middle of the Dust Bowl. She was a single mother with no high school education and together they became quite an impressive business savvy duo. "We didn't have a lot of information about Jessie, so we had a lot of license to create," Field says of her character. "We knew she came to Hollywood and brought him with her as a little boy," Field says, adding that Jessie initially wanted to be in films but it didn't pan out. "She became an accountant and struggled and survived and took care of her child before all sorts of mishegoss happened."
On "Winning Time," Jessie is as tough as they come. She's observant, slick, and likes her martinis up with two olives. She understands better than anyone just how cunning her son and his business partners can be, and that's why she's adamant about looking out for her granddaughter, Jeanie. Jerry had six children — all with names beginning with "J" — but Jeanie's involvement in the Lakers organization began at an early age. Robinson's character is a teenager, a timid intern at her father's fast-paced, male-dominated office, but she's got dreams bigger than her notebook can handle, and her grandmother knew what she was capable of.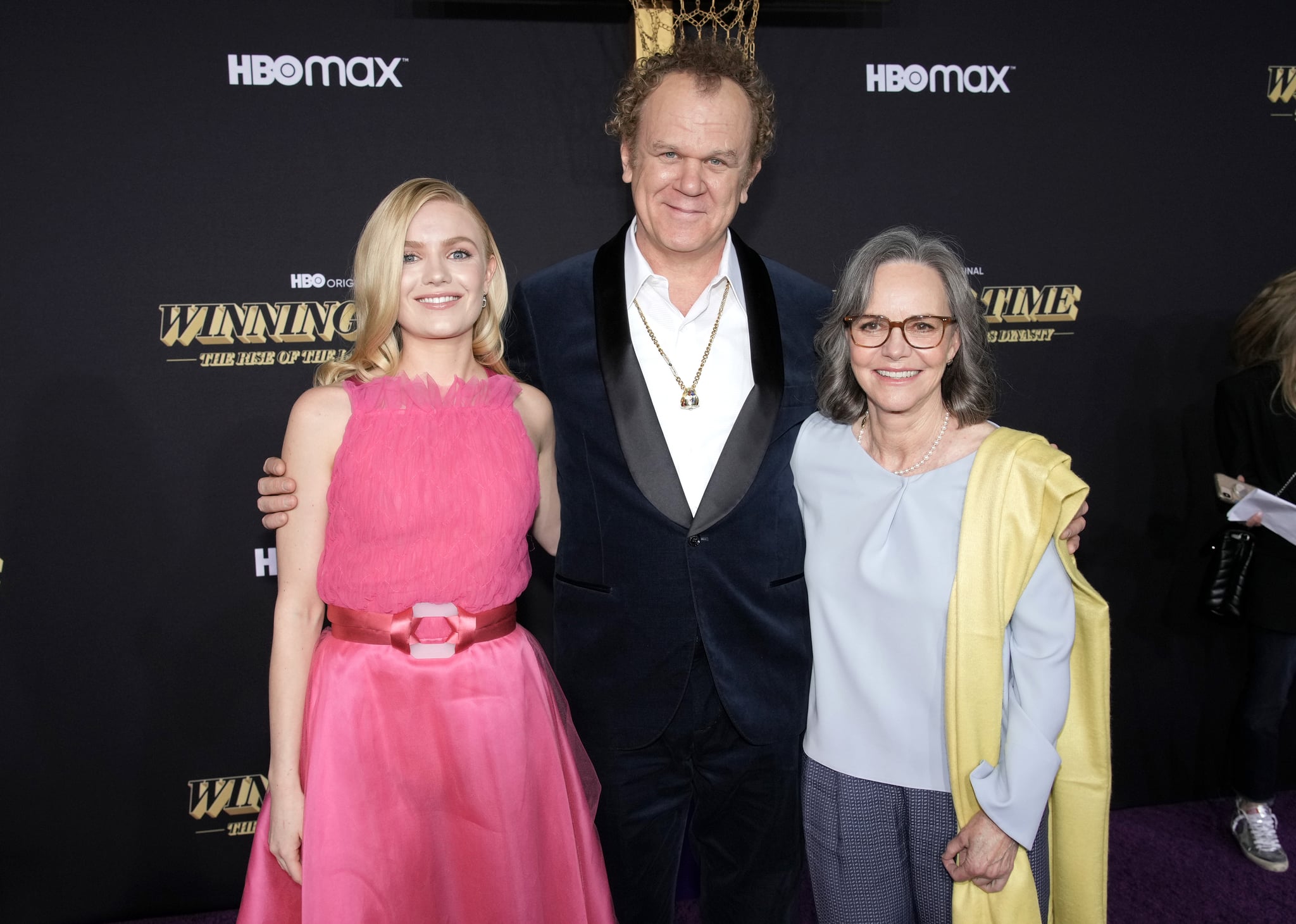 Image Source: Getty / Jeff Kravitz/FilmMagic for HBO
"The relationship that Jeanie and Jessie had, or the one we created, was Jessie trying to educate her about the bumpy road [that] Jessie feels she's going to eventually go on," Field says. "It's going to land in her lap and Jessie's rooting for that to happen, always trying to train her about how to navigate this road. Certainly as we get later in the season, her coaching her to step up for herself and fight for it. Jessie never uses those words, but that's what she's saying."
"Deep down she's just as passionate about it all as her dad."
Jeanie's job is to get coffee, but she's a cool teen with her fingers on the pulse of the industry and she wants to do more than paltry errands. Hello, she drives a two-door brown Jeep Renegade! She has a vision for the team and it's all kept within a doodle-covered folder. She just needs the confidence and trust within the organization to go for it. Being the boss's daughter might give some a sense of entitlement or the desire to cut corners, but Jeanie does the exact opposite. "She feels this immense amount of pressure because of it, and this need to sort of prove herself and fit into these big shoes," Robinson says. "She really has this drive to prove herself. She has her folder with all her ideas in it, she's done all this work. . . She's doing it because I think deep down she's just as passionate about it all as her dad. She's got these dreams that she wants to bring into fruition and it does happen. It happens."
(Spoiler alert: Jeanie Buss is currently the controlling owner and president of the Lakers. It definitely happens.)
Jessie wants to toughen up her granddaughter, teach her how to thrive in an industry dominated by men, she just needs to listen. While Johnson and Kareem Abdul-Jabbar are being courted by Dr. Buss and the Hollywood lifestyle, she's teaching Jeanie to believe in herself and to ensure her voice is heard. Her mentorship, although blunt and occasionally unsavory, is essential to Jeanie's success. On set, Field was just as much of a mentor to Robinson. As a serious Laker fan herself, Field was ecstatic to teach her costars about the beautiful game of basketball. "I was there in the late 70s and 80s. I watched Magic and Kareem and a young Kobe when he showed up," Field says with a huge smile. "I'm a huge fan. I was then, I am now."
She adds, "I would come on the set and I would fill everybody in on what happened in the game, who was injured, what are the projections. I'm a big fan." And Robinson is eternally grateful because she "knew nothing" before Field shared her wisdom. "Thank god she was around, she was the intel," Robinson says.
Field is passionate, and she admits that it could be part of the reason she landed this role. "They really reinvented the game," she says of the Showtime Lakers. "They broke out of this elegant, loping game that it was and made it a much more chaotic, messy, passionate, physical game. Basketball was not that popular in the early 70s, and it was these players, these absolutely hypnotic, talented athletes that came in and changed the game and made basketball what it is."
"Winning Time: The Rise of the Lakers Dynasty" premieres March 6 at 9 p.m. ET on HBO Max.