US Women's National Soccer Team Settles Equal Pay Case
"We Did It!" US Women's Soccer Players Applaud $24 Million Settlement of Equal Pay Case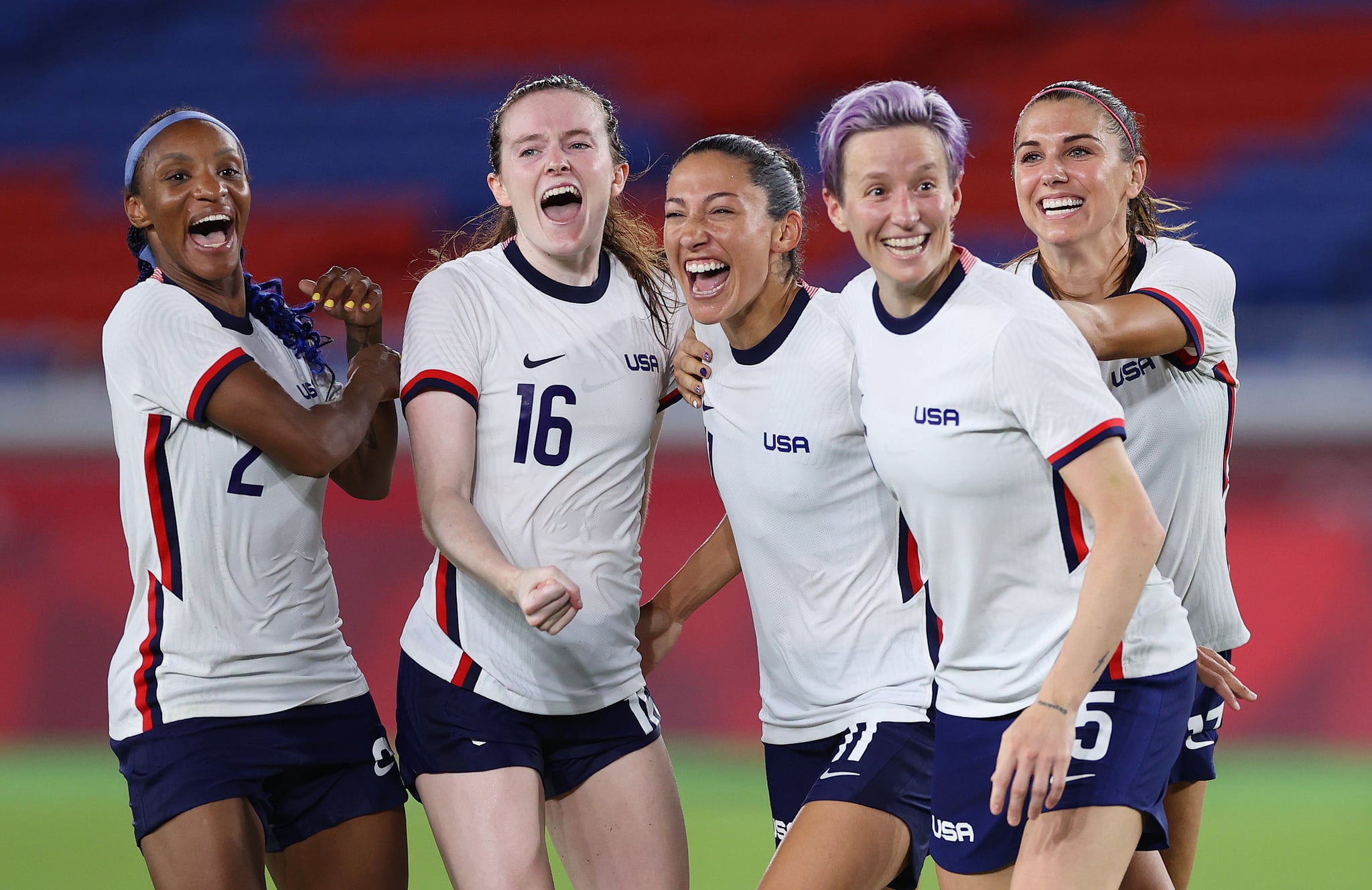 A three-year legal battle ended on Feb. 22 as players from the US Women's National Team (USWNT) settled their class-action gender-discrimination lawsuit against the US Soccer Federation (USSF) for $24 million. A lump sum of $22 million will go to the players, while the remaining $2 million will go into an account to benefit players in post-career goals and charitable efforts toward women's soccer. The settlement will be made official once the USWNT players ratify a new collective bargaining agreement.
On Twitter, the USWNT Players' Association (USWNTPA) congratulated the players and litigation team "on their historic success in fighting decades of discrimination perpetuated by the US Soccer Federation." The USWNTPA noted that "much work remains to be done," citing the CBA talks, but called the settlement "an incredible success."
Once finalized, the settlement will end a drawn-out lawsuit that began just before the 2019 Women's World Cup. All 28 members of the USWNT at the time sued USSF for gender discrimination, asserting that the women players were "consistently paid less money" than their counterparts on the US men's national team. The players faced a major obstacle in 2020 when a judge dismissed the unequal-pay claims that made up the majority of the lawsuit. A partial settlement over unequal working conditions allowed the players to move forward with an appeal of the unequal-pay dismissal.
Settlement talks continued, and the ultimate payout for the players — which came out to less than the $66.7 million originally asked for — is only part of it. The USSF also pledged to provide an equal rate of pay to the women's and men's national teams moving forward, including friendlies, tournaments, and the World Cup.
For the players, it's a positive conclusion to a battle they always saw as going beyond soccer. "I not only see this as a win for our team or women's sports, but women in general," Alex Morgan said today on "Good Morning America." "This very quickly became something that went far beyond the team," Megan Rapinoe agreed. Teammates chimed in across social media, celebrating even as the work continues.
"We did it!!!" defender Crystal Dunn wrote on Twitter. "I am so proud of this team and our relentless pursuit for equal pay. It has been a long road, but worth the fight!"
"With this team it was never just about winning," tweeted forward Tobin Heath. "It was about fighting for and believing in a better future." Christen Press noted that it "took a lot of work from a lot of people to get us where we are today" and that she's "grateful for every person that's carried this torch. A huge step forward for women everywhere."
On the field, the current USWNT is playing in the SheBelieves tournament, featuring a lineup of young up-and-coming stars like Rose Lavelle, Catarina Macario, and Trinity Rodman — the new owner of the biggest contract in NWSL history. "No amount of words can say thank you enough to all of the USWNT players who have been fighting for this for so many years," tweeted 21-year-old forward Sophia Smith. "Not only for themselves but for the next generation and every single one after that. Thank you for never giving up and teaching us to never settle for less."