Halle Bailey Begins Her Solo Era With Heavenly "Angel" Video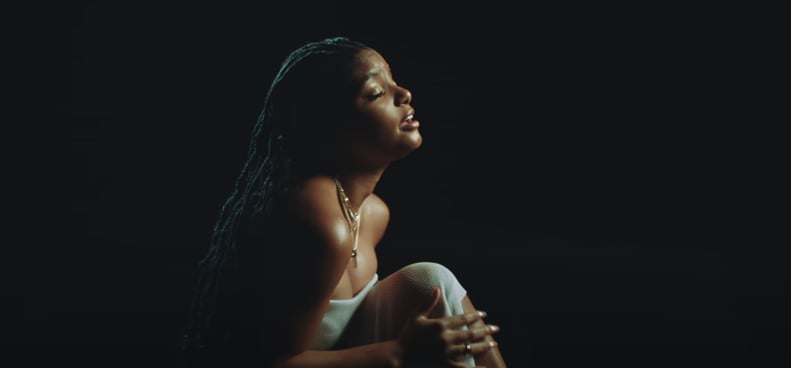 Halle Bailey's solo era is finally here. After her praiseworthy leading role in Disney's "The Little Mermaid" live-action remake this past May, the younger half of Chloe x Halle released new music on her own on Aug. 4 with her debut solo single, "Angel."
The 23-year-old singer teased a short clip of the piano-backed track's music video on July 31, which shows nostalgic glimpses of herself from an infant to now. The full visual, directed by Wendy Morgan, shows the songstress in elegant scenes surrounded by water and dancers as she pours her heart out with lyrics like: "Black girl here, Black girl with the Black girl hair / Took a little sun kiss just to look like this / God-sent, you're an angel / Angel, angel, angel."
"Angel" marks the first track Bailey has ever released without her sister, Chlöe, and arrives more than three years after the sister duo released their sophomore album, "Ungodly Hour." Since then, Chlöe has embarked on her own solo journey, releasing her debut solo album, "In Pieces," on March 31. But don't fret; the sisters plan to release new material together soon enough, Bailey previously told POPSUGAR. "My sister and I are very, very excited to work on our new album together, as well as just let these amazing solo projects come out for both of us," she said, "but people should definitely know that we are not finished making music together."
Both Bailey and Chlöe have kept plenty busy in recent years with their own music and onscreen projects — the former is set to appear in the "The Color Purple" movie musical in December, while the latter was last seen in Prime Video's "Swarm" and Peacock's "Praise This." They are both beyond proud of each other and have shown support every step of the way. "This journey has been a really beautiful one. My sister and I are so close, she's like my arm . . . And she's my biggest supporter. I'm her biggest supporter," Bailey added in her POPSUGAR interview. "We're just really excited to be able to be doing all of this together and for this all to be happening."
"Angel" isn't the first time Bailey has teased solo music. On April 30, 2022, she teased a snippet of an unreleased song on Twitter and captioned it, "little blip from todayy another random ideaaa." While Bailey didn't share the title of the song, she did tell her fans they would be hearing more music from her "in due time."
The song in question gives off slow R&B jam vibes and includes lyrics that allude to the struggle that comes with starting over with someone new after a heartbreak. "And I know it's cause I'm not what you're used to / Get out your feelings for me, babe," Bailey sings. Later in the song, she can be heard crooning, "I deserve a love that doesn't hurt."
What's unclear is whether this song will be included on Bailey's future album, whenever that gets announced. She followed up her tweet with a message from her cat, Poseidon, which reads: "Hey guys Poseidon here . . . you all have been messaging my mommy about when she's releasing music and she will in due time. The creative process is a wild one so you have to be patient."
It seems that for now at least, Bailey is still in the early stages of her solo chapter, which is understandable, given just how many projects she's worked on recently. In addition to "The Little Mermaid" and "The Color Purple," she starred in a thriller movie titled "The Line" with Austin Abrams, Alex Wolff, Lewis Pullman, and the late Angus Cloud, which premiered at the 2023 Tribeca Film Festival. With so many new high-profile Hollywood projects under her belt, it's no wonder the multihyphenate has kept her solo music under wraps until now. Stay tuned for more announcements — hopefully, one that includes a solo album.