11 Ways Marvel Could Remedy That Insane Ant-Man Cliffhanger
The midcredits scene in Ant-Man and the Wasp sets up the cliffhanger to end all cliffhangers. While Scott is in the Quantum Realm retrieving healing particles for Ghost, everyone on his team — Dr. Pym, Hope, and Janet — fall prey to Thanos's infamous finger-snap, leaving no one on hand to bring Scott back. Of course, with this being a comic book movie, it's safe to assume Scott will escape (especially since Paul Rudd is set to play Ant-Man in Avengers 4). However, the big question becomes how will Scott break free from the Quantum Realm?
The Quantum Realm, better known as the Microverse in the comics, is a multidimensional plane where, as Dr. Pym describes it in Ant-Man, "all concepts of time and space become irrelevant." This leaves the door open to an infinite number of solutions when it comes to rescuing Scott. In fact, Director Peyton Reed told TheWrap that in deciding how the this unique universe would be displayed on screen for Ant-Man and the Wasp, he realized he could do almost anything: "The Quantum Realm is a really intriguing environment and character in the MCU. There are so many stories that take place in the Microverse, which is the Quantum Realm in the MCU," Reed explained. "There are whole other worlds and civilizations and things like that,
which I think is something that — there's some visual clues in there that if you look carefully you can see."
Well, looking carefully is what we do best, and we found 11 ways Scott Lang can escape from the Quantum Realm. Follow along to see if you can guess them all.
01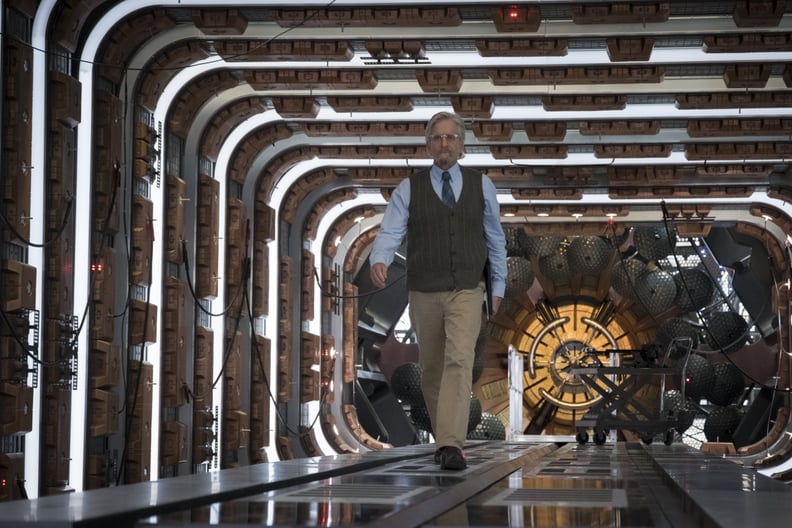 Pym's Particle Discs
While it is not likely Marvel would retread old ground by allowing Scott to escape the Quantum Realm using the same method he did in the first film, we would be remiss if we didn't include the possibility. Pym's Particles Discs are shrinking and enlarging weapons stored in a special compartment on Ant-Man's utility belt. So technically, Scott should be able to install an enlarging Pym's Particles Disk into his belt's shrinking regulator to return to normal size and thus reality.
02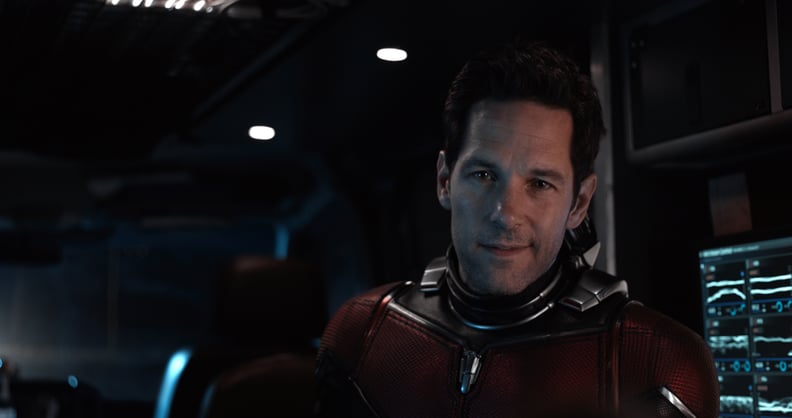 Scott Saves Himself
Maybe Scott won't need anyone's help at all. Upon her return, Janet van Dyne makes it clear her time in the Quantum Realm had evolved her senses and given her new powers. In addition, when Dr. Foster gives us Ghost's (Eva's backstory), he indicates that her whole molecular structure changed due to a moment of extreme exposure during the quantum blast.
Now that Scott is making his second visit into the Quantum Realm, what results will the entrapment have on his body? Will he gain superpowers similar to Janet's or Ghost's? And if so, will these powers or his size-altering suit be the key to his freedom?
03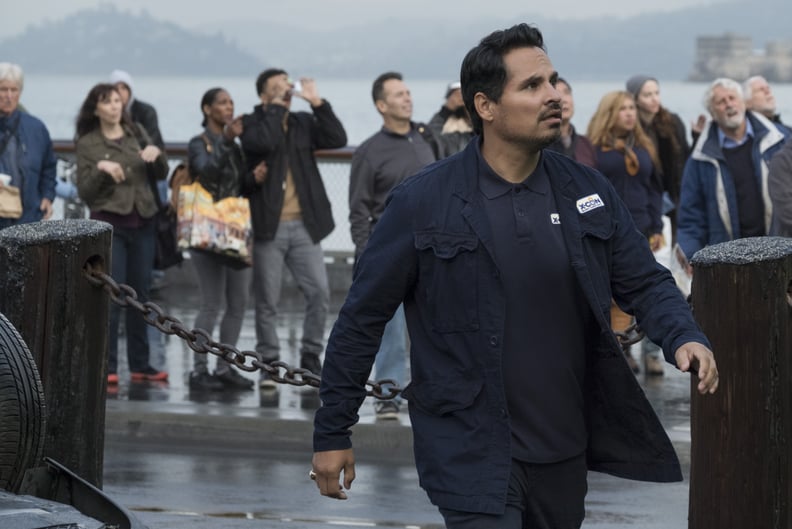 Luis to the Rescue
If Luis survives Thanos's purge, he could help Scott escape the Quantum Realm. If you recall, the van used for the portable quantum tunnel belongs to Luis. Therefore, the reformed con could arrive looking for his vehicle and hear Scott over the communications unit. From there, the two might engage in a hilarious comedy of errors to bring Scott home. Of course, if Luis gets overwhelmed, he could enlist the help of Bill Foster and Ava (Ghost), assuming they haven't been snapped up as well.
04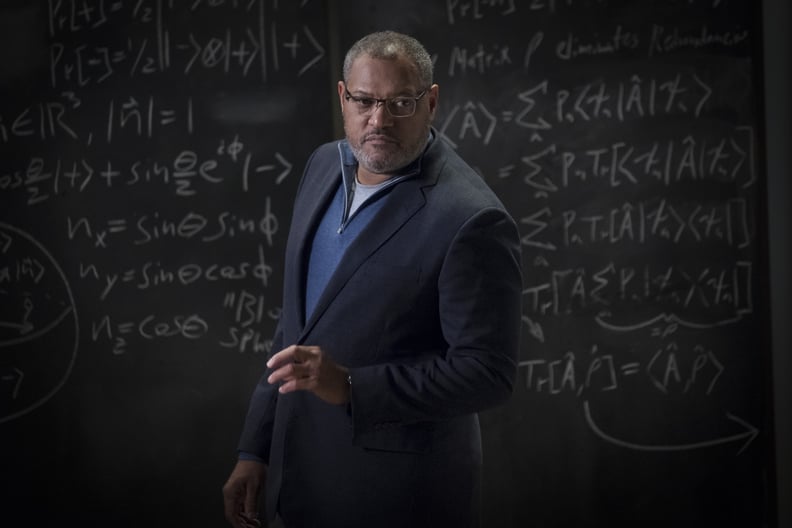 Dr. Bill Foster and Ghsot
Since the midcredits scene makes note that Scott enters the Quantum Realm to collect quantum healing particles for their new "friend" Ghost, we can safely assume she's alive but still suffering side effects from her condition. This implies that Dr. Foster and Ghost are nearby and don't flee the city as the conclusion of Ant-Man and the Wasp would suggest. So perhaps Ghost uses her phasing ability, and the quantum energy given to her by Janet near the end of the film, to help locate Scott while Dr. Foster brings our hero back using the research techniques he once shared with Dr. Pym or his old connections at S.H.I.E.L.D where Ghost had once been a high-level assassin.
05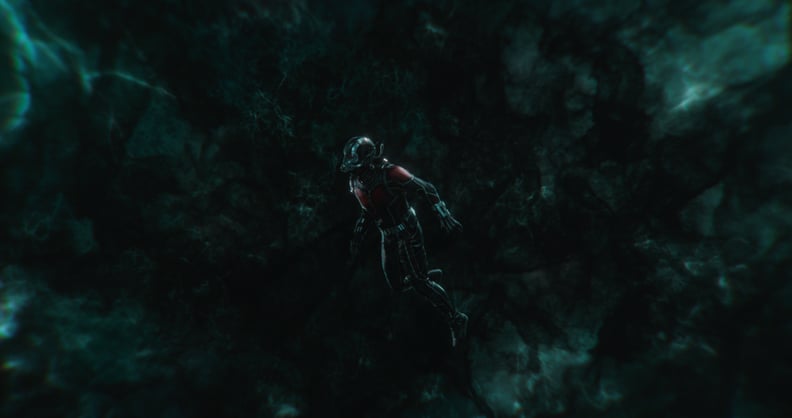 Time Travel
Before Scott enters the Quantum Realm, Janet warns him: "Don't get sucked into a time vortex. We won't be able to save you." The implication is that Scott could find himself drawn into a wormhole and potentially travel through time, space, and other dimensions. However, based on Janet's tone and Dr. Pym's previous warnings that time isn't always linear, we believe time vortexes in the Quantum Realm are difficult to control (think Quantum Leap) to the point where a clean escape may prove impossible — after all, Janet spends 30 years in the Quantum Realm and never successfully uses one (as far as we know).
Even still, the warning points toward a potential escape plan where Scott could travel back through time and discover a way to set things right through the people he meets along the way. In fact, if we think of the Quantum Realm as multidimensional (think Doc Brown's explanation of alternate time lines from Back to the Future 2), one of those people Scott could encounter is a younger Janet van Dyne. Together they could create an effective exit plan or use their quantum entanglement (i.e. psychic connection) to send out a message to those who've dabbled in quantum energy or to those who've traveled through time like, say, Captain Marvel or Doctor Strange.
06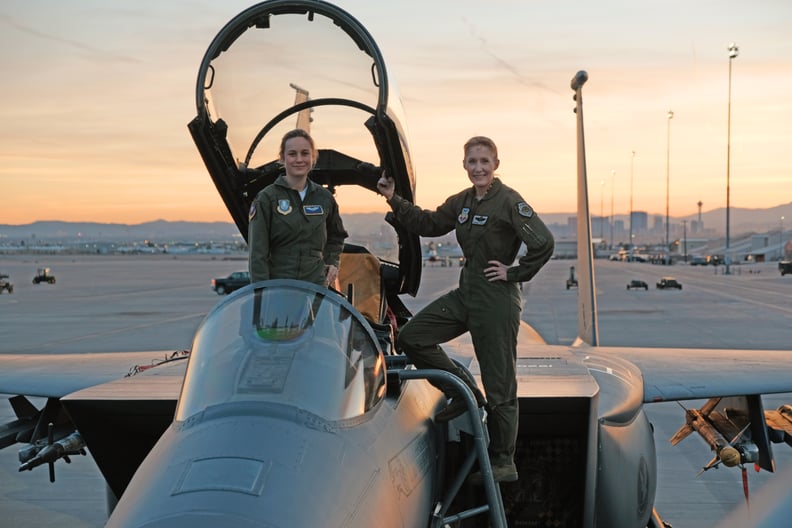 Captain Marvel
With Scott becoming stranded in the Quantum Realm on the heels of an event that directly ties his adventures to Avengers: Infinity War, we can't help but speculate whether Captain Marvel, the only major Marvel superhero film set to arrive between now and Avengers 4, will play a role in saving Scott. Even though her film is set in the 1990s it's quite possible that the abilities she gains from her predecessor — Mar-Vell, played by Jude Law — may give her the power to manipulate time and space in a manner that could be of assistance to Scott.
07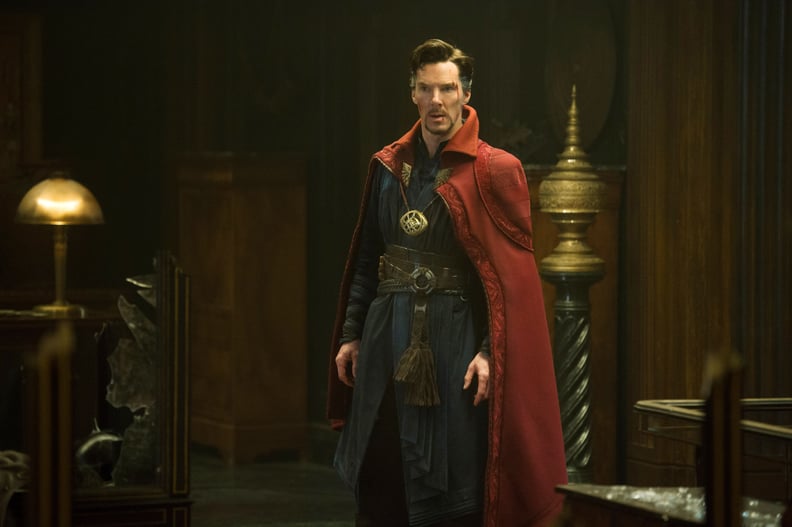 Doctor Strange
Because the Quantum Realm is such a mind-bending, time altering place, we may find the answers to Scott's exit in those characters who are known for manipulating reality. Cue the theme music for Doctor Strange who searched 14,000,605 possible futures to find the one where the Avengers would succeed. Since Ant-Man and the Wasp dovetails into the events of Avengers: Infinity War, is it possible Doctor Strange sees Scott during his travels and sends out a message of help? Or better yet, is Scott ending up in the Quantum Realm all part of Doctor Strange's understanding that "It was the only way"? Maybe Scott's is exactly where he needs to be to help the other Avengers or vice versa.
08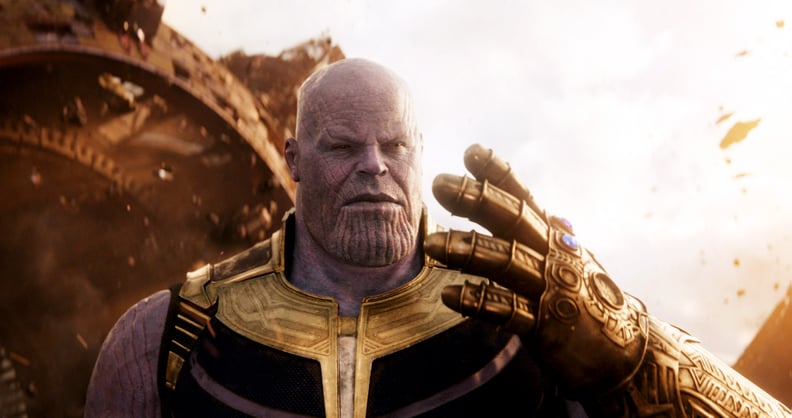 The Soul Stone
Scott's fate may actually depend on an element from an entirely different movie: the Soul Stone from Avengers: Infinity War. This gem has the power to control life and death by capturing a person's essence and storing it in the Soul Realm, which exists inside the gem itself. The souls absorbed by the stone remain trapped, unless the owner decides to set them free. In addition, the stone's owner can enter that world at will. We see Thanos do this when he enters an orange-hued landscape after snapping half the world's population out of existence.
With that in mind, we can conclude the Soul Stone contains an alternate universe or dimension and everyone who turns to ashes — including Dr. Pym, Hope, and Janet — is probably alive in the Soul Realm. And if that's the case, it's possible the Quantum Realm, with all of its time vortexes and anomalies, may contain a path to that alternate world. Ant-Man could use such a connection to establish contact with the Avengers who disappeared in Infinity War. Granted, in this scenario, Scott would still be separated from reality, but he would have a chance of escape should the soul for a soul theory that's been floating around the internet proves accurate or if Thanos returns to the Soul Realm where Scott could engage the purple beast in battle.
09
Janet Van Dyne
When Janet van Dyne returns from the Quantum Realm, she brings some restorative powers with her. While the movie doesn't explain how those powers work, her ability to temporarily stabilize Ghost and heal her pain suggests Janet's powers can stitch back together molecules and thus manipulate reality — obviously, not to the extent of creating whole scenes as with Thanos in Avengers: Infinity War, but enough to perhaps either reverse the effects of the Thanos's fatal snap for herself and those around her or still be able to communicate with Scott while they're in separate realms.
10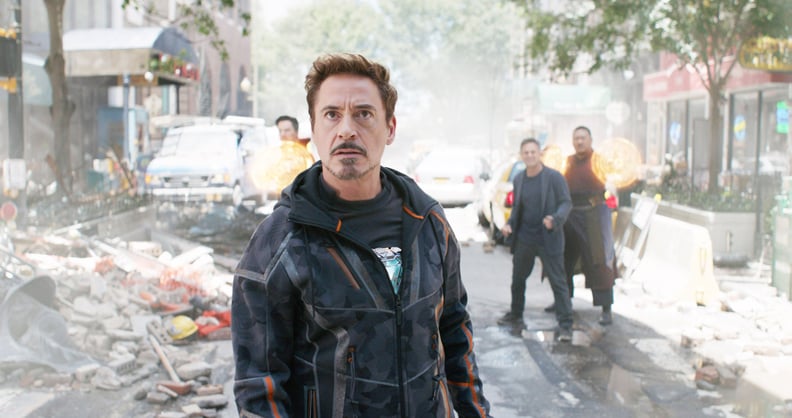 Tony Stark, Bruce Banner, or Shuri
Any of the surviving scientists from Avengers: Infinity War may be able to save Scott, assuming Luis or someone else familiar with Scott's whereabouts can get them a message. We can bet the three of them would be keen to explore and harness the secret power contained within the Quantum Realm. Bringing the Quantum Realm into the larger superhero story set provides lots of fodder for potential storylines since it's clear that characters like Janet, Ghost, and even Doctor Strange, draw power from this place.
11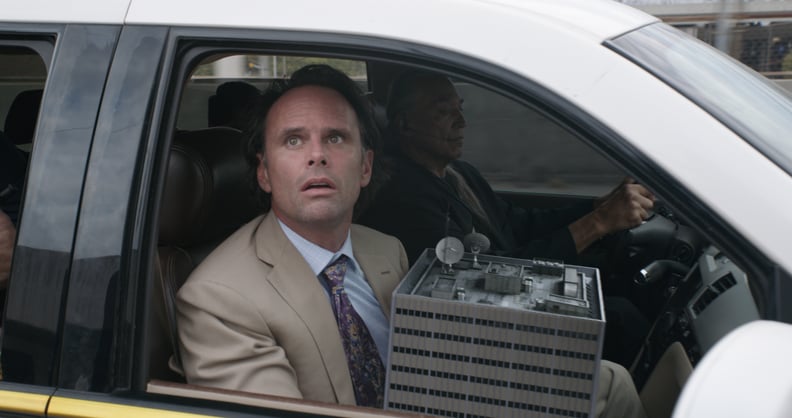 Sonny Burch's Big Buyer
This one is a long shot, but the tricksters at Marvel have taught us to leave no stone unturned. Throughout Ant-Man and the Wasp, Sonny Burch, the duplicitous businessman with a penchant for farm-to-table cuisine, talks of having a hotshot buyer for Dr. Pym's quantum technology. We never see this buyer, but would this person be bold enough to seek out the equipment left behind when Dr. Pym, Hope, and Janet disappeared, helping to free or further doom Scott? Is the buyer Sonny talks about a current Marvel villain or one yet to arise?
Chances are the line was merely a disposable story element meant to fuel Sonny's double cross, but we like how even these small details make Scott's predicament one of the best Marvel mysteries to date.